Grand Jury action needed in unsolved murders, sexual abuse of Keough students and its cover-up
"To the dead we owe only the Truth." — Voltaire
Notice to the Archdiocese of Baltimore (AOB): Three high ranking Penn State College officials were sentenced to jail, on June 2, 2017, for not reporting the child abuse allegations against scumbag Jerry Sandusky. This is a final warning to those who enable child predators to perpetrate their crimes. No more cover-ups! Now, to that end, let's re-open a window to the past:
Joyce Malecki, age 20, was working in an office of a liquor distributor. On November 11, 1969. She went shopping in the Glen Burnie area and was abducted. Her body was found two days later in a creek located on the U.S. Army's Fort Meade military base.
That salient fact makes her murder a Federal case! It gives jurisdiction to the U.S. Attorney's Office in Baltimore. The FBI is the investigatory arm of that office.
Unfortunately, little has been done by the Feds in this matter. In the case of Malecki, her hands were tied behind her back, her throat was slashed and she was strangled. Her murder remains unsolved.
Malecki was a resident of Landsdowne, in Baltimore County. She attended St. Clement Roman Catholic Church, the same church where the degenerate Father Joseph Maskell, now deceased, was an assistant pastor (1966-68.) The record shows that Malecki attended a religious retreat during that period with Maskell in charge of the (gasp) "spiritual" program.
The AOB knew Maskell had sexually abused an altar boy at St. Clement. In the late 60s, the boy's mother had reported it directly to them. Its shameful reaction: Move the predator to Archbishop Keough High School, where he would continue his unholy reign of terror over the innocents.
Enter Sister Cathy Cesnik, age 26. She was an English teacher at Keough during a time period when Maskell was the so-called "guidance counselor" and chaplain at the school.
The Netflix docu-series, "The Keepers," revealed that she was prepared "to blow the whistle" on Maskell and his crime accomplice, Fr. Neil Magnus (also deceased). Close to thirty students came forward since then declaring that both Maskell and Magnus, and parties unknown, repeatedly raped, sodomized and sexually abused them at the school and at other sites.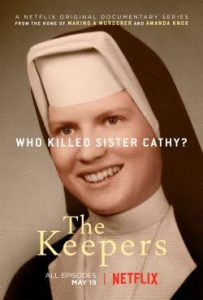 How large was this evil ring of sick pedophiles and sexual predators? Some believe that besides members of the Roman Catholic clergy, cops, politicians, and a shadowy character, "Brother Bob," were also involved.
On WBAL-TV, on the night of June 2, 2017, popular attorney and civil litigator, Joanne Suder, was interviewed. She said, in talking about "The Keepers" series, that there may have been "over 100 victims" of this sexual predator clique at Keough during the period of time in question.
A list of crimes associated with the "sexual exploitation of children" is catalogued in the federal code. Sister Cathy was a potential witness against Fathers Maskell and Magnus. If the wrongdoers in her murder used a phone, or U.S. mail, for example, to plot her killing, the Feds may have justification to take over her case, too.
In an article dated June, 2015, investigative reporter Tom Nugent, "Inside Baltimore," suggested a possible "link" between the Keough rapists, particularly Fr. Maskell, and the notorious John Merzbacker. He's doing hard time in a state slammer for convictions on four rape charges at a Catholic Middle School in Locust Point.
If Merzbacker does know more than he's been saying, that could be helpful in solving some of these cases, maybe the authorities can figure out a way to get him — legally of course — to talk. Just a suggestion.
What about that principal at Merzbacker's Catholic Middle School — Sister Eileen Weisman? She was an intimate of his. Was she also acquainted with Maskell or Magnus? Was she part of the cover-up? Sister Weisman has repeatedly denied any wrongdoing. Like Keough, the School Sisters of Notre Dame operated a school in Locust Point.
There are also unsolved murders, cold cases, of other young victims in the same time period and vicinity as Sister Cathy and Melecki. Are these cases related? In that category are Pamela Lynn Conyers, age 16, in 1970, in Anne Arundel County; and Elizabeth "Gay" Montanye, age 16, whose body was found in South Baltimore, in 1972.
During the inquiry into Maskell's wrongdoing, back in the early 90s, some of the State's evidence was destroyed by a suspicious "basement flooding" at the Court House. These were the boxes of files and documents that Maskell had ordered buried in the Holy Cross Cemetery, which were later recovered, via a search warrant, by city detectives.
Supposedly, nude photos of children were found in this cache. Had Maskell sent or received them through the mail? If so, a federal crime may have also been committed by him. The "flooding" ended that line of inquiry.
When I was working in the Court House, in the 60s and 70s, evidence for a trial was kept either in police custody and/or in the office of the assistant D.A. If it had to be stored, it was placed in a file cabinet in the assistant's office under lock and key!
Question: If the critical evidence was "flooded," why weren't any serious efforts made to restore it?
Bottom line: The victims, their families, and the public want answers to their questions, and they want all the above cases solved. The FBI should take the lead and coordinate with the City and Baltimore County police. It should be a team investigative effort for the sake of the public good.
Federal, Baltimore City and Baltimore County Grand Juries need to be empaneled — now — and begin calling witnesses!
Justice can't wait any longer.
Top photo of the Supreme Court by Bill Hughes

Bill Hughes is an attorney, author, actor and photographer. His latest book is "Byline Baltimore." It can be found at: https://www.amazon.com/William-Hughes/e/B00N7MGPXO/ref=dp_byline_cont_book_1