'When the Game Stands Tall' lives up to lofty expectations
3 out of 4 stars
Hollywood, for as long as film's been in the camera, has loved telling the story of triumphant underdogs.
The Bad News Bears, Hoosiers, Major League and Miracle– the list grows every decade, encompassing nearly every sport and sob story and turning lovable losers into winners. But what about the giant? What happens when the giant crumbles to a supposedly inferior foe? Wouldn't you want to know what happened to Ivan Drago after Rocky knocked him out?
When the Game Stands Tall breaks the mold for sports movies because it deals with losing more than winning. De La Salle, a private boys school in Concord, Calif., reeled off a national record 151 straight victories spanning 12 straight undefeated seasons before a 39-20 loss to Bellevue (Wash.) High School on Sept. 4, 2004.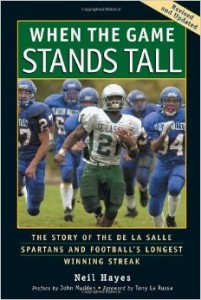 De La Salle's reign as the undisputed king of high school football ended on day. But When the Game Stands Tall, which is based of Neil Hayes' 2003 book of the same name, spends most of the film's 115 minutes centers on how a bunch of teenagers responded to becoming the team that broke the town's beloved streak.
Jim Caviezel plays legendary coach Bob Ladouceur, the architect who built a downtrodden football team into the biggest juggernaut the game has ever seen. Caviezel's performance is much like his football team's winning streak: He's not impressive in the beginning, but as the movie progresses, you can't take your eyes off him.
You want to see if his beloved game will cost him everything and if he'll keep his players, including some from broken homes and disadvantaged neighborhoods, from having their lives defined by a 48-minute game.
The interaction among Ladouceur, his family and players is believable and seamless, which isn't surprising since one of director Thomas Carter's biggest strengths is developing relationships. Carter, who directed Coach Carter in 2005 that starred Samuel L. Jackson as a high school basketball coach, reinvents Caviezel, who has been defined by his role as former CIA officer John Reese in the hit show "Person of Interest."
Caviezel's portrayal of Ladouceur, who retired in 2013, shows he's more than just a TV actor, which was a big question since his role in movies has been limited since he played Jesus in the controversial The Passion of the Christ in 2004.
Make no mistake: Caviezel is no Eric Taylor from NBC's Friday Night Lights. Caviezel doesn't have the same chemistry with his wife Bev Ladouceur, played by Laura Dern, as Emmy Award winner Kyle Chandler(Taylor) and Connie Britton had on TV for five seasons in Dillon, Texas, from 2006-2011.
Caviezel, however, is good enough to carry the film. He makes the audience connect with him when he speaks at the funeral of a player killed in an act of violence, makes the audience care for him when the stress of being a coach at one of the country's premier high school football powers almost costs him is life and makes the audience cheer for him as he tries to start a new streak.
Carter surrounds Caviezel with good, but not great, complementary characters, most notably Dern and Michael Chiklis, who plays assistant Terry Eidson, whose humor provides well-timed breaks from Caviezel's seriousness.
Alexander Ludwig shines as Chris Ryan, a running back who sprints toward the end zone and for the acceptance of an abusive father (Clancy Brown) who's living his football fantasies through his son. Ser'Darius Blain, Stephan James, Joe Massingill, Matthew Daddario, who plays Ladouceur's son Danny, and Jessie Usher have football skills on par with their above-average acting.
But in the end, this isn't a football movie or a sports movie.
It's a film about perseverance and not being defined by a loss, which makes When the Game Stands Tall a winner.
Please read a polar opposite review from our sister site in Los Angeles. Check it out here and let us know how many stars you would rate this film.

Jon Gallo is an award-winning journalist and editor with 19 years of experience, including stints as a staff writer at The Washington Post and sports editor at The Baltimore Examiner. He also believes the government should declare federal holidays in honor of the following: the Round of 64 of the NCAA men's basketball tournament; the Friday of the Sweet 16; the Monday after the Super Bowl; and of course, the day after the release of the latest Madden NFL video game.