From a Black Egg: Yellow Sign Theatre serves soufflé of German expressionism, silent movies
Jess Rivera and Jeffrey Gangwisch share a thoughtful moment in From a Black Egg. (Anthony C. Hayes)
In surveying the storied history of cinema, even the most casual film fans are familiar with the incomparable silent movies: Nosferatu, Metropolis, The Cabinet of Dr. Caligari and M. Films such as these made their mark during the post-World War I movement known as German Expressionism. German Expressionism was particularly vibrant in Berlin, where it shaped not only the movies, but architecture, sculpture, painting, and dance. The movement also advanced through the music of the time – particularly the works of Arnold Schoenberg, Anton Webern, and Alban Berg, and it was present in the works of playwrights Georg Kaiser and Ernst Toller.
This week, the Yellow Sign Theatre is set to premier an interesting and ambitious work which will meld several elements of German Expressionism in an original stage production. The Baltimore Post-Examiner recently caught up with writer/director Aaron Travis (who had just stepped into the neighboring Club Charles during a scheduled rehearsal break), to learn about this show, which is titled, From a Black Egg.
BPE ~ Thanks for taking some time to speak with us this evening.
AT ~ This place is always so creepy at Halloween.
BPE ~ Some people might argue it's like that all of the time. (Laughter) OK, so tell us a bit about this show.
AT ~ From a Black Egg is a silent play based off of German Expressionist films like The Cabinet of Dr. Caligari and Nosferatu. There's no dialogue – it's monochromatic, and we have a score which was made specifically for this show by the Boston band Bent Knee.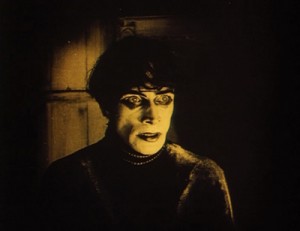 The story itself depicts the tragic depths to which grief drives people. Just a brief synopsis: During the Hungarian/Czech war, a young couple who have just been married are forever separated when he dies in combat. Stricken by grief, she decides to go to the local witch doctor woman, who gives her a spell which will basically create a doppelganger of her dead husband.
Owing to her grief, even though she knows this is not really her husband, she doesn't want to let the doppelganger go. I don't want to give too much away, because of the plot twists, but that is basically the story.
BPE ~ This doesn't sound like the kind of stage production most audiences are used to seeing. I mean – it's a silent play.
AT ~ I think that part – at least in my memory of theatrical productions – is new, insomuch as there is no dialogue from the stage. But with the band, we have tried as much as we could to affect the experience of watching a live presentation of a silent film.
BPE ~ So you're basically melding a live theatrical performance with a silent movie and an added soundtrack?
AT ~ Exactly. We've even included some little touches which we think helps to move that premise along. Our stage crew, for example, will be acting like the set crew for a silent film. We have touches like that to help with immersive experience. But we are also doing atypical effects with the lighting and sound. As I said – the entire show is monochromatic. Mason Ross designed the lighting for us, and the look is very dynamic. You wouldn't think that much of (that kind of lighting) if you saw it on film, but it's pretty hard to do in a theatrical setting. As a result, we've also had to design our make-up and costumes to "read" in that very unusual kind of light.
The score being done live with a live action silent production is also innovative. This will be the first time we've worked with Bent Knee, and we're really looking forward to that.
There are just a lot of things with this show I believe the audience will find unique.
BPE ~ You said the band is Boston based. Will they be here for all three weekends?
AT ~ No. Bent Knee will be presenting live during the second weekend of our run. They made an album – which is the score to Black Egg – specifically for this show. We're actually going to be selling it; they are putting it up on their band camp, so people will be able to buy it. It's a proper album with song selections which fit into the context of our production. That's pretty cool.
BPE ~ How did this particular theme arise?
AT ~ Well, at Artscape 2014, I did a live action 1950's style sci-fi radio show. We set it up as a stage production where we had action on two levels, because Yellow Sign Theatre has a split stage. The upper level was the radio booth, and the lower stage was the fictional station's offices. For the three days of Artscape, we had a different radio show playing every day, but interspersed with that we had a mini horror-drama happening on the main stage. It wasn't that challenging. It was just a good way to fill time and ultimately throw guts at the crowd.
Bent Knee was down that weekend to score a silent movie for Yellow Sign on Saturday night. They've done The Unholy Three and a couple of other Lon Chaney movies for us. I thought, "I've just done this production with pages of dialogue and blocking. Why not do a show with no dialogue and the very minimal of blocking?" That night after the show, I asked the band if they'd like to collaborate on such a project, and they did. That's how this all got started.
BPE ~ But you're also a fan of the genre; those old silent movies.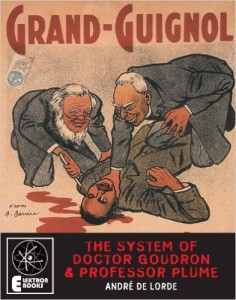 AT ~ Oh, absolutely. I've always wanted to do something in that style. The Artscape show we did the year before was based on Grand-Guignol: The System of Doctor Goudron and Professor Plume. We had a lot of visual cues that we based off of German Expressionist film, so I'm very excited that we can bring this all together with From a Black Egg.
That's one of the nice things about the Yellow Sign Theatre. We like old films and unusual forms of entertainment.
BPE ~ Who is in the cast?
The female lead – Cili – is Jess Rivera, a local actress who works with the Mobtown Murder Mysteries and was in the Baltimore Rock Opera Six Pack. You may have also seen her milling around in House of Cards.
Jeffrey Gangwisch is portraying the dual male leads of Deszo/Liderc. He's a resident YST artist and a regular in the radio show we do here. He has also directed some shows, such as The Business End, which we did here, and Symposium which was done at the Terrault Gallery.
Other players are Michael Stevenson – a Baltimore Rock Opera Society regular; Scott Burke, another YST resident artist who was recently in Watership Down; June Keating, who was in Revival; and Kathryn Eidhnean "Lluvi" Bateman, who be making her return to the stage as Michael Stevenson's counterpart, Sasa.
BPE ~ Tickets are on sale now?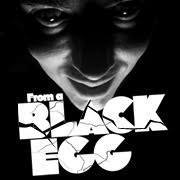 AT~ Yes, you can go to Brown Paper Tickets or look for us on Facebook at Yellow Sign Theatre. That's Theatre with an "re" because we are a community. Information about the shows – including which performances will be done with the live band – may be found on Facebook or at the Baltimore Post-Examiner.
Let me just add that, while Bent Knee is in town, on October 23 and 24, they will be doing two other things. On Friday the 23rd, they'll be scoring Häxan: Witchcraft Through the Ages (1922). It is an amazing movie. On Saturday night, October 24, they will be playing an after-party show at YST with local band Lent. Both of these performances follow our earlier presentations of From a Black Egg.
BPE ~ Anything else you'd like to add?
AT ~ Yes! People should come to the Yellow Sign Theatre the last Monday night of every month at 7:30 to see our free live radio show, Horatio Dark's Between the Lines.  If they can't make it, they should check out the podcasts at Thunder Grunt. They're really a blast.
*   *   *   *   *
The Yellow Sign Theatre is located at 1726 North Charles Street in Baltimore, Maryland.  The theatre is conveniently situated right next door to the somewhat creepy Club Charles.

Anthony C. Hayes is an actor, author, raconteur, rapscallion and bon vivant. A one-time newsboy for the Evening Sun and professional presence at the Washington Herald, Tony's poetry, photography, humor, and prose have also been featured in Smile, Hon, You're in Baltimore!, Destination Maryland, Magic Octopus Magazine, Los Angeles Post-Examiner, Voice of Baltimore, SmartCEO, Alvarez Fiction, and Tales of Blood and Roses. If you notice that his work has been purloined, please let him know. As the Good Book says, "Thou shalt not steal."