For Aspiring Eagle Scout Flag Burning Ceremony an Act of Honor
Eagle Scout candidate Jack Callahan accepts a weathered U.S. flag from Arbutus resident Collen Day. (Anthony C. Hayes)
BALTIMORE — It is almost impossible these days to read the words "flag burning" in a news story without envisioning crowds of angry youth breaking store windows and toppling monuments. But for one Baltimore-area teen, properly torching our national emblem is a sacred honor – an honor which will complete his year-long Eagle Scout project, when he respectfully incinerates hundreds of weather-beaten American flags this weekend.
"I'm trying to get my Eagle Scout badge," said Boy Scout Troop 306 member Jack Callahan. "I've been working on this project for almost a year. It started out with the idea of placing something like mailboxes around town, where people could just slip an old flag in, but due to complications with sustainability over time, plus the restrictions that were put in place due to COVID-19, we kind of switched it up.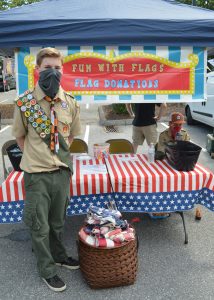 "I started advertising as much as I could, spreading the word on Facebook and so forth, and then having a collection day at the Catonsville Farmers' Market every Sunday for the past three weeks. This is the last one. Next Sunday, I will be at the American Legion Dewey Lowman Post 109, to have the honor of providing a proper retirement ceremony for every flag I am able to get."
What exactly does the retirement ceremony entail?
"A flag is supposed to be flown for as long as it can; as long as it serves as a symbol of the nation," explained Jack, an incoming senior at Catonsville High School. "When it's no longer fit to do that – if it's worn, tattered and the colors aren't as vibrant as they used to be – they are meant to be disposed of properly. The easiest and most common way of disposal is by donating the flags to a proper organization which is allowed to retire them, such as the Boy Scouts of America (BSA.) And they have a ceremony where they respectfully burn them in a moderate but blazing fire.
"Each week, we get around 30 to 40 individual flags, but the first week, somebody from Cub Scout Pack 306 gave us all their flags, which was around 30 as well. So including those, plus mailings and deliveries to my house, as well as every flag Dewey Lowman has, I would say, so far, we have around 150 flags."
Why did Jack choose the collection and flag burning/retirement ceremony for his Eagle Scout project?
"I always thought that there is not a lot of knowledge on how to properly dispose of a flag, once it's useful life has ended. You can't just put it in a trash can or take it to the dump. There's a whole flag code dedicated to how to dispose of it properly.
"Not a lot of people know that.
"So I want to just shine some light on the inner workings of what it takes to properly dispose of a flag. And since it's not common knowledge, I thought I could also educate the public as much as possible."
We asked Jack if thinks his time in the Boy Scouts has made him a better person?
"Definitely. Because of the Cub Scout programs, I've actually been with Scouting since first grade.
"My first couple of years in Scouting – and I know my scoutmaster can definitely attest to this – I was an energetic little fellow. Because of Scouting, I've gotten self-discipline and learned respect towards others. I've also gained great leadership skills from having great examples. And – not to toot my own horn – I think I've turned out pretty well, mainly because of the Boy Scout troop. They've been a great little family for me these past six years."
"On My Honor, I Will Do My Best…"
Wyatt Sponseller – a Star Badge Scout at Troop 306 – was also on hand at the flag donation booth to assist Jack with the distribution of flyers.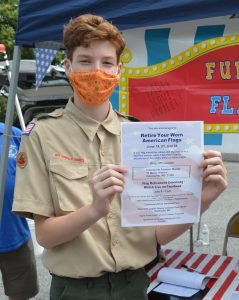 "I've been here with Jack for the past three weeks," explained Wyatt, "helping with the collection of the flags and handing out fliers. I'm also going to help with the retirement ceremony next weekend. It's been a fun experience, not only collecting the flags, but seeing the community come together for a project like this."
* * * * *
Troop 306 Scoutmaster Jeff Scharf spent his Sunday at the Catonsville Farmers' Market overseeing Jack and Wyatt's flag collection efforts. Scharf said he initially grabbed the reins Scout leadership when his son got into Scouting.
"My son became an Eagle Scout a few years ago, and I've just stuck with it the last couple of years," said Scharf.
We were somewhat surprised when Scharf told us that Troop 306 is a hundred-year-old organization. The troop currently has a contingent of about 35 Scouts.
Scharf explained that Scouts going for their Eagle Badge are allowed to choose their own project. The only proviso is that the undertaking benefits a neighborhood non-profit, a local school, a house of worship, or meets a need suggested by the Chamber of Commerce.
"Several of our other Scouts have recently become Eagles, too. One Scout, prior to Jack, elected to undertake a garden installation for his Eagle Scout project. You can see it along Frederick Road, right on the corner in front of Catonsville Presbyterian Church. It's absolutely beautiful!"
Jack's particular project will ultimately benefit the Chamber of Commerce, as a flurry of new flags should be in evidence for the upcoming 4th of July Parade. But ultimately, the Eagle Scout Project is about character building. "We try to point the scout toward a task or an organization that we feel needs the help," said Scharf.
"A Scout is Trustworthy, Loyal, Helpful, Friendly…"
Joe Rusnak of Ellicott City motored into Catonsville last Sunday morning, specifically to drop off a bag full of worn out flags.
"My boy was in that troop, number 306. He didn't make it to Eagle, but he got his Arrow, and that's pretty good. I have five old flags, and I didn't know what to do with them. I wasn't about to destroy them myself, so when I heard about this event, I brought them over."
We asked Rusnak what he thinks about Jack Callahan's endeavor?
"Fantastic! And it's for an Eagle project, so why not?"
* * * * *
Arbutus resident Colleen Day told the Baltimore Post-Examiner she is equally enthused about Jack's Eagle Scout project.
"I'm friends with Jack Callahan's mom, on Facebook, and saw the posts she shared about this event. So I knew that today I could come by and bring my flag.
"We we have been flying a flag for, gee, I actually have no idea – a long time. We've lived in Arbutus for 29 years, so we've probably been flying a flag there for 20 years. And we have a light on it!
"I'm an Army brat. My father served in the Army for 30 years, and you know, I just learned to be very respectful and patriotic."
What does Day think of Jack Callahan's effort?
"Oh, it's wonderful. It's something that people aren't aware of that needs to happen. Previously, we've taken our flags to the American Legion to have them disposed of. A couple of times, we've had like a sack full of them. They do add up.
"We already have our replacement flag, and it's flying right now. And the bunting is already up on the front porch! Gathering there for breakfast and to watch for the 4th of July Firecracker race is a family tradition."
"…Courteous, Kind, Obedient, Cheerful…"
Given the ugly mood of the country right now – particularly as it affects young people and their view of this nation – we wondered if Jack would share, in closing, the most important thing he has learned about citizenship through Scouting?
"I guess one thing is to always try to be as uplifting as possible; to keep a positive attitude and not be a negative person. I've really had the message 'Treat others the way you want to be treated' ingrained in my head. Because, if you don't give someone due respect, they're not going to show any respect for you. That's really become a big part of my moral value system."
*   *   *   *   *
This weekend's flag retirement honor ceremony will take place on Sunday July 5 at 3:00 P.M. at the American Legion Dewey Lowman Post 109 in Halethorpe, Maryland. The entire ceremony will be streamed on the Fun with Flags Facebook page. For more information -– including ways you can donate an old flag — visit the Troop 306 website or better, email Jack.


Anthony C. Hayes is an actor, author, raconteur, rapscallion and bon vivant. A one-time newsboy for the Evening Sun and professional presence at the Washington Herald, Tony's poetry, photography, humor, and prose have also been featured in Smile, Hon, You're in Baltimore!, Destination Maryland, Magic Octopus Magazine, Los Angeles Post-Examiner, Voice of Baltimore, SmartCEO, Alvarez Fiction, and Tales of Blood and Roses. If you notice that his work has been purloined, please let him know. As the Good Book says, "Thou shalt not steal."