Football Fantasy Picks: Green Chili Dips and Pinwheels
Four green chili picks that guarantee a winning team.
A great team player: This spread delivers.
Add crackers, chips or chunks of sourdough bread.
Artichoke Spread
Ellen's Recipe, Celebrating 100 years, Augusta Lutheran Church
1 can artichoke hearts, packed in water (drained)
1 cup Parmesan cheese
1 cup real mayonnaise
1 cup green chilies
Chop green chilies and artichoke hearts together. Add mayonnaise and Parmesan cheese, Mix well. Put in a pie pan or glass pie dish. Bake at 350 degrees for 30 minutes or until golden brown.
Serve with chips, crackers.
Chiles not in your line up? Try this alternative recipe without chilies.
Artichoke Spread, Breakfast with Bunny, 1992
½ cup Parmesan cheese, grated
½ cup real mayonnaise
1 cup artichoke hearts, drained, chopped (packed in water)
In a medium bowl, gently mix the three ingredients together, with a wooden spoon. Pour into a shallow greased glass pie plate. Bake at 350 degrees for 25 minutes until the spread is bubbling. Serve with chips, crackers or veggies.
The addition of chilies to any recipe insures a winning taste. Pick from a wide range of varieties, green, red, fresh or dried but Heat is never optional.
According to my fans, this is the winning offense: cream cheese, sour cream, olives, cheese and lots of chilies.
Tortilla Pinwheels, Roxie's recipe: Celebrating 100 years, Augusta Lutheran Church
1-8 oz. package cream cheese
1-8 oz. container sour cream
1-4 oz. can diced green chilies, drained
½ cup chopped black olives
½ cup shredded cheddar cheese
3 green chilies, chopped
5 (10") flour tortillas
Beat cream cheese and sour cream until smooth. Add chilies, olives, cheese and onions. Mix well. Spread filling on tortillas and roll up. Wrap in plastic wrap, twisting ends tight. Chill at least 2 hours. When ready to serve, unwrap plastic and cut rolls into ½" wide pinwheels.
This next dip has been around for a while, a game play that remains consistent. Start with ripe avocados, mashed, smooth or chunky, and add what appeals to your taste. This recipe represents several variations that I found floating through the kitchen circuit. Seems everyone has his or her own playbook when it comes to guacamole. I like the addition of green chilies.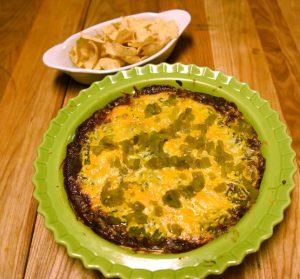 Ratliff Game Day Guacamole Dip: Serve with chips and salsa.
2 small avocados, ripe, peeled and mashed, (save the pit)
¼ cup white or red onion, minced
1/3 cup tomato, finely chopped
¼ cup mayonnaise
2 tablespoons, lime or lemon juice
2 tablespoons green chilies, drained and chopped
1/8 teaspoon garlic powder
1/8 teaspoon Tabasco
Combine all ingredients in a medium bowl and blend together. For a smoother texture, beat with an electric mixer. Place the pit in the center, cover tightly and chill at least an hour.
In some playbooks, chili pepper and chilies are considered nutritional winners.
Texas Chili Dip: Here's a recipe with a solid defense. Lots of recipes out there on the circuit, but the addition of green chilies gives this one the hotness factor.
8 oz. cream cheese, room temperature
15 oz. can chili con carne, no beans
1 ½ cups shredded cheddar cheese or Mexican style four cheese blend
1 small can chopped green chilies or kick it up a notch with hotter varieties.
Spread cream cheese evenly over the bottom of a 9-inch shallow baking dish or pie plate. Cover with chili con carne and green chilies. Sprinkle shredded cheese. Bake at 350 degrees for 20-25 minutes, until cheese is melted and bubbly.

Ann Marie Bezayiff received her BA and MEd from the University of Washington in Seattle. She is an author, blogger, columnist and speaker. Her columns, "From the Olive Orchard" and "Recycled Recipes from Vintage Boxes", appear in newspapers, newsletters and on Internet sites. Ann Marie has also demonstrated her recipes on local television. Currently she divides her time between Western Maryland and Texas.