Amazing results in much-anticipated pregnancies for couples trying to conceive are believed to be linked to the use of the fertility lubricant Conceive Plus. This is according to British newspapers.
Infertility is a rising challenge of the times we live in. In the US, couples are increasingly struggling to conceive – and it is unfortunately also the case that one in seven couples in the United Kingdom struggles to fall pregnant. Fertility treatments are not always an option because they are complicated, time-consuming, and expensive. For many couples who have demanding careers and financial concerns, that route is not an option: they often find IVF prohibitive due to cost – and unless special government funding or family assistance can make it happen, they often feel stuck.
Online forums are abuzz with pregnant couples sharing their enthusiasm for the fertility support product called Conceive Plus and social evidence seems to be growing, indicating that the product does work. Fertility support is of course completely different than fertility treatment such as IVF and is not considered a "replacement" as such, although often it is the first step before officially being diagnosed with infertility issues.
Positive results for various issues with conceiving
Excited couples have spoken up about their initial concerns or problems with conceiving and how Conceive Plus lubricants helped them to overcome this. Obviously, and as some experts do warn, not all gels or lubricants are suitable and some may affect the chances of conceiving, but Conceive Plus is the fertility support product that seems to be getting consistently positive reviews.
Can the fertility lubricants help women with polycystic ovarian syndrome?
Rebecca Barley from Leicestershire is the perfect example of how even a woman with polycystic ovarian syndrome can conceive easily.
Rebecca is 22 years old and had a miscarriage at 20. At the time she was diagnosed with polycystic ovarian syndrome; grief-stricken with the miscarriage and the news that she and her partner, Benjamin, 25, may never be able to have a baby, they were determined to keep trying.
After ten months of trying with continuous negative results, they were unsure of what path to take. They both felt it was too early to consult a doctor for fertility tests and Rebecca decided to join online fertility forums to see what other people in their situation were doing. This is where she learned about Conceive Plus, the fertility lubricant that appeared to increase the chances of conceiving.
Designed to be used by women during sex, the lubricants manufacturer claims that the ideal environment is created for the sperm to continue its journey to the fallopian tubes uninterrupted. Rebecca, upon learning about it immediately ordered Conceive Plus and after using it three times she missed her next period and a pregnancy test confirmed that she was expecting. The couple gave birth to little Mila recently and are thrilled with their daughter.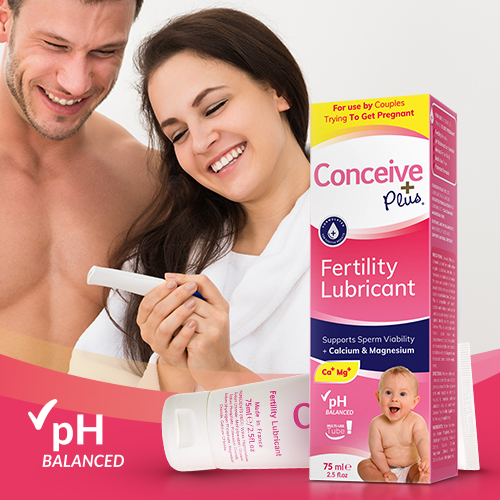 Unusual circumstances and pregnancy
Many women aren't ready to try to conceive until they are past their mid-30s which according to fertility experts may be leaving it a bit late. Other women again may be concerned because of unusual circumstances such as past injuries or operations which may have affected their chances of conceiving. Serena Edwards, from Devon in Britain, had both of the above concerns. She started trying to get pregnant at 35 and had also been involved in a serious car accident six years before. She was unsure about how these two factors combined would affect her chances. Thanks to her pregnant friend who recommended Conceive plus fertility lubricant to her, she fell pregnant within 2 months. Even though Serena has heard that some experts doubt the gel, she and her husband plan to use it again and also recommend it to friends.
What about women struggling to conceive?
After a miscarriage in 2010, Erica Ghasim 39, and her 29-year old husband tried to get pregnant for 5 years. Erica was never referred to a fertility specialist by her doctor but had tried herbal teas for stress relief, ovulation kits and vitamin supplements to enhance her chances. Almost convinced that she was either too old or had to take more drastic measures, she heard about Conceive Plus. She was skeptical but willing to try anything for a baby. After using the fertility lubricant for two consecutive days, she fell pregnant. The joy of hearing the heartbeat of the fetus was something that she will never forget and is grateful that she decided to use the fertility lubricant.
How exactly do fertility lubricants work?
Conceive Plus and other fertility lubricants are free of preservatives, stabilizers and other ingredients that can affect negatively the vaginal environment. They increase the moisture level in the vagina allowing the sperm and uninhibited journey through the cervix.
Out of the 200 million alkaline spermatozoa, the acidic environment of the vagina usually destroys most of them leaving approximately 200 sperm to finally make it to the egg. Fertility lubricants correct the pH of the vagina; giving the sperm a better survival rate increases the chance of fertilization.
Do the experts agree with their use?
Some fertility experts insist that fertility lubricants are great for vaginal dryness, but won't help solve issues like blocked fallopian tubes or help with ovulation issues. It is obvious that fertility support supplements cannot substitute infertility treatments.
Other experts again insist that any dryness needs to be investigated and gels may not be the solution because they may obstruct the movement of the sperm.
Some doctors are happy to recommend Conceive Plus because they understand the frustrations of those struggling to conceive and anything that may increase their chances is always welcome.
Even though experts have varying views, a 2014 laboratory study on 11 lubricants using the Sperm Mobility Index (SMI) found that Conceive Plus improved sperm mobility, whereas others negatively affected the sperm. Conceive Plus is an affordable and accessible solution for women trying to conceive.