Father's Day Gift Guide for the Beer Lover
So do you want a tie with the Natty Boh guy on it? Yeah, I kind of do too, but I think you know where I am going with this. There are lots of gifts that are related to our favorite beverages that our loved ones just won't think about. So I've taken this task to heart and compiled a gift guide with gifts that any beer lover would love!
You thought I was joking about a Natty Boh tie didn't you. Well I wasn't. This is a surprisingly business friendly (and fun friendly) 100 percent silk tie.
Where to Buy: Charm City Clothing Company
How Much: $70
A bottle opener dedicated that is dedicated to your drink. It's not built into your iPhone case, and it won't hold your keys. What it will do is open your beer and close your beer. This German made opener also has the ability to reseal your bottle. Great for preserving carbonation on those large bottles.
Where to Buy: Good Beer Hunting
How Much: $10
A safe way to transport your precious from the brewery or beer store to your home. Also doubles as a dryer after you have cleaned your growler.
Where to Buy: Growler on Board
How Much: $30
This is a new beer club from LetsPour. Get a variety of world class beers delivered to your door each month. What does a beer lover love? Beer of course.
Where to Buy: Beer Boxer
How Much: $50 – Discovery Box $70 – Premier Box
Ever read a beer review and get a little overwhelmed by all the flavor descriptions and think: "I just taste beer?!?" This might be just what you need to enjoy (or in some cases not enjoy) your beer more.
Where to Buy: Amazon
How Much: $12
What most restaurants and pubs server their beer in is usually called a Pint Glass or Shaker Glass. This is actually a pretty bad glass for beer. Especially the flavor rich craft beer of today. This is my go to glass. Great for many styles of beer. It's thin walls really let you get the most flavor out of your beer. And it's dishwasher safe.
Where to Buy: Winestuff.com
How Much: $30 for 4
Sometimes a specialty glass is needed. And until now, there was no glass made for an IPA. Sam Calagione of Dogfish Head and Ken Grossman of Sierra Nevada worked with Spiegelau to create a special glass for IPAs. I was a bit leary at first, but this glass really brings out every last flavor of an IPA.
Where to Buy: Dogfish Head
How Much: $9
This is a great way to start homebrewing. And start the right way by brewing all grain. Not that powdered stuff in most beginner kits. Brooklyn Brew Shop offers a number of 1 gallon kits with everything you need to brew right in your kitchen.
Where to Buy: Brooklyn Brew Shop
How Much: $40/kit $15/recipe packs
So I do realize this isn't beer. But going with the make your own theme, I thought I throw in a make your own Gin kit. This kit gives you everything you need to turn a bottle of quality vodka into a wonderful small batch gin.
Where to Buy: HomeMadeGin.com
How Much: $40/kit $10/refills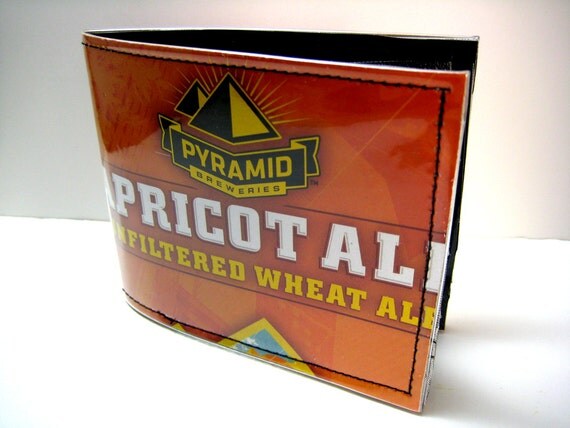 Mindy's Designs makes all sorts of things out of old six pack carriers. From wallets to dog collars. If you want something, and it isn't on her site she will custom make items from six pack carriers that you send to her.
Where to Buy: Mindy's Designs on Etsy
How Much: $18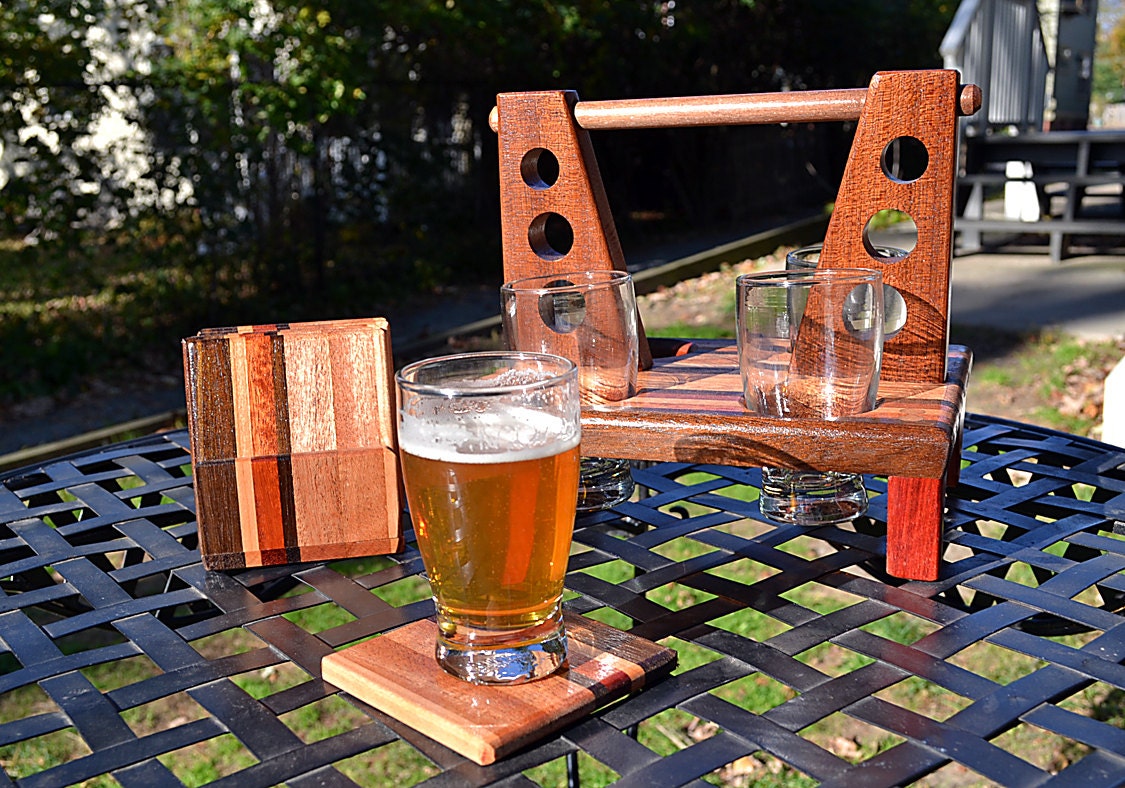 Perfect for entertaining. This handmade tasting set includes 4 glasses, carrier, and matching coasters made of Bloodwood & Black Walnut. Other styles and finishes are available.
Where to Buy: Etsy
How Much: $140
Have a kegerator filled with homebrew? I know I do. This is a great way to get some custom tap handles with your beer names on it. Crafted by Baltimore's tap making legend Mark Supik, this kit will give a professional feel to your tap pulls.
Where to Buy: HandleYourBrew.com
How Much: $55
Craft beer as we know started in the 80s. This book tells the story of how craft beer evolved from 1 craft brewery in 1975 to more than 2300 today.
Where to Buy: Amazon
How Much: $14/paperback $10/kindle
Guess what I want for Father's Day? You guessed it. It's also what I'm NOT getting for Father's Day. This is the Brew Cave, a walk-in alter to the beer gods. Lots and lots of storage for beer, rare beer, homebrew kegs, etc. And you don't even have to walk inside to get beer with the tap next to the door.
Where to Buy: Kegworks
How Much: $6,350/no floor $6,740/with floor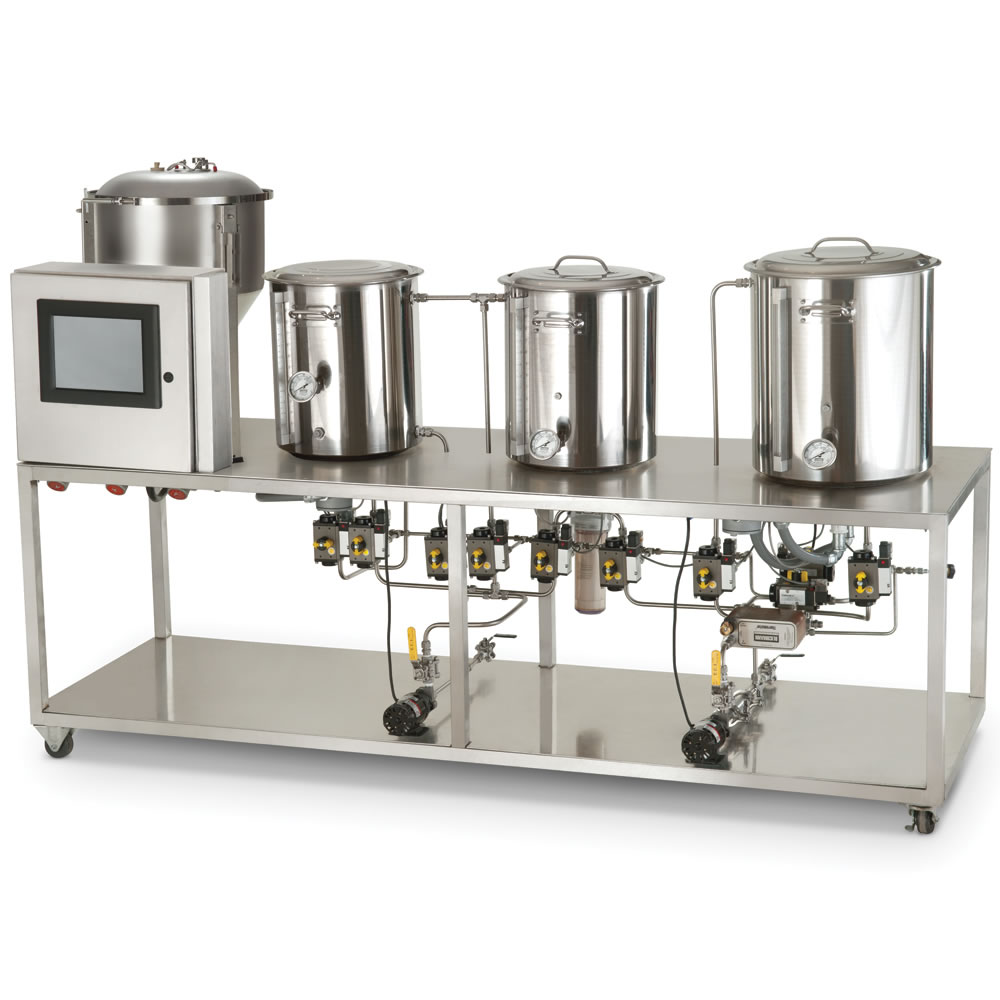 Nothing says 'I love you Dad!' more than a full Heat Exchange Recycling Mash (HERM) system. Did I say I really wanted the last one? I think I have changed my mind. This is something you could build yourself for a lot less, but there's no fun in giving that as a gift.
Where to Buy: Hammacher Schlemmer
How Much: $45,000

John Thompson is a beer enthusiast who began evangelizing craft beer a few years ago on his blog thehoplocal.com. John has been homebrewing sporadically for almost 20 years, and also is a Cicerone Certified Beer Server. When not enjoying a cold malty beverage you will find John spending time with his spouse and two young children or working his day job in Financial Services Technology. Make sure to find John on Facebook, and follow him on Twitter @TheHopLocal and Untapped. at : http://untappd.com/user/thehoplocal