Fame Academia: Merchant Marine, Navy Vet 'Still Waiting For His Check'
Veteran Fame Academia and his daughter Lynnette pose for a picture at the Mid-Atlantic Air Museum's WWII Weekend. (credit Anthony C. Hayes)
READING, PA. – When war broke out in 1941 between the United States and the Empire of Japan, many young Americans answered their country's call by enlisting in the armed forces. Fourteen-year-old Fame Academia's initial response was to finish his schooling. But a severe beating by a Japanese interrogator spurred Fame to support a guerrilla war which would frustrate Japan's onerous occupation of his Philippine homeland. By war's end, Fame would be at sea aboard an ocean-going tugboat as an enlisted member of the United States Merchant Marines.
We met Fame and his daughter Lynnette last Saturday at the Mid-Atlantic Air Museum's WWII Weekend. Lynnette – who lives in nearby Downingtown, PA. – had heard of the annual happening in Reading and thought her father might enjoy seeing the sights and connecting with some of his fellow veterans.
"My father has so many stories about his time in the service, from his enlistment in the Merchant Marines to joining the Navy during the Korean War, to Vietnam and serving for ten years under Admiral Moorer. I wanted to bring him here, but we had no idea this event was so big! This is wonderful."
Fame's recollections of his service began with his early encounter with the Japanese, and eventual enlistment in the Merchant Marines.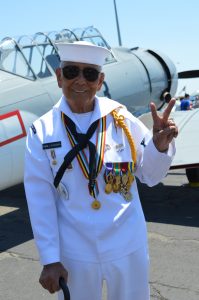 "I was just a teenage boy when the war started. Too young for the army, so I continued with school while secretly supporting the guerrillas. My father and I were both beaten badly by a Japanese interrogator. When MacArthur came, I went to Manila to join whatever service I could. An American colonel – I don't remember his name – sent me from Manila to Subic Bay to join the Merchant Marines and help overhaul a tugboat that was being sent to Mindanao. But when we finally got underway, we went to the Solomon Islands to help pull out a stuck cargo ship that was loaded with tanks and ammunition."
Fame's service during WWII would often steer him into harms way. It also placed him near the coast of Okinawa in 1945, where women had thrown their children off the cliffs – and then jumped to their own deaths – to avoid capture by American forces.
Fame Academia remained in the Merchant Marines for seven years, then joined the U.S. Navy during the Korean War, serving aboard LSMs and destroyers. His shipboard service during an engagement along the coast of Korea earned him a Purple Heart, and in time, a chance to see defeat in the eyes of some of his enemy combatants.
"We were sent by NATO to pick up around 130 Chinese who had surrendered and said they did not want to fight in Korea anymore. But the LSM was too big, so we went in on my old tug boat. Once we secured the men below deck, we were told to deliver these prisoners of war to the Chinese coast. But the enemy was still in the area, so we had to sail at night under the cover of darkness. We had sailed from Manila to Korea, to the coast of mainland China where we released the POWs, then returned to Manila, with no identification and no lights on. But nobody told us when we began who we were picking up or where we would be taking them."
Fame told us he enjoyed his time at sea and especially his service under Admiral Moorer. He also said he was sorry he was unable to attend the late Chief of Staff's funeral.
During the course of our brief conversation, Fame repeatedly said that he was never paid for his wartime service. "I think they must have misspelled my name when I enlisted."
We joked that his check had probably been lost in the mail or was tucked safely in the coat pocket of the late Admiral Moorer. But a review of the historical record revealed what appears to be a disquieting confirmation to Fame's claim.
In the 1944 G.I. Bill of Rights, Allied combatants from 66 countries were included as beneficiaries of some of the best care this country could offer. Only men and women from the Philippines – who were promised official recognition for their service at the start of the war – were purposefully left out of America's largess.
Subsequent post-war legislation, known as the Rescission Act of 1946, said in part that the service of Filipinos: "shall not be deemed to be or to have been service in the military or national forces of the United States or any component thereof or any law of the United States conferring rights, privileges or benefits."
Filipino veterans would eventually be given a path to citizenship through the Immigration and Nationality Act of 1965. And legislation pushed by former Rep. Colleen Hanabusa (D-HI) led to recognizing Filipino vets with the Filipino Veterans of World War II Congressional Gold Medal Act.
Otherwise, the immeasurable role Filipino Veterans played in winning the war in the Pacific remains largely forgotten.
Philippines native, Merchant Marine, and U.S. Navy Veteran Fame Academia has a chest full of medals. But as of last Saturday, the old sailor is still waiting for his check from Uncle Sam.
"Give me ten thousand Filipinos and I shall conquer the world!"
Gen. Douglas MacArthur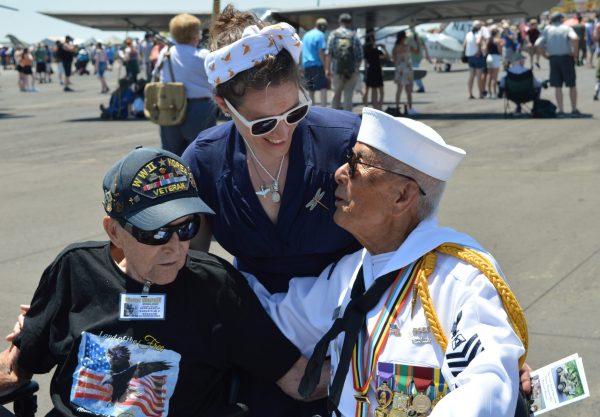 © Copyright 2021 Baltimore Post-Examiner. All Rights Reserved

Anthony C. Hayes is an actor, author, raconteur, rapscallion and bon vivant. A one-time newsboy for the Evening Sun and professional presence at the Washington Herald, Tony's poetry, photography, humor, and prose have also been featured in Smile, Hon, You're in Baltimore!, Destination Maryland, Magic Octopus Magazine, Los Angeles Post-Examiner, Voice of Baltimore, SmartCEO, Alvarez Fiction, and Tales of Blood and Roses. If you notice that his work has been purloined, please let him know. As the Good Book says, "Thou shalt not steal."