Facebook Official: Relationship after one date
I've never been Facebook Official. I've never linked my relationship status with Captain Perfect, Mr. Right, or even Mr. Right-Now. It's not because I didn't want to, but because I've dated guys who use Facebook to creep on other women and didn't want their relationship status to get in the way.
After Googling a bunch of statistics, I found out that a lot of people use Facebook for cheating purposes, so at least I'm not alone. Feel free to read (and post your own) Facebook cheating stories at www.facebookcheating.com #revenge
In the last few months on Mancation, I've used my Relationship Status like a "for sale" sign. I've made sure my account is public and my single status is waving in the wind. I do this because I love attention, I'm a little shallow, and I wouldn't want Prince Charming to think I'm taken.
Obsessed about finding a "Token Facebook Official Boyfriend" one night while drinking a tall glass of Skyy Vodka (Shameless Product Placement), I decided to browse through other singles on Facebook. And that's when I came across a sexy old acquaintance … and clicked "like" on his most recent photo hoping that he would see it and contact me. Within seconds he private messaged me asking for my phone number. What could it hurt? It's always nice to catch up with a good-looking guy you haven't spoken to in a while!
During our two-hour phone conversation not only did I run out of vodka, but he also asked me out on a date.
Our date began at an art gallery opening in Hollywood that I knew my girlfriends would be attending. My date was sweet, although relatively tattoo-less and there was an open bar so things were going pretty well. So well, in fact, that after no less than three strong drinks my girlfriends were taking photos of us secretly kissing in the corner. My friends and I have a pact that the more we drink the more photos we take of each other so in the mornings we can remember everything that happened the night before.
While uploading drunk selfies to Facebook I told my date that we should change our relationship status to "In A Relationship," just to see how everyone would react. He thought it would be funny, so we did. With a quick Facebook click he became my Token Boyfriend.
Unfortunately, my Relationship Status update was seriously anti-climatic. I wanted to be hit by a magic lightening bolt or to see unicorns galloping around the bar, but all I got was another drink and I saw a midget walk by.  #hollywoodlife
In a hungover haze the next morning I slowly recalled my earth-shattering social media update. I still didn't feel any different.  Perhaps it's more important if you're in a real relationship when you announce it, or maybe a relationship status update is pretty meaningless when you're a 36-year-old adult. But I really thought I'd feel like Katie Holmes when Tom Cruise jumped on Oprah Winfrey's couch.
Feeling let down by my new Facebook Status, I sent an "LOL" text to Token to see what he was thinking. Instead of changing ourselves back to "single" we ended up texting back and forth all day. We joked about what our friends might think of our new status, talked about meeting my parents and decided to go on a second date.
Maybe we'll get Facebook Officially Engaged on date number two … you never know!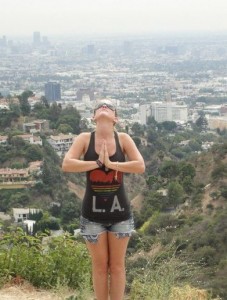 To look through my selfies and see all the awesome shit I do everyday, follow me on Instagram: FeatherGirl77.  If you need to tell me something amazing about your life you can do it on Twitter or Mancation on Facebook Tag me, Bitch!
All photos by Jaimie Beebe

At the age of 36, Jaimie has gone on one adventure after another. Getting an idea in her head she isn't afraid to jump into action… Usually with no planning and never considering the consequences. At 17 she left her small Iowa town to follow the band Phish and live in her car, she spent time protesting logging in Oregon, got arrested for organizing a topless march in Ohio, received a Bachelor's degree in photography, spent a month camping in the forest at a rainbow gathering, received a Master's degree in Music Management, managed some rock bands, modeled for Playboy, slept with a rock & roll legend a few times (hey, you would too), sold real estate in Los Angeles, bought a condo in Las Vegas and lost it to the bank when the market crashed, built her house in the Hollywood Hills in a bikini after the contractor she hired stole her money, took classes to become a magician, wrote articles and columns published in several magazines and websites, ran a production company, produced commercials with huge stars like John Stamos and Betty White and currently owns a casting company. And now she's taking her readers with her on her next adventure: Mancation.