EXCLUSIVE: Did the $10,000 Mandalay Bay Security Officer Jesus Campos gave his brother come from GoFundMe accounts related to October 1 shooting?
LAS VEGAS — The Baltimore Post-Examiner has obtained a letter written by Mandalay Bay Hotel Security Officer Jesus Campos stating that he gave his brother, Jorge Quintero, $10,000 in December of 2017.
On October 3, 2017 a GoFundMe account was created on behalf of an attorney for Mandalay Bay Security Officer Jesus Campos, by his co-worker Mandalay Bay Security Officer Liliana Rodriquez. The GoFundMe page displayed a depiction of the Mandalay Bay Hotel with the caption, "Pray For Las Vegas."
That GoFundMe account indicated that the donations were for "medical."
The account which is now closed netted a total of $35, 435 of a $40,000 goal.
Mandalay Bay Hotel Security Officer Liliana Rodriquez wrote on that GoFundMe page:
"My name is Lilly. I am raising funds to assist Jesus Campos, a co-worker, that was injured during the tragic Las Vegas shooting. Unfortunately, he was shot while on random patrol. Funds will be used to provide relief and financial support for him while he gets back on his feet. This is a young man that I work with day in and day out. Any financial support would be appreciated for the time he would need to recover. Anyone of us could have been in the position he was in. Most importantly we are a home away from home and at the end of the day we are a team and we should all go home together."
Another GoFundMe account was created on behalf of an attorney for Jesus Campos, by Encore Event Technologies, the Audio Visual partner to the Mandalay Bay Hotel. They indicated on the GoFundMe page that "Mandalay Bay Security Guard Jesus Campos, our fellow employee was shot and injured during October 1."
That account indicated that the donations were for "Emergencies."
The account which is now closed netted $11, 285 of a $10, 000 goal.
Campos' former brother-in-law, Luis Castro, told the Baltimore Post-Examiner that Campos had no money prior to October 1, 2017 and that he was living with Castro and at times with friends and or his girlfriend.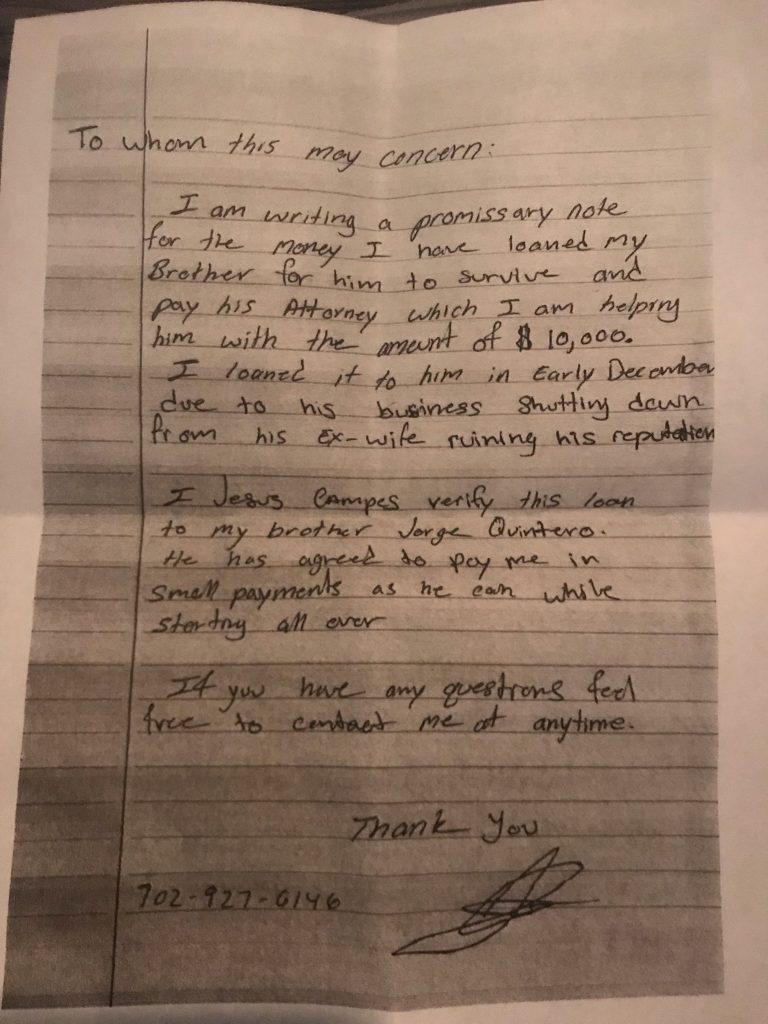 According to Castro in December of 2017 Campos wrote a letter that was later submitted to the Court during the custody hearing between Castro's sister and Quintero, her former husband.
Castro stated the letter from Campos was used to show that Quintero had some financial income.
The letter which was obtained by the Baltimore Post-Examiner and according to Castro is signed by Jesus Campos reads as follows:
"To whom this may concern: I am writing a promissory note for the money I have loaned my brother for him to survive and pay his attorney which I am helping him with the amount of $10,000. I loaned it to him in early December [2017] due to his business shutting down from his ex-wife ruining his reputation.
I Jesus Campos verify this loan to my brother Jorge Quintero. He has agreed to pay me in small payments as he can while starting over. If you have any questions feel free to contact me at any time. Signed Jesus Campos."
Castro told the Baltimore Post-Examiner that if the $10,000 Campos gave to his brother is linked to GoFundMe, then that money was used for other than the purpose stated on the GoFundMe account. Castro said he spoke to the police about his concern.
For additional information on what Castro told the Baltimore Post-Examiner read our December 9, 2018 article, "EXCLUSIVE: MGM Resorts International buys Mandalay Bay Security Officer Jesus Campos' silence with all expenses paid trips, condos in exchange for NDA."
After the Las Vegas massacre, many people expressed their generosity and charitable spirit by donating money to the hundreds of victims that sustained injuries.
The Baltimore Post-Examiner requested comment from Jesus Campos and Jorge Quintero. They did not return calls.
On a separate note, S/O Liliana Rodriguez was working in the Mandalay Bay Hotel security surveillance/dispatch room on the night of the October 1, 2017 Las Vegas Massacre.
The Baltimore Post-Examiner reported in our December 14, 2018 story, "What entry was logged at 9:59 p.m. by Mandalay Bay security night of Las Vegas massacre?," that Rodriquez at 11:52:51 p.m., was on the telephone with Campos as follows:
"Campos, you got hit right; was this related to what's going on? OK did you get a description…and you got hit…and you didn't see anybody?"
One hour and thirty-six minutes after the last shots were fired Rodriquez was asking Campos if him getting shot was related to what's going on.

Doug authored over 135 articles on the October 1, 2017 Las Vegas Massacre, more than any other single journalist in the country. He investigates stories on corruption, law enforcement and crime. Doug is a US Army Military Police Veteran, former police officer, deputy sheriff and criminal investigator. Doug spent 20 years in the hotel/casino industry as an investigator and then as Director of Security and Surveillance. He also spent a short time with the US Dept. of Homeland Security, Transportation Security Administration. In 1986 Doug was awarded Criminal Investigator of the Year by the Loudoun County Sheriff's Office in Virginia for his undercover work in narcotics enforcement. In 1992 and 1993 Doug testified in court that a sheriff's office official and the county prosecutor withheld exculpatory evidence during the 1988 trial of a man accused of the attempted murder of his wife. Doug's testimony led to a judge's decision to order the release of the man from prison in 1992 and awarded him a new trial, in which he was later acquitted. As a result of Doug breaking the police "blue wall of silence," he was fired by the county sheriff. His story was featured on Inside Edition, Current Affair and CBS News' "Street Stories with Ed Bradley". In 1992 after losing his job, at the request of the Federal Bureau of Investigation, Doug infiltrated a group of men who were plotting the kidnapping of a Dupont fortune heir and his wife. Doug has been a guest on national television and radio programs speaking on the stories he now writes as an investigative journalist.