EWA – Faith No More 2 final showdown between Storm/Cruz '16 and The Dark Horses
Violet and #PatAnthony celebrate what many angry fans consider a stolen victory. (David "Ace" Livingston)
Eastern Wrestling Association (EWA) will host Faith No More 2 on Saturday, May 14th at Tall Cedars Hall in Parkville. Fans should expect a top-notch card following the acclaimed Sweet Sixteen Tournament in March.
Faith No More 2 will be headlined by EWA Heavyweight Champion "Starstrukk" Tjay Sykes. Sykes will defend his title against Joey Badami. Badami certified himself as a standout performer during the Sweet Sixteen Tournament, where he competed in the finals, defeating Ring of Honor veteran "Brutal" Bob Evans in the process. Most recently, Badami defeated Sykes at the EWA Pain Factory in Dundalk on April 15th. Badami's victory impressed Sykes, provoking him to announce Badami as the #1 Contender for the EWA Heavyweight Championship. Sykes will have much weighing in his mind during this fight, as #PatAnthony has lately justified his attack on Badami from last Summer, telling Sykes that he was Badami's next target.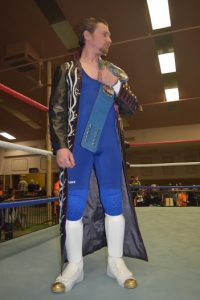 2016 Sweet Sixteen Tournament Winner #PatAnthony will make his grand debut as EWA Maryland Champion at Faith No More 2. Anthony's first title defense will be against Jason Drake, who made the challenge at the EWA Pain Factory in April. Anthony's first title defense is guaranteed to be full of surprises compliments of Social Media Ambassador Violet, much less Drake's manager, Rizzo.
Following his loss to TJay Sykes at Sweet Sixteen, the "Legendary Super Cruiserweight" Wes Mercer caught flak in the locker room from "The Show" Mr. Jones. Mercer quickly snapped back, reminding Jones that it takes wrestlers like the only EWA Grand Slam Champion to defeat him. The confrontation was revealed in an interview between EWA announcer Mikey D and Mercer, where he offered Jones a shot at the EWA Cruiserweight championship, ensuring that Jones couldn't resist Mercer's chance to seek retribution. Alternatively, Jones is riding a seven-month losing streak. A victory, not to mention a victory for the EWA Cruiserweight Championship, would be a tremendous turnaround for the struggling athlete.
Storm/Cruz '16 will defend their EWA Tag Team Championships at Faith No More 2, but their numbers no longer gives them an advantage, as they'll be facing The Dark Horses in a Lumberjack Match. Steve Driver has been the ace in the sleeve of Storm/Cruz '16 in past months, but the rest of the EWA roster will serve as a great equalizer to ensure that the dominant team leaves Faith No More 2 with the Tag Team Championships. Taking flight when things get hot won't be an option either.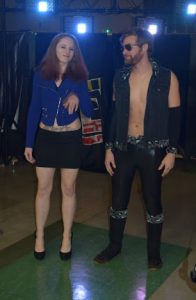 Mason Walls and Sean Wayman, The Gun Show, will make their EWA debut at Faith No More 2 against the team of John Berg and "The Baltimore Butcher" Blood, along with amigos "The BMW of Professional Wrestling" Ray C. Hawkins and Bump. Walls and Wayman have shown promise at the EWA Pain Factory this year and look to be a hot addition to EWA's tag team division.
Tensions are running high between tag team partners Derron J and Ivan Ali of D.T.P. following their qualifying match at EWA Sweet Sixteen, where Ali was eliminated by Derron in the first fall. In an attempt to allow the situation to cool down, Ali will wrestle in a singles match against former EWA Cruiserweight Champion, Chris Burns.
Former EWA competitor Simon Ryme will make his return to Tall Cedars Hall at Faith No More 2. Ryme will compete against JT Moore in his first match with Eastern Wrestling Association in over five years.
EWA Faith No More 2 will take place Saturday, May 14th at Tall Cedars Hall in Parkville, MD. The venue is located at 2501 Putty Hill Avenue, Baltimore, MD 21234. Bell time is at 7:30. Tickets are available at EWAMaryland.com or by calling (443) 858-2755. Card subject to change. Follow EWA on their new Facebook page, EWA Pro Wrestling (https://www.facebook.com/eastern.wrestlingalliance/). Thanks to David "Ace" Livingston of Wrestling in Maryland (https://www.facebook.com/WrestlingInMaryland/) for his photographic contributions.

Having recently graduated from the broadcasting program at The Sheffield Institute for the Recording Arts, Jack Hash is working fervently to break into business of professional wrestling as a commentator. To keep his dream alive, Jack hosts a weekly podcast, Shooting Star Cast, where he satirically tears apart all the ridiculous happenings in pro wrestling, while singing the praises of the rays of sunshine that break through the clouds of the squared circle.