Elle Winter: Rising pop star speaks truth through music, acting, activism
Pop star Elle Winter is set to perform tonight at Oriole Park at Camden Yards. (Mike Jordan/BPE)
At 19, most baseball players are just trying to get their foot in the door. Singer, songwriter and actor Elle Winter has been a pro since the age of seven. The New York City native already boasts a formidable music career since being discovered by Radio Disney at age 12 and regularly enjoys having her music featured on Radio Disney's Top 30 countdown. Today, with a hot new single and an albumn on its way, she is poised to solidify her place as the music industry's next rising star.
When Elle is not singing, writing, performing or acting, she devotes her time to organizations such as The Ryan Seacrest Foundation and Music is Medicine, which brings music to children at hospitals across the country.
Elle is in Baltimore tonight to perform a post-game show for the Orioles' inaugural installment of the Friday Fireworks & Music at America's Ballparks concert series. We caught up with this amazing young woman last night at Oriole Park at Camden Yards to chat about her soaring career and to hear the back-story about her catchy current single, "One More".
BPE: Welcome to Baltimore.
Elle: Why, thank you. I'm loving it so far. It's a little more humid than New York City, but that's okay.
BPE: You grew up in New York City, and the Yankees are here in town this weekend to play the Orioles. Exciting?
Elle: I know! It's awesome and kind of sentimental.
BPE: I understand you were a standout softball player.
Elle: (laughing) Yes – I did play softball for one season in the sixth grade, so this is a great sport for me to be supporting.
BPE: How did you get involved with the Orioles' very first "Friday Fireworks & Music" Concert Series?
Elle: I heard about this new series they do with a fireworks post-game show. My manager – David Nathan – connected me with this amazing team, who said I have this opportunity to do the show and to sing the National Anthem. Of course, I jumped at it. It's a perfect fit for me.
BPE: You're also singing the National Anthem?
Elle: I am, and I'm looking forward to that as well. I didn't know it was written so close to where we are right now – on a ship, right? And thank you for letting me know about the "O" section of the anthem here at Oriole Park. I don't know how to describe it, but I will be aware of that. I'm just really excited to be here.
BPE: Speaking of jumping at it, how did you get your start in the business?
Elle: Well, I've always been singing, and when I was about seven, my sister found out about an acting course in New York City. I joined it, and at the end of the semester, they put on a showcase. Agents came, and I got recognized by a lot of them, and one signed me. Since then, I've been doing commercial work and other projects. Then I got discovered by Radio Disney at twelve. And I've just given you my whole run down!
BPE: Has the Radio Disney gig opened doors for you elsewhere?
Elle: So many doors! Once they discovered me, I basically had three days before I was put on a national tour – put on this platform and exposed to so many different fans and supporters. It really just took my career to the next level. (Disney) has been so supportive of me ever since I was put on that program. They play all my music, and they are actually featuring my latest single. And they have an awards show that I'm gonna be part of so I'm excited about that too.
BPE: Music and acting. Please tell us more about that.
Elle: I think they go hand-in-hand for me. There is such an element of acting in music and in performing other peoples songs as well. I have a passion for both and I've been lucky to be able to pursue both of them.
BPE: I don't want to go too far afield, but I have to ask: Working with Disney, do you ever consider the lives of some of the young luminaries who came before you? People like Annette Funicello and Paul Petersen, who got their start working as child performers with Disney and then went on to have pretty successful careers through their late teens and into adulthood.
Elle: I really don't know anything about Annette, and honestly, doing Radio Disney is somewhat different than being under contract to Disney television or movies. But I can tell you that it is a unique experience. I mean, they don't do things now, like telling you what length of skirt to wear anymore. But from a career-building standpoint, there is nothing like it. I know Britney Spears and Miley Cyrus have tried to distance themselves from their Disney work, but they can't deny how important it was in helping to launch their careers.
BPE: What about your musical influences?
Elle: I grew up listening to all of those pop music princesses. Britney Spears; I loved Avril Lavigne – so awesome. They inspired me to be this strong female singer and have the courage to pursue that. They are probably my biggest (influences) earlier in my career, but now it's Bruno Mars, Ed Sheeran.
BPE: This idea of strong women does seem to come through in your music.
Elle: I just like to write music that is about my what is going on in life. I like songs that empower me and other women as well. Writing songs with a message, I have the ability to speak my truth.
BPE: But you are also speaking your truth through activism?
Elle: Yeah, I guess that's true. I'm very involved in an organization called "Music is Medicine," and they allow me to perform at hospitals for children. I've been doing that since I was twelve.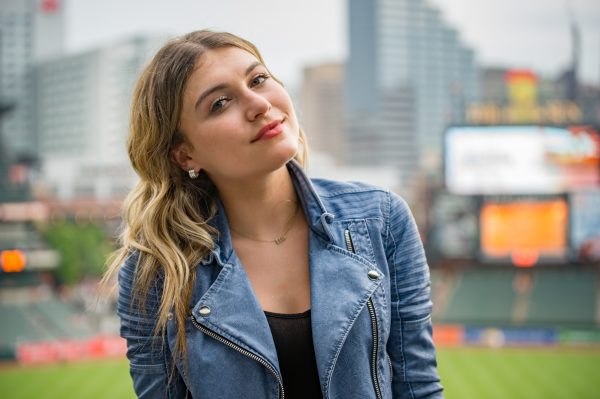 BPE: Do you have any particular favorite story about performing for children that you'd like to share?
Elle: When I was fifteen, I participated in a program called the "Dedicated Song Project." I worked with a patient and with my friend, Sam. Sam is a Youtuber. Together, we wrote a song for this patient. We learned what type of music she likes, what artists, and we created this song for her. That was a really, really special moment.
BPE: "One More" was created for your sister, right?
Elle: Oh, yes! I wrote "One More" like six months ago now, yeah in October. I was going through a break-up, and I was in London and I was like, "I don't want to bring bad energy to my sessions in London." So I thought "I'll just write about my sister's love life." She called me on my way to the studio, telling me about this amazing first date. So I wrote about that and now she's very upset about it because I tell everyone it's about her!
BPE: You mention working in London. We have great music producers here in New York and Los Angeles, but there are also some wonderful producers in London.
Elle: Yes, and I realize that. Just the caliber of talent I've been working with. There are so many amazing producers and writers in London and I want to go back and live there! I love the accent!
BPE: What can fans who come out to see you at Oriole Park on Friday night expect?
Elle: I'll be performing some music that I have not released yet, so it should be fun. And as I said, I think it's a perfect fit for me – a fireworks post-game show. Plus, Friday night is Student Night, so there will be a lot of kids and others who I think will enjoy the music. I'm glad to be a part of that.
BPE: You mention the students. Would they be your fan base?
Elle: Well, I'm 19, so I would say, probably teens to mid-twenties. But I think anyone would enjoy my music. It's universal.
BPE: Besides, your tunes are catchy.
Elle: Right! We all like catchy tunes, no matter how old we are.

Anthony C. Hayes is an actor, author, raconteur, rapscallion and bon vivant. A one-time newsboy for the Evening Sun and professional presence at the Washington Herald, Tony's poetry, photography, humor, and prose have also been featured in Smile, Hon, You're in Baltimore!, Destination Maryland, Magic Octopus Magazine, Los Angeles Post-Examiner, Voice of Baltimore, SmartCEO, Alvarez Fiction, and Tales of Blood and Roses. If you notice that his work has been purloined, please let him know. As the Good Book says, "Thou shalt not steal."