Elise Bryant: Labor's Sister of Hope
Artwork by Mike Konopacki
"Next time someone asks you about the labor movement rather than explaining it, introduce them to Elise Bryant instead. Her art, her politics, her way of being, all blends into one. When she sings, you can feel the age-old longing to live without oppression, war and bigotry. When she speaks, you can feel the radical impulse to stand with your fellow workers all around the world. When Elise conducts a choir or hosts a workshop, you can see the beauty of collective action unfold right before your eyes."
—Matt Bates, former communications specialist, International Association of Machinists and Aerospace Workers, assistant professor of communication, Trinity College, Washington, DC.
Years ago, Paul Clark, professor of labor studies at Penn State University conducted a behavioral analysis of unions and our members. Clark admonished union activists (like me) to understand the power of first impressions we make with folks we are trying to recruit or involve in our organizations.
No one I have ever met in my 45 years in the labor movement makes a better first impression than Elise Bryant. I first met Elise when I signed up for one of her courses at the National Labor College in Silver Spring, where she taught for 35 years. I'm just one of thousands of her students and mentees. I guarantee every last one of us remembers her and was moved by her spirit.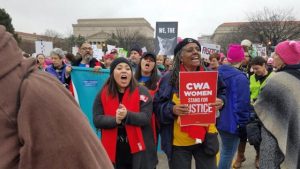 Elise's father was a member of the United Autoworkers at Ford's River Rouge plant, where black men like him worked the hardest, dirtiest, most unsafe jobs. Her mother worked in the homes of wealthy white folks. She honors them frequently in her speeches and classes and songs, but most of all in her strength of character.
Labor movement folks are prone to skepticism. The media, academia and our neighbors down the street all too often cast us as relics of another age or marginalize the role of organized labor in our communities. Elise Bryant is our absolute best antidote to skepticism. Her hope is always grounded not in blind faith or rote, but in her appreciation of history. "Elise is fantastic, a brilliant educator with great strength of character," says Bill Fletcher Jr., former director of education, AFL-CIO.
Currently the executive director of the Labor Heritage Foundationand national president of the Coalition of Labor Union Women, Elise launched her labor arts career as the artistic director of the University of Michigan's labor theater project, Workers Lives/Workers Storiesin 1982. She began her screenwriting career with a script for the documentary, Porgy and Bess: An American Voice, which aired on PBS. In 1998 Elise founded the DC Labor Chorus. In honor of her father, she directed two productions of the labor jazz opera, Forgotten: theMurder at the Ford Rouge Plant, in Detroit and in the Washington, DC area. Most recently she directed the labor jazz opera Love Songs From the Liberation Wars: the 1940s Tobacco Workers Struggle.
Elise is a member of the American Federation of Musicians Local 1000, the CWA/Newspaper Guild Local 32035 and a lifetime member of the Wobblies (The International Workers of the World). In 2012, she was given a lifetime achievement award from the international organization, United Association of Labor Educators.
Elise
Not the first daughter
whose father demanded:
Don't
Ever
Cross
Anybody's
Picket
Line!
Not the first
Daughter
whose mother
toiled every day
for rich White people.
So, what did they know
when they named her Elise,
God of oath,
God of abundance?
Man, let me tell you,
Sister's so special.
Her workshops start with everybody,
I mean e-v-e-r-y-b-o-d-y
holdin' hands, singin'.
The workshops end the same way.
And that Smile,
Abundant for damned sure,
one of them huggin',
for Real,
I've got your Back,
They won't Stop us,
Don't let them tell you
You can't do it,
We will Win
Smiles.
That Voice,
soothing as honey,
sharp as lemon,
slipping, sliding, ALWAYS
into
SONG.
That Oath:
Never,
Ever
Forget:
We
Stand
On
The
Shoulders
Of
Others!
Here's Sister Elise at the 2018 Women's March Rally.

Len Shindel began working at Bethlehem Steel's Sparrows Point Plant in 1973, where he was a union activist and elected representative in local unions of the United Steelworkers, frequently publishing newsletters about issues confronting his co-workers. His nonfiction and poetry have been published in the "Other Voices" section of the Baltimore Evening Sun, The Pearl, The Mill Hunk Herald, Pig Iron, Labor Notes and other publications. After leaving Sparrows Point in 2002, Shindel, a father of three and grandfather of seven, began working as a communication specialist for an international union based in Washington, D.C. The International Labor Communications Association frequently rewarded his writing. He retired in 2016. Today he and his wife, Maxine, live in Garrett County where he enjoys writing, cross-country skiing, kayaking, hiking, fly-fishing and fighting for a more peaceful, sustainable and safe world for his grandchildren and their generation