Edmonton: Finding French Pastry at Duchess Bake Shop
EDMONTON —  I despaired when I moved to this city of ever finding a coffee shop that would even come close to my favorite DC hangout — Patisserie Poupon.
Imagine my delight when I walked into Duchess Bake Shop one summer afternoon.
It was like wandering into a high rent Paris pastry shop — little marble topped bistro tables laid out in orderly rows and display cases teaming with rich beautiful looking pastries. My delight only increased after ordering a steaming hot latte and a pain au chocolat. Sitting at the table, I felt for the first time that this place could possibly be my home.
I relished the fact that the frothy latte was topped with a gorgeous leaf patten while the fat fluffy croissant had this crunchy buttery exterior that cascaded onto my plate and an interior chocolate that was slightly warm and melted on my tongue. (The store offers both milk and dark chocolate croissants.)
In the weeks since that first culinary adventure, I've been back dozens of times. I spend mornings writing there (and yes I realize I've neglected the blog).
Meanwhile I've tried the various lunch options like fat creamy quiche and warm bowls of mushroom soup topped with croutons and melted cheese.
I can no longer count the little cakes and tarts that I've picked up for special dinners.
Thankfully many of the creations can be purchased in smaller four inch versions offering just enough of a taste for two without awarding the angst of caloric filled leftovers.
At Duchess there is no messing around with the desserts. These sweets are always on point — no soggy crust or off-flavors ever.
Personally I adore their key lime tart with its (forgive the repetition) tart tangy creamy interior and crunchy crumbled graham cracker crust.
But the larger — eight inch—  tarts and cakes are ideal for sharing with friends.
For example, last night we picked up a beautiful chocolate tart to celebrate a friend's birthday. The dense smooth mixture of milk chocolate and chocolate ganache complimented the chewy crust that was so thick that it required such sharp pressure from our forks that several people threw them aside and gleefully consumed the dessert with their hands.
This is such an aside but I can't help it. Since our friend's parents were in town and it was just days away from his birthday we had everyone over for dinner. With snow falling intermittently all day, it felt like the perfect opportunity to make my lamb bolognese, a riff on a traditional beef bolognese that has turned into one of my most popular recipes. (My mom even made it for clients.)
Happily I was able to find all of the ingredients from prosciutto to porcini mushrooms.
As part of my shopping trip, I stopped by the Italian Centre (a wondrous place that I will write about) and picked up several pepperonis, some Abruzzo salami and some spicy soppressata. To serve as appetizers with some crumbly blue cheese, cornichons and our homemade balsamic onions with brown sugar. Unable to stop myself I also grabbed some fresh out of the oven focaccia, a loaf of sundried tomato bread and some pappardelle pasta.  (Yes, I over-served foodwise.)
I also picked up two bottles of Barolo that were finished before we even sat down for dinner — oops.
But getting back to that tart and Duchess in general. One of our guests so enjoyed the dessert that he offered to take any leftovers and eat them for breakfast. Meanwhile our dessert last night was so fabulous it inspired me to come back today and resume typing — this time not my book but instead all about Duchess.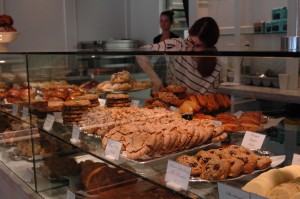 An earl grey latte with honey immediately banished a boney chill. (The temperature reads 32 but it really feels like 10, especially with the wind blowing. And I hate to sound like I'm wishing for snow but despite the temperature and a promise of six days of snow starting this past Saturday, Edmonton has been virtually snow-less with just a few flakes these last few days.)
As I've typed this, I've enjoyed a hot bowl of their tomato and cream soup (a.k.a. cream of tomato soup) and a piece of their wild boar bacon and mushroom quiche complete with a thick homemade crust.
As they were out of milk chocolate pain au chocolats, I ordered a Brioche Pepin, which is this crazy decadent pasty comprised of chocolate, creme and brioche dough. The pieces of melted chocolate spill out the sides. I keep hoping that the longer that I type the less full I will feel but sadly it is not to be.
Not only do they have wonderful standards like brioche, meringues and macarons, they also have wonderfully inventive desserts like their yam sweet potato crème brulée brioche.
There is even a new Provisions by Duchess store next door where you can buy baking supplies and some pretty amazing cookbooks.
I'm relieved to say I've found a coffee shop that rivals my old Georgetown favorite.

Welcome to Sarah's life of wine, travel, food and child. Sarah Abruzzese is a former Washington D.C., reporter, living in southern California. She's working on launching 7 SUNDAYS CLOTHING (www.7SundaysClothing.com), a UPF 50+ sun protective clothing company for children. Beside working on the clothing line, she spends her days running after a toddler and then if there is time left over, eating well, visiting wine country and exploring the West Coast. Follow her travels on twitter #sabruzzese.