Edgar Allan Poe's Baltimore Connections (Book Review)
A book of photographs by David F. Gaylin does a good job of capturing the City of Baltimore and its connections to one of literature's favorite sons – Edgar Allan Poe. Its title is: "Images of America: Edgar Allan Poe's Baltimore."
The author insists Baltimore's affiliation with Poe, compared to other cities, "is arguably the strongest." He offers plenty of photos, maps and drawings, along with historical notes to make his case. Plus, he tosses the notoriety of our pro football team, "The Baltimore Ravens," in for good measure.
A little background on Poe's residences is warranted. He was born in Boston on January 19, 1809. He then lived in Baltimore from 1831 to 1835; in Philadelphia from 1838 to 1844; and, finally, in New York City from 1844 to 1849.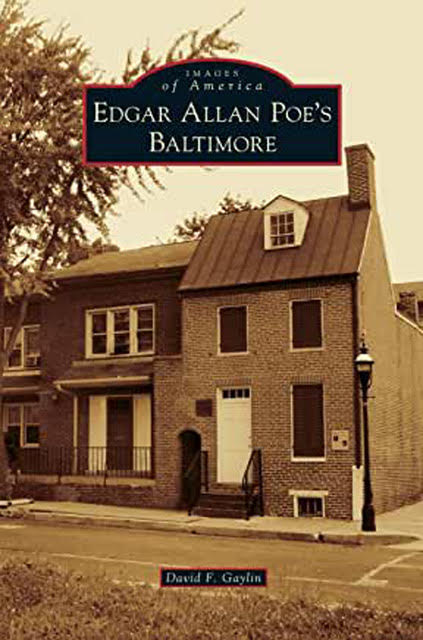 Gaylin wrote that Poe began writing short stories while living in Baltimore, which became "more marketable for him than his poetry." In 1833, Poe even won a cash prize from a Baltimore tabloid for his tale, "Manuscript Found in a Bottle."
An all-around, versatile wordsmith, Poe spent his early years in Richmond, VA. The family of John and Frances Allan raised him until 1827. Poe, then at age 18, launched his career as a want-to-be writer. He did so, often with little or no success or public recognition of his vast talents.
The truth is Poe didn't become famous until after his death! He died in Baltimore, at age 40, in 1849. (1)
The cause of Poe's death remains a mystery. It has been attributed primarily to alcohol or substance abuse. Poe's was found "delirious" at around Lombard at Charles Streets, on October 3, 1849, near an Irish pub, in downtown Baltimore. He died four days later, October 7th, at Washington College Hospital. (2)
The hospital located at 100 N. Broadway at Fayette Street was later known as "Church Home Hospital." Today, it is an apartment building. The author indicated that there is now a historical marker in front of the building which says that "Poe spent his last days in this house."
Three of Poe's most recognized sites are underscored by the author. They are all within easy walking distance of each other. (3)
First, (the photograph used on the cover of the book), is Poe's home at 203 North Amity Street in Baltimore. He lived there with his young wife, Virginia Clemm and her mother, Maria Clemm, from 1833 to 1835. Today, it is recognized  as the "Poe House."
As expected, it is listed as a National Historic Landmark and is "visited by thousands every year." In 1949, thanks to the visionary work of the Edgar Allan Poe Society, it became "a furnished museum."
Poe's funeral was held, October 8th, at 4 PM. "Few people attended," the author tells us. "The crowd was so small, the minister decided not to have a sermon. Poe was buried in a cheap coffin that lacked handles. The entire ceremony lasted only three minutes."
The final resting place of Poe is found on the burial grounds of Westminster Hall, located at Fayette and Green Street. It's the second iconic site belonging to the Poe legacy. The church was built in 1852, three years after Poe's death, and was "disbanded in 1977." The property is now under the control of the University of Maryland School of Law, "which operates the grounds."
For a long while, Poe was buried in a grave behind where the church is now located. His body was later moved to the front of the church on its left side looking towards Fayette Street. A lovely marble monument "designed by Anthony Washington" now marks the spot.
The third most iconic site associated with the Poe legacy is a bronze monument of the poet that today sits in front of the University of Baltimore School of Law on Mt. Royal and Maryland Avenues. It was designed sixty years ago by the acclaimed artist Sir Moses Ezekiel. (The U. of Baltimore, pre-Law and Law School, was yours truly's alma mater.)
Gaylin underscored how this monument, and the one to Poe at Westminster Cemetery, are often "festooned with flowers, balloons and humans taking selfies."
As the author tells Poe's story he also gives a lot of interesting details about Baltimore's history, with photos to back it up. The "Lady Baltimore" monument at Fayette and Calvert Street takes center stage, along with the "Shot Tower," the "Washington Monument," the 'Port of Baltimore," "Fells Point," "Federal Hill," "Hollins Street Market," "Lazaretto Point," and various other landmarks.
Besides the monuments, the author also includes tons of photos and images of many of Poe's Baltimore contemporaries. Gaylin ends his gem of salute to the famous writer with this line: "Each year, Poe's Fayette Street burial site attracts thousands from around the world."
"Edgar Allan Poe: A Tragic, But Talented, American Original," at http://portland.indymedia.org/en/2009/01/385799.shtm
"Thirteen Haunting Facts about Poe's Death," at https://www.biography.com/news/edgar-allan-poe-death-facts

Bill Hughes is an attorney, author, actor and photographer. His latest book is "Byline Baltimore." It can be found at: https://www.amazon.com/William-Hughes/e/B00N7MGPXO/ref=dp_byline_cont_book_1