EAA honors 43rd Bombardment Group vets, families with flights on B-17 'Aluminum Overcast'
Retired Colonel James C. ("Jimmie Dee") Dieffenderfer and his son Scott in front of the EAA B-17G Aluminum Overcast. (Mike Jordan/BPE)
Manassas, VA – Honor rides aboard classic warbirds like the Boeing B-17 bring a flood of memories to the aging veterans who staked their lives on the storied airplane. But what do such rides mean for their family members? Scott Dieffenderfer grew up in a military family, but didn't fully appreciate what his pilot-father "Jimmie Dee" did during World War II. Neither did Nancy Solomon, whose late husband "Bill" flew 55 missions in the Pacific Theatre – but never uttered a word to his bride about his harrowing wartime experiences.
Nancy, Scott, and Jimmie Dee were just a few of the guests on hand yesterday as Chapter 186 of the Experimental Aircraft Association (EAA) hosted members of the 43rd Bombardment Group for honor rides at the Manassas Regional Airport.
Also on hand was the EAA's pristine B-17G bomber – Aluminum Overcast.
Festivities with the plane continue today through Sunday.
Bob Prange – a member of EAA Chapter 186 – told the Baltimore Post-Examiner that planes like the Aluminum Overcast are popular attractions when they visit Manassas Regional Airport.
"This airplane (Aluminum Overcast) and a Ford Tri-Motor are owned by EAA.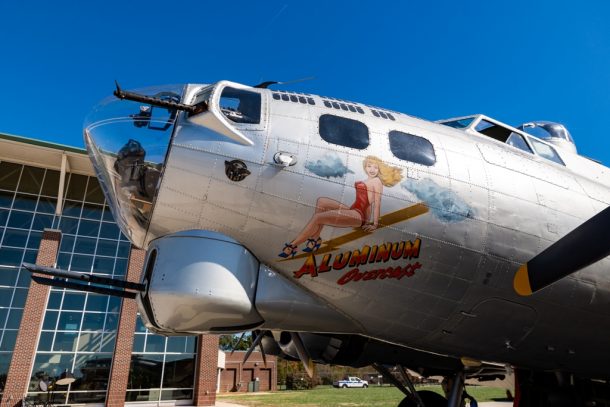 "EAA is headquartered in Oshkosh, Wisconsin, where they host a huge internationally known air show every summer. They take the planes on tour every year and local EAA chapters such as ours play host by helping to sell tickets for the rides."
The annual EAA AirVenture Oshkosh (EAA.org/AirVenture) gathering is known as the World's Largest Aviation Celebration®. Each summer in Oshkosh, Wisconsin, more than 500,000 people, and 10,000 airplanes attend a week-long celebration of flight.
EAA also has a worldwide network of nearly 900 chapters.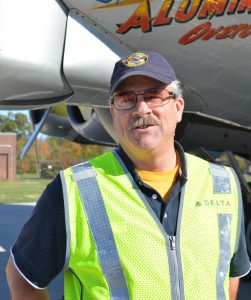 "We're a pretty active chapter with a couple of hundred members," said Prange. "Being located near a metro area helps a lot. We meet one Saturday a month and usually hear an address by a local pilot or a special guest speaker. We also give rides to kids free of charge. Some planes hold one passenger, while others can accommodate four. That's done on our own time and fuel. No one reimburses us a penny.
"The biggest 'kids ride' we offer is to fifth-graders up in Winchester, VA, who have gotten through the D.A.R.E. (Drug and Alcohol Resistance Education) Program. It's a great incentive for the students. We'll show up with 10-15 aircraft and give upwards of 140 kids a free ride."
We asked Prange if it's true that there is a pilot shortage?
"Yes, and that's a question parents ask us on Saturdays when we are giving Young Eagle rides. 'Little Johnny or Mary is thinking about becoming an airline pilot. What should they be thinking about now if they want to pursue that dream?'
"This year, the EAA in Oshkosh was given a million dollars by the Ray Aviation Foundation to give scholarships to young people who want to learn to fly. They thought, 'What better way than to do that through the local chapters around the country?' So, we've been approved to award one $10,000 scholarship.
"There are also options in the military, of course, as well as universities and corporate programs.
"I fly for Delta, so I can talk with parents about the kinds of programs Delta has for bridging the gap. There are other scholarships available, so we just try to keep parents apprised. It's an expensive proposition to become an airline pilot, but there are ways to do it. It's one of the few fields where college program directors can honestly tell students, 'Complete this course and you will have a job.'"
An Iconic Warbird
During the course of its factory run from the mid-1930s until the end of WWII, 12,732 B-17s were produced. Of these aircraft, 4,735 were lost during combat missions.
The final B-17 production model, the B-17G, was produced in larger quantities (8,680) than any previous model and is considered the definitive Flying Fortress. With its 13 .50-caliber machine guns–chin, top, ball, and tail turrets, and waist and cheek guns–the B-17G was an airplane that earned the respect of its combatants.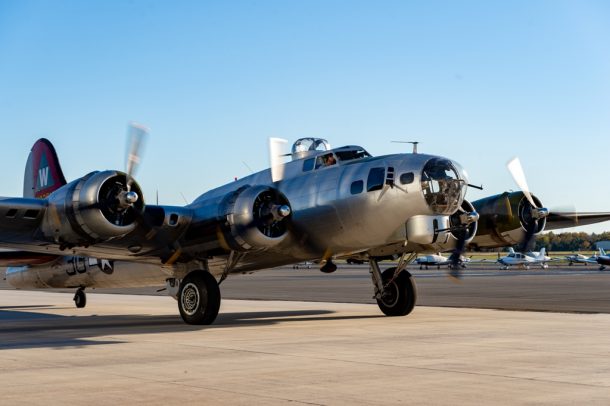 Aluminum Overcast is an exquisite example of the B-17G. And a rare bird to see in flight. Today, fewer than fifteen B-17s can still take to the air.
"I've been flying for 52 years and have been flying this plane for about six years," said pilot Shawn "Nick" Knickerbocker. "It's a privilege to fly such an airplane as the Aluminum Overcast. Or to sit in the nose, where the bombardier sat, and consider your surroundings, then think about that view at 26,000 feet. Being an ex-military guy, I definitely appreciate that. It's got a lot of sentimental value and it's an honor to present that aspect to people; to just make them aware of how history was."
With a handful of veterans waiting in the wings for a ride, we asked Nick about his interactions with the aging members of "The Greatest Generation."
"Doing these events, and flying all over the county, you get to meet these WWII veterans. We're nearing the day when there won't be any more of these WWII veterans left – especially veterans who flew on the B-17.
"I remember one event in Caldwell, Idaho. A 96-year-old pilot – who'd never talked about his experiences with his family – took a ride with us, and when he got back down on the ground, he just opened up and started to talk to everybody."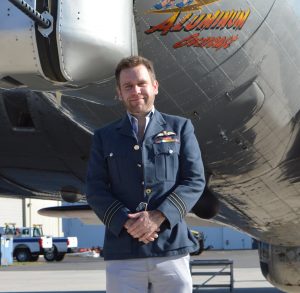 In the hours leading up to the late afternoon flights, aging vets, media members, and select visitors toured the gleaming bomber. Tom Rogan – a DC-based journalist – slipped into a vintage RAF tunic, then paused for a moment to stand for a photograph in front of the plane. "My American grandfather was a Pacific-based Marine who joined the Army after the war," he said, "and my British grandfather was an RAF bomber command pilot."
Prior to take-off on the first of three scheduled flights, Tim Bourgoine – Crew Chief on the Aluminum Overcast – filled us in on a few details about the warbird, and the men who flew B-17s during WWII.
"This particular plane never saw combat action, as it was delivered to the Army near the end of the war," explained Tim. "But it's a piece of aviation history just the same.
"As you're flying today, keep in mind that the 'Old Man' on most of the 10-man crews was often a 21-year-old pilot. The enlisted crew members might be 18 or 17, or even younger. Teens who had lied about their age to get into the war were also on board.
"In the air, you were fighting the cold, along with the flack and enemy fighters. In the early part of the war, one-third of the crews didn't return from their missions. You got back to your barracks and see the empty bunks, but you'd be back in the air the next day, and the next day, and the next. Incredible sacrifice and courage. And thank goodness they were young. If it wasn't for their sacrifice, we wouldn't be who we are today."
At War In The Pacific
Fighting in the cold was especially a problem for aircrews who served in the 8th Air Force over Europe. But B-17s saw service in every theatre of operation – from North Africa and the Mediterranean campaign to the South Pacific.
The 43rd Bombardment Group (Heavy) – initially intended to be part of the 8th Air Force in Europe – was reassigned before beginning service to the 5th Air Force in the Pacific in 1942. They began by flying B-17's but transitioned to the longer-range B-24's during the war, with many crew members serving aboard both types of aircraft.
Retired Colonel James C. ("Jimmie Dee") Dieffenderfer was a member of the 43rd.
Jimmie Dee obtained his pilot's license in his junior year in Virginia Polytechnic Institute's first Civilian Pilot Training Program. Graduating with the Class of 1941 with a degree in Electrical Engineering, he entered the Army Air Corps (AAC) and graduated from the Army's military pilot training program at Kelly Field, TX in March 1942. Initially assigned to the 74th Bombardment Squadron (BS) in Panama, he went on to serve nearly 29 years in the United States Army Air Force (USAAF) and the U.S. Air Force (USAF) in a variety of roles.
During World War II, then 1st Lt Dieffenderfer was reassigned to the 63rd BS, 43rd BG(H) where he flew 46 combat missions (310 combat hours) as a B-17 pilot in the Southwest Pacific. Returning to the United States in August of 1943, he was reassigned as an instructor pilot, training aircrews in B-24s, B-29s, and B-32s.
After the war, he held positions developing aircraft and space electrical systems, including Chief of the Laboratory for developing new materials at Wright Patterson Air Force Base, Ohio; and executive officer for the Deputy Chief of Research and Development at the Pentagon.
Col Dieffenderfer retired in 1970 from the United States Air Force as the Vice Commander of the Office of Aerospace Research in Washington D.C. He continued working in the electrical field, installing electrical systems and equipment in shopping malls and amusement parks until he joined the Walt Disney Corporation, where he was responsible for all animation and sound systems at Epcot Center.
Col Dieffenderfer retired from Disney in 1986 and resides in Orlando, FL. His name was added to the Aviation Wall of Fame at the Blacksburg Airport in March 2003.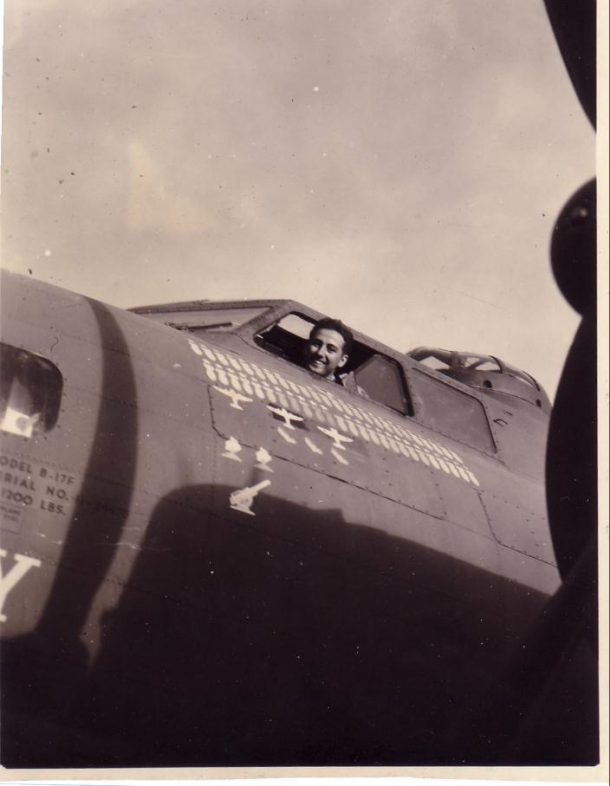 "I asked him how often he was engaged by the enemy and he said pretty much every time they went up," said Jimmie's son Scott Dieffenderfer. "They were attacking Rabaul, which was a Japanese fortress with a lot of aircraft in the vicinity. They never did defeat that stronghold, so eventually, they just bypassed it."
Scott said the danger of the missions undertaken by men like his dad was evident in the citations his father received (two Distinguished Flying Crosses, two Purple Hearts, and two Air Medals) as well as in the attrition within the ranks of the 43rd.
"Dad said he saw a lot of his friends get shot down. One entire crew was awarded Silver Stars posthumously. The unit was highly decorated. There were, in fact, three Medal of Honor recipients from the 43rd. Flying with him on this plane today, I begin to understand what my father went through during the war."
Nancy Solomon said she also gained an understanding of her late husband's wartime career.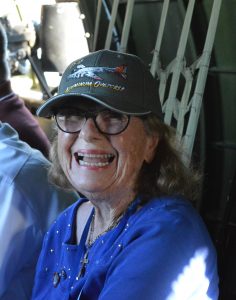 "My husband Bill was in the 43rd Bomb Group – the 403rd squadron. He flew 55 missions, which is how I got to fly today. I was looking at the big gun in the window across from me, and I was thinking, 'Boy, if I could just grab that gun and give it a good whack!' Ha! They would throw me off of the plane before it landed!"
We wondered if Bill talked much about the war?
"He never said a word about what he was going through. I didn't know him during the war, but he'd write to his mother and say, 'Everything is beautiful here in Papua, New Guinea.' He wrote wonderful letters to his mother. I have them all back home. It was just so sweet of him to be that way and not have her worry.
"I didn't meet him until he was out of the service. The first time I saw him was at a dance in Pittsburgh. My sister had met him the month before and tried to set us up, but he never called me, so I just gave up! But there he was, standing at the bar with a beer, and I thought, 'My, he is handsome!' And he was, with his dark curly hair.
"But he never said a word about the war to me either. In fact, it was only a week ago that I learned from Jimmie Dieffenderfer that Bill was invited aboard the Enola Gay to be a witness to the bombing."
A one-time vocalist with the Pittsburgh Opera, Nancy concluded her flight on the Aluminum Overcast with an impromptu offering of America, The Beautiful.
"It was in his honor. The whole time we were up in the air, I was thinking, 'I'm doing this for you Bill, because you were my hero.'"
* * * * *
The Aluminum Overcast is available for tours and rides today — Sunday at the Manassas Regional Airport in nearby Manassas, Virginia. The plane will also be visiting other cities as it heads to Florida for the winter. For more information about the EAA and the B-17's fall tour, visit EAA.org. For more information about the 43rd Bomb Group, visit Ken's Men or the 43rd Bomb Group (Ken's Men) on Facebook.
Please enjoy the following photos from the EEA event by staff photographer Mike Jordan: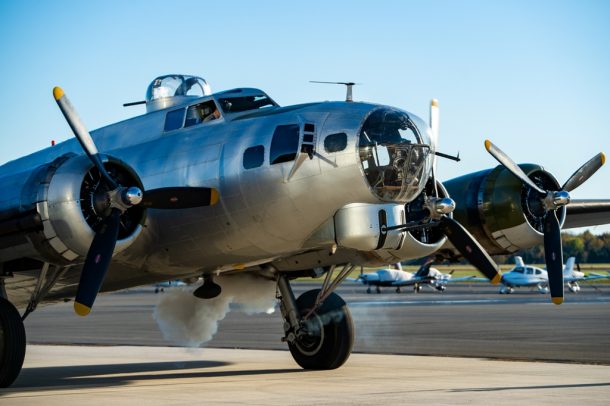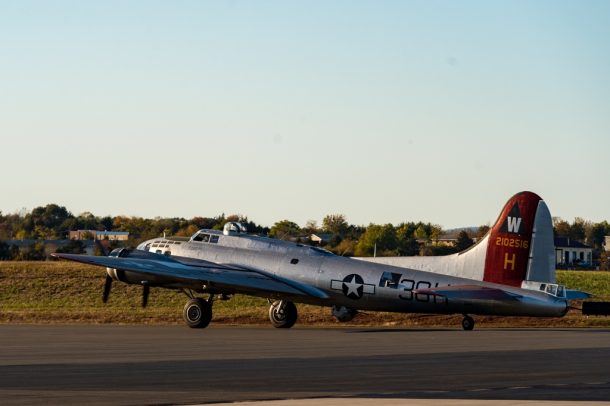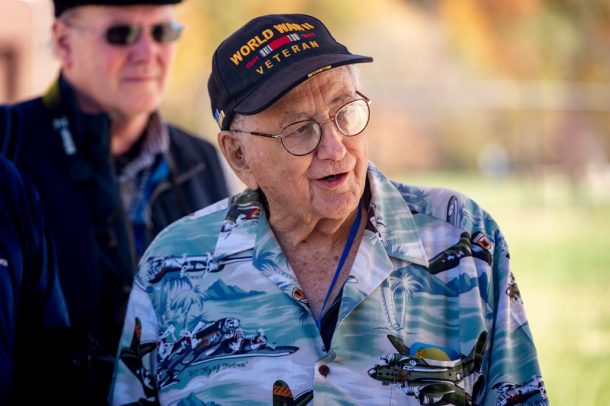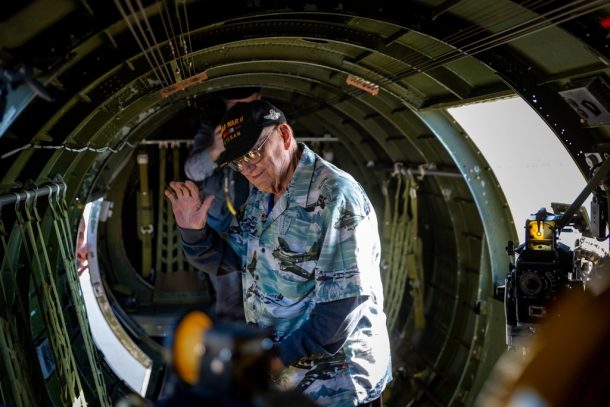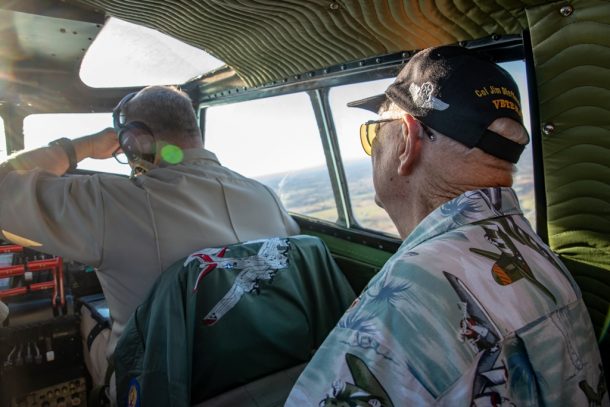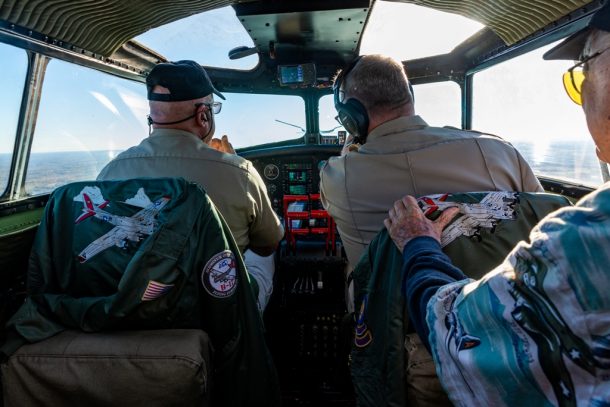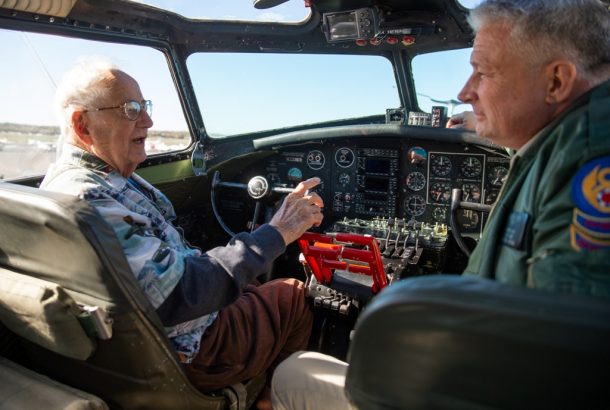 Anthony C. Hayes is an actor, author, raconteur, rapscallion and bon vivant. A one-time newsboy for the Evening Sun and professional presence at the Washington Herald, Tony's poetry, photography, humor, and prose have also been featured in Smile, Hon, You're in Baltimore!, Destination Maryland, Magic Octopus Magazine, Los Angeles Post-Examiner, Voice of Baltimore, SmartCEO, Alvarez Fiction, and Tales of Blood and Roses. If you notice that his work has been purloined, please let him know. As the Good Book says, "Thou shalt not steal."