Dumb and Dumber To: Jim Carrey, Jeff Daniels too little, too late
2.5 out of 4 stars
It's been 20 years since we caught up with Lloyd Christmas (Jim Carrey) and Harry Dunne (Jeff Daniels), who endless game of dumb-upmanship pushed vulgarity to the limits throughout Dumb and Dumber, which thrust comedy to new heights or depths, depending on your point of view.
Lloyd and Harry were geniuses at being idiots, which made Bobby and Peter Farrelly look like valedictorians when their directorial debut took home neatly $250 million worldwide, a record for the most money earned by a movie that prides itself in fart jokes.
So what happened to Lloyd and Harry?
Time, that's what happened.
Two decades passed and what was hilarious in 1994 isn't as funny in 2014, which is why Dumb and Dumber To's biggest flaw is that it probably came out 17 years too late. Sure, Dumb and Dumber To has plenty of hysterical moments, like settling the debate that it can be funnier to talk about farts than to actually see what happens after letting them rip.
But Dumb and Dumber To tries to turn back the clock and hoping what worked in the mid-1990s works today. Well, it does – and it doesn't. Lloyd and Harry's numbskull buffoonery still has its moments, and if you like to see a cat fart out the feathers of a pet bird it just devoured, you're in luck. If an Academy Award was given for fart references in a movie, Dumb and Dumber To wins – and it's not even close.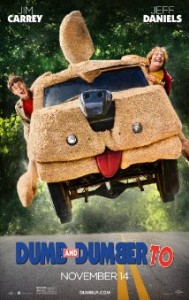 But here's the problem: Carrey and 52 and Daniels is 59, yet it's like they never aged, right down to Lloyd's chipped tooth and Harry's disheveled hair.
How did the Farrelly brothers bridge the 20-year gap? By having Lloyd hospitalized in a coma, which causes his pal Harry to make regular visits to change his diaper and urostomy bag – all part of Lloyd's prank. Once back together, Lloyd and Harry embark on a journey from Rhode Island to El Paso, Texas, to search for a relative to donate the kidney Harry needs to stay alive. There's plenty of comedic victims along the way, and no one is spared – not Harry's adoptive Asian parents, the now not-so-hot woman Harry and Lloyd hooked up with decades ago and certainly not Billy, the blind kid Lloyd sold a dead parakeet to in the first film.
The Farrelly brothers also pulled a fast one on the Motion Picture Association of America by convincing it to give Dumb and Dumber To a PG-13 rating, when it very easily could have been slapped with an R, especially considering what Lloyd does to an old lady in a nursing home.
Carey and Daniels' careers have gone in different directions since riding around in a van dressed as a dog 20 years ago, but it doesn't take long for their chemistry to take you back in time. The first 15 minutes are slow, but once Lloyd and Harry and on their way to find the daughter Harry never knew he had with his long-ago fling Fraida (Kathleen Turner), their jokes carry the movie, enabling the 110-minute movie to return to its raunchy roots.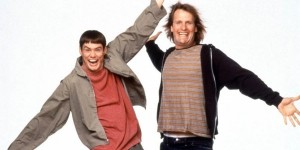 What makes Dumb and Dumber To enjoyable is how Lloyd and Harry can make a mockery of everything, even if it means using some misplaced racial humor and sexual innuendo.
The plot is basically a repeat of the first film, as Harry and Lloyd go on a trip to find a hot chick while be chased a someone who's out to get them. But for the most part, the plot works because the two dumbasses are complemented by amazingly well by Rob Riggle, who befriends them so he can kill them.
Dumb and Dumber To's undoing is that it tries to be too much like the original, which at it's time, was atop the comedy hierarchy, But the comedy genre has expanded in the past 20 years, which contributes to Dumb and Dumber To not being able to live up to its predecessor's standard.

Jon Gallo is an award-winning journalist and editor with 19 years of experience, including stints as a staff writer at The Washington Post and sports editor at The Baltimore Examiner. He also believes the government should declare federal holidays in honor of the following: the Round of 64 of the NCAA men's basketball tournament; the Friday of the Sweet 16; the Monday after the Super Bowl; and of course, the day after the release of the latest Madden NFL video game.