The Dum Dums: Deep space doldrums descend on Glass Mind Theatre
How do you spell depression?
Try being the astro navigator who plots a four year trip to a distant planet, only to awaken from suspended animation to discover you've made a 200,000 year mistake.
That's the launching pad beneath playwright Joshua Conkel's psychological drama The Dum Dums – the current production by Glass Mind Theatre.
Skillfully directed by Benjamin Kamine, The Dum Dums is based on a journal Conkel kept while battling his own intense bout of depression.
"In lots of way, depression just makes you stupid," Conkel said. "Because writing about myself is boring, I kept a journal as a depressed woman astronaut who was trapped on a distant planet."
"The play, at its core, is about how you keep fighting to survive when things seem hopeless," said director Kamine.
For the dispirited astronaut and her fellow flyers, the trouble starts early on.
Space pioneers Traeger, Schill and Lambert are about to undertake a four year flight to Tau Ceti F – a planet somewhere at the end of an erratic wormhole. From the opening moments, navigator Traeger sounds several warnings of impending doom. She is uneasy about the course she has plotted, but her questions are roundly squelched by her edgy shipmates. Even so, when Lambert – the medical officer – ruefully realizes the lengthy voyage will mean she won't see the inside of a P.F. Chang's restaurant (and no Bang-Bang Shrimp) for almost a decade, Traeger mutters, "You'll never see earth again."
Traeger's sense of foreboding turns out to be right, and the ship – the Hermes – lands far off course. The overwhelming melancholy she experiences as the luckless navigator soon manifests in a number of different ways. Binge eating the ship's supply of White Castle burgers; a general feeling of lethargy; marathon sessions of palm-screen TV watching. And worst of all – hallucinations. Commander Schill reminds Traeger that she was the one who got them into this mess; and only Traeger has the skill necessary to get them out.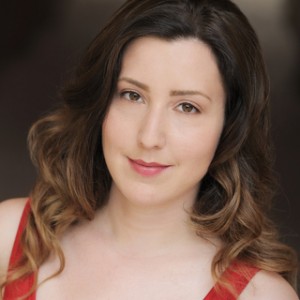 If she can just hang on to her sanity long enough to obtain a new star chart and plot a course home.
Conkel wastes no time in throwing the crew into what seems like a hopeless situation, and this cast firmly grabs the helm with both hands for an engaging, well paced ride.
As Traeger, Liz Galuardi is a satisfying mix of doubting helmsman, wondering woman, and demoralized scapegoat. Given the gravity of the situation, it is understandable why Traeger would wallow in self-pity, but Galuardi moves seamlessly between verity and delusion.
Ann Turiano brings Captain Schill to life with the assurance befitting a starship commander. And Sam Hayder infuses Lambert with a gentle naivety which helps to quietly settle the audience before the real trouble begins. Both Turiano and Hayden adroitly portray a number of other characters throughout the play, as Traeger and Schill's respective minds slowly become unraveled.
A fourth omni-present persona is the HAL-like computer voice "Linda" which is ably executed by playwright Joshua Conkel.
On the technical side, lighting designer Brad J. Ranno casts the stage in dark hues befitting the abject air of the crew's desperate lot. Stephen Polacek's sound design works fairly well, though it could be dialed back just a notch or two.
Set designer Kate Smith-Morse creates a simple yet effective stage for the interior of the starship, with the gallery wings providing the surface of Tau Ceti F. Kat McKerrow's fibre-filled costumes are appropriately spacey. Jessica Ruth Baker's "creature" is downright frightening.
The title The Dum Dums may leave a lot of potential theatre goers guessing, but the end result is an hour-plus of edge-of-seat entertainment.
* * * * *
The Glass Mind Theatre production of the The Dum Dums runs now – April 4 at Gallery 788. Running time is approximately 65 minutes with no intermission. Please be aware that strobe effects are used during the performance. Gallery 788 is at 3602 Hickory Avenue, Baltimore, Maryland. For more information, visit Glass Mind Theatre.

Anthony C. Hayes is an actor, author, raconteur, rapscallion and bon vivant. A one-time newsboy for the Evening Sun and professional presence at the Washington Herald, Tony's poetry, photography, humor, and prose have also been featured in Smile, Hon, You're in Baltimore!, Destination Maryland, Magic Octopus Magazine, Los Angeles Post-Examiner, Voice of Baltimore, SmartCEO, Alvarez Fiction, and Tales of Blood and Roses. If you notice that his work has been purloined, please let him know. As the Good Book says, "Thou shalt not steal."