Rhys Anderson probably knows the show "Disney on Ice: Worlds of Enchantment" better than anybody.
"It's all I've been doing for the past five years," he said. "It's been quite the life."
The show has taken him to stages on every continent except for Asia and Antarctica, as he's played numerous roles since joining the cast, including Woody, Prince Eric and Kristoff. But this season Anderson plays Prince Hans, the sociopathic mastermind who tries to gain the love of Princess Anna, just as in the smash-hit "Frozen."
Prince Hans is just one of the many characters who will take to the ice at Royal Farms Arena when "Disney on Ice: Worlds of Enchantment" performs nine times between Feb. 6-10. The two-act, two-hour show incorporates scenes from four of Disney's most iconic films – "Cars," "Toy Story 3," "The Little Mermaid" and the Oscar Award-winning "Frozen."
Royal Farms Arena will go through quite a transformation throughout the show. The audience will feel like it's underwater when Ariel, Sebastian, Flounder and Ursula seize the spotlight. But the arena will then transform into Sunnyside Day Care when Buzz Lightyear, Woody and Jessie and the rest of the "Toy Story" crew try to escape from the center. It will also be a winter wonderland, when Elsa, Anna, Olaf, Prince Hans and the rest of the "Frozen" crew turns the arena into Arendelle.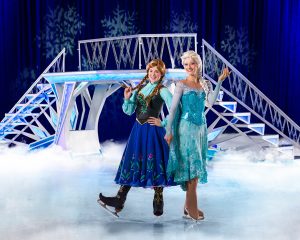 Lastly, Royal Farms Arena will get overtaken by "Cars." Lightning McQueen, Mater, the tow truck, Sally the Porsche, Ramone, the low rider, and Flow, the 1950s-style showcar, will perform a choreographed routine, proving they are almost as fast on ice as they are on the track.
The "Cars" are magnificent. They collectively cost $1.4 million, range between 1,450 and 2,580 pounds, are fully electric, have facial animatronics and voices programmed and in sync with the soundtrack that accompanies the show. Each car is controlled by an unseen driver who maneuver them around a tight track.
But no Disney show would be complete without a performance by Mickey and Minnie Mouse and their friends, who are active throughout the show, including when the world's most famous mouse hosts his dance party before the show.
"There's a lot of pressure every time you go out to perform because Disney is a big name and you have to live up to the audience's expectations," Anderson said. "You have to make the audience feel and believe they are part of the show."
If You Go
Disney on Ice: Worlds of Enchantment
Where: Royal Farms Arena
Shows: Feb. 6: 7:30 p.m.; Feb. 7: 7;30 p.m.; Feb. 8: 10:30 a.m., 7:30 p.m.; Feb. 9: 11 a.m.; 2:30 p.m.; 6:30 p.m.; Feb. 10: 12 p.m., 4 p.m.
Tickets: Start at $20 and can be purchased here.