Dirty Dancing at the Hippodrome: Don't miss it
The phenomenon that is Dirty dancing began with a very successful 1987 film with Jennifer Grey and Patrick Swayze.  It went on to earn nearly $64 million.
It also won a Golden Globe for Best Original Song and an Oscar for Best Music.  Decades later it makes an appearance on the stage beginning as a workshop production in New York.  A few stops along the way and it winds up as a national tour with a stop at the Hippodrome through
May 24
.
It seems to have not lost any of its appeal if the opening night audience is any indication, and many of them young, considering the movie was 29 years ago.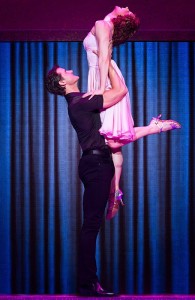 The story brings back Baby, a 17-year-old girl going to the Catskill Mountains with her parents to spend a family vacation.  She comes from a privileged upbringing where she is expected to marry a doctor, like her father, and go off to the Peace Corps to save the world.  Up to that point that was all true.
But she meets Johnny, the camp's dancing instructor, and is intrigued by him and his lifestyle.  From there her life takes on another direction.  Her father of course is totally against this change in his daughter.  He goes so far as to refer to Johnny's group as 'those people.'
The entire cast are all unknowns but do a terrific job.  They are all very talented.  The two leads, Baby (Gillian Abbott) and Johnny (Samuel Pergande) were excellent.  Certainly good enough to carry the show.  They are in most of the scenes.
The show uses original music and songs from the 60s, like tunes from The Drifters, The Chantels and Bruce Chanel.  At times a curtain rises and the music comes from musicians playing on an elevated platform on the stage.
I thoroughly enjoyed the show and can definitely recommend it.  I might add when Johnny says the iconic line, "nobody puts Baby in a corner" the place erupts.  That line has certainly lasted through all the years.
For tickets go to broadwayacrossamerica.com, or go to the theatre box office on Eutaw Street or call 800-982-2787.

Eddie Applefeld is a Baltimore native and a graduate of Towson University. He has been in the broadcasting profession for over 30 years. Currently he is the Promotions Director of WCBM radio. Before that, he was part of the Rouse & Company show on WQSR, host of a cable TV show called Dining Out and adjunct instructor at Towson.
His past accomplishments include being named a finalist in Baltimore Tourism's Employee of the Year Program and winner of Toastmaster's Speaker of the Year contest. He was also twice a heartthrob for the American Heart Association's gala fund raiser.