Dead & Co didn't disappoint this long time Deadhead
Upon entering the Mattress Firm Amphitheatre my first thought was: "Nice seats!" We were dead center for Dead & Co, behind and slightly above the soundboard. My next thought was that the sound system is much different than the once famous "Wall of Sound."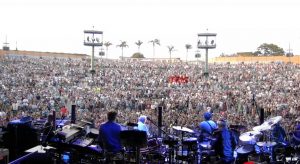 Back in the day — about 44 years ago — Grateful Dead soundman Owsley Stanley, along with Dan Healy and others, designed an epic sound system that looked like an unfinished wall of scaffolding and speakers. It didn't last long in the Dead's history, but it left a gigantic mark on the music business.
Sound systems today are fairly sophisticated, none more so than the Dead's or in this case, Dead & Co.'s. For decades Grateful Dead fans could hear every guitar string, every key of the keyboards, and every piece of percussion used by the two drummers, Bill Kreutzmann. Jr. and Mickey Hart. Sound systems are made, assembled and controlled by humans so of course there is the occasional moment of bad sound.
As fans began crowding into the Amphitheatre it was interesting to compare each person, a collection of jam band enthusiasts ranging in age from teens to old people, like me, and really old people who no doubt saw the Dead in the 1960s. There was tie-dye in every direction. Jester hats, brightly colored Papal mitres, and Grateful Dead gear of all kinds, including my vintage — 1979-1984 can't remember exactly which year it was purchased — Grateful Dead chapeau. And my Jerry Garcia-ish black T-shirt.
People were filing in with food and drink, some drinks in oddly shaped cups: palm trees, Christmas tree looking things, and specially designed Dead & Co sports bottles. Apparently those are licensed by the band as they were being sold inside the concert grounds. Of course in the parking lots you could purchase bootleg merch, T-shirts mainly, in case you weren't entering the amphitheater properly attired.
The start time for the concert was 7:30 pm, local time, 02:30 GMT. My buddy Tony, who arranged for the tickets, informed me they would be starting about 20 minutes late. What? Apparently they have been starting late up and down the tour. Sure enough, 7:30 rolled around and still the house lights were on and the seating was about half full. Apparently everyone in the venue knew about this except for me.
I was never a details kind of guy when it came to the Dead, so it's unclear whether I am a true Deadhead or just a make believe Deadhead. I didn't care about set lists or even counting how many times I've been to see the Dead. I do know this; I've been to more Grateful Dead concerts — i.e. with Jerry Garcia — than most of the people in that amphitheater. Just sayin' … So I didn't know Dead & Co were going to be late. C'est la vie.
When the house lights finally did go down the crowd, which had by them mostly taken their seats, erupted into that familiar roar. Mickey Hart and Bill Kreutzmann took their thrones on the drum riser, and Bobby Weir took the stage with Oteil Burbridge, Jeff Chimenti and John Mayer. The concert opened with "Hell in a Bucket," that has the popular refrain, "I may be going to hell in a bucket, babe, but at least I'm enjoying the ride."
For the next three-plus hours we enjoyed the ride, From "Hell in a Bucket" to the encore, "Knockin' On Heaven's Door." Interestingly enough they played only three cover songs: "Big Boss Man," "Dear Prudence" and the encore.
The highlight of the first set had to be "Row Jimmy" and the second set "Truckin'." That was the second "hit" they ever had, and by "hit" it means it got widespread radio play at the time. Everyone knows "Casey Jones" even if they don't recognize the title. There is this lyric: "Drivin' that train, high on cocaine, Casey Jones you better watch your speed." And everyone knows "Truckin'," with the lyric: "Busted, down on Bourbon Street, set up, like a bowling pin, knocked down, it gets to wearin' thin …"
They also played "Tennessee Jed" "Bird Song," a Jerry Garcia composition, "Estimated Prophet," "Shakedown Street, "I Need a Miracle" and more. You can check out the complete set list here.
Phil Lesh is still alive but he no longer tours. Oteil Burbridge is an excellent bass player and a great fit for this band. He doesn't play anything like Phil, but he is as curious on the instrument as the original. Hard to know if it was his idea or something that organically grew out of rehearsals, but "Estimated Prophet" had a heavier, more reggae rhythm to it. Oteil was killin' it. He obviously was enjoying every minute he was on stage.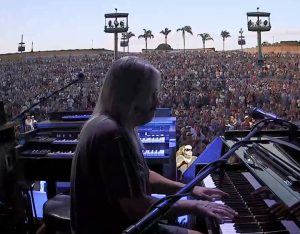 Burbridge is no stranger to jam bands; Allman Brothers Band, Aquarium Rescue Unit, The Derek Trucks Band, et al. He knows Phil Lesh, having crossed paths with him at one time or another on the jam band circuit. For whatever reason, his sonic presence on stage wasn't as pronounced as Phil's, back in the day. But there were moments, wonderful moments, when that six-string thunder machine drove the music.
On the other side of the stage was keyboardist Jeff Chimenti. He goes way back with the members of the Grateful Dead, starting in 1997 when he joined Bob Weir & Rat Dog. He played with Further and The Other Ones. He played keyboards on the Fare Thee Well tour, which brought us five shows, two in Santa Clara, Ca at Levi Stadium, and then three at Soldier Field in Chicago, Il. Bruce Hornsby played the piano in those shows. We were able to watch the shows live on YouTube, which brought the performances to millions of fans. Over 400,000 on cable and satellite TV pay-per-view alone. Don't know how many on YouTube. The greatest musical event of this and the last century … well, the original Woodstock was more significant, greater even, but in terms of a live audience, this was far bigger than Woodstock. And the Grateful Dead were at both, so to speak.
Jeff Chimenti was at one and is now with Dead & Co, playing a variety of keyboard instruments including Brent Mydland's Hammond B-3. He played it often at the Mattress Firm Amphitheatre. He even got a bit of Brent's signature piano sound.
The third new guy — young guy — in this band was singer/guitarist John Mayer. There is a new slogan floating around Deadhead land: "John Mayer is Dead to me." Few people thought of Mayer as being a guitarist as much as a singer. In fact, he is most known to many people as the guy who banged many sexy celebrities. But we can find nuggets on YouTube with Mayer not only singing, but killing it on guitar. The man can play.
With Dead & Co he stays within the spiritual realm of Jerry Garcia, but it would be a mistake to think he was copying Jerry. Listen to any of the Dead and Co videos available on YouTube.
One thing that was evident was how much Bill Kruetzmann, Mickey Hart and Bob Weir were enjoying the show. They were with three players that completely understand the mythos of The Dead, understand the expectations of the audience and understand they are experiencing a freedom few musicians get to enjoy on stage. They don't play the same songs night after night. The set list from Dodger Stadium in Los Angeles is completely different from Chula Vista. Makes me wish I had been there.
But I got to hear "Row Jimmy," which was as exquisite a performance as I've ever experienced. Yeah, including Grateful Dead versions. Maybe it's because this was the most recent one, who knows, but Mayer sang the lead and played that guitar so sweetly. The entire concert was a great experience, but that one song just captured my heart.
I had not been to a Dead show of any kind since the death of Jerry Garcia. My heart was broken when Brent Mydland died in 1990. Since August 9, 1995 the Grateful Dead ceased to exist and there was no point trying to carry on with the band after that, in any version. Until I watched a Dead & co video on YouTube. Unlike some of the earlier iterations, Dead & Co had that Grateful Dead vibe, the Grateful Dead sound and that was and is primarily on the guitar and shoulders of John Mayer. Jerry Garcia was the principle instrumentalist back in the day and Mayer fills that role well without being a cardboard cutout of the original.
They are doing two more places; Boulder, CO this weekend for two shows and then Arlington, VA for the Lockn Festival, for two nights. Four more shows on this summer tour and my verdict: John Mayer is Dead to me. As is the rest of the band and I'm enjoying the ride.
Photos are YouTube screenshots unless otherwise noted

Tim Forkes started as a writer on a small alternative college newspaper in Milwaukee called the Crazy Shepherd. Writing about entertainment issues, he had the opportunity to speak with many people in show business, from the very famous to the people struggling to find an audience. In 1992 Tim moved to San Diego, CA and pursued other interests, but remained a freelance writer. Upon arrival in Southern California he was struck by how the business of government and business was so intertwined, far more so than he had witnessed in Wisconsin. His interest in entertainment began to wane and the business of politics took its place. He had always been interested in politics, his mother had been a Democratic Party official in Milwaukee, WI, so he sat down to dinner with many of Wisconsin's greatest political names of the 20th Century: William Proxmire and Clem Zablocki chief among them. As a Marine Corps veteran, Tim has a great interest in veteran affairs, primarily as they relate to the men and women serving and their families. As far as Tim is concerned, the military-industrial complex has enough support. How the men and women who serve are treated is reprehensible, while in the military and especially once they become veterans. Tim would like to help change that reality.