Daytripping: Jilly's Ale House, Irvine Nature Center, Lover's Leap, Harriet Tubman Underground Railroad and Bread and Circuses
Bread and Circuses (Photo by Eddie Applefeld)
I'm tired already.
We have a busy day ahead so let's get started. And we'll do that at Jilly's Ale House, 1010 Reisterstown Road in the heart of Pikesville. Going here is of special significance because in October 2020 the restaurant burned to the ground in an arson fire.
Fortunately it is operating at the same location and the culprit was caught. And it appears as if the regulars are back. Customers every restaurant needs. And it is still owned and operated by Scott and Kathy Reich, along with many returning staff.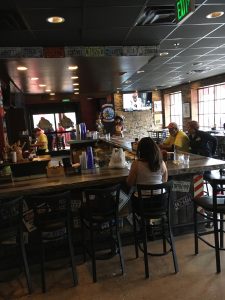 So here are a few pertinent details. Jilly's is open six days (temporarily closed Sunday), seating for about 135 inside and about 75 outside, 22 TV's, parking all around, open since 1985, really good crab cakes (I know I write that often, but they are truly good) and the place has a neighborhood feel. Important here because Jilly's has been a mainstay in Pikesville since it opened.
Other menu items to recommend include the Maryland crab soup, wings, Greek salad and Hawaiian salad……410-653-0610…find them on Facebook.
Okay from Pikesville we head a bit further out Baltimore County and arrive at the Irvine Nature Center, 11201 Garrison Forest Road, Owings Mills. What a delightful spot for the family.
You'll find eight miles of walking trails, a Health and Wellness center, 17,200 square foot exhibit hall (temporarily closed), a self-guided tour (or with a guide), live animals, an ideal place for an event (seems to be popular for weddings), classrooms (programs for adults and children) an amphitheater and perfect for bird watchers.
Reach them at 443-738-9200 or at explorenature.org
I know what you're thinking when do we eat. Just hold on, one more stop. Now we're way out western Maryland and visiting Lover's Leap in Allegany County. It rises 1,162 feet above sea level and is basically made up of rock from top to bottom. Here you'll see great views of the Allegany Mountains. It is a water gap west of Cumberland Wills Creek, between Haystack and Wills Mountain. The western Maryland Scenic Railroad runs through here.
Close by is alternate Route 40 which passes through the Cumberland Narrows along with the former B & O railroad's mainline between Baltimore/Washington and Pittsburgh. Now it is part of the CSX system.
Okay I lied. I still have some gas left, so one more stop before we eat. Here we go to the Harriet Tubman Underground Railroad and Scenic Byway in Dorchester County. As you may know from history, she dedicated her life to freedom. She was herself a slave. At this location, you'll discover a secret network of trails, waterways, and safe houses used by enslaved people fleeing north. A guide is available if desired.
I suggest starting at the Visitors Center in Cambridge at Sailwinds Park East. Close by is the Tubman Museum and Educational Center. By the way, Cambridge is also the heart of the Chesapeake Country Heritage area. Other attractions as you make your way include the Tuckahoe Neck Meeting House, Denton Steamboat Wharf and the Caroline County Courthouse & Jail. Be advised this is just a shortlist of attractions.
For your convenience there's also gas stations, food & drink, restrooms and even an ATM. Tubman died March 10, 1913 in New York. She was 91.
Okay folks time to eat. We'll turn the car around, head north and wind up in Towson. This was my first visit to Bread and Circuses, 410 Delaware Avenue at Chesapeake. It was recommended to me by Nancy Hafford, head of the Towson Chamber. Open since 2008, open seven days, seating for 75 inside, 100 outside, parking all around, a brunch menu seven days, a classy bar area, and very comfortable.
Recommended menu items include any of the omelettes, salmon Rushdie, surf & turf, maple bacon Brussel sprouts and lobster bisque. It's owned and operated by Steve and Martha….410-337-5282….bandcbistro.com
Okay time for a nap.

Eddie Applefeld is a Baltimore native and a graduate of Towson University. He has been in the broadcasting profession for over 30 years. Currently he is the Promotions Director of WCBM radio. Before that, he was part of the Rouse & Company show on WQSR, host of a cable TV show called Dining Out and adjunct instructor at Towson.
His past accomplishments include being named a finalist in Baltimore Tourism's Employee of the Year Program and winner of Toastmaster's Speaker of the Year contest. He was also twice a heartthrob for the American Heart Association's gala fund raiser.