Daytripping in Baltimore, Columbia and Allegany County
Photo by Eddie Applefeld (DiPasquale's)
Much to my surprise, I received more positive feedback than normal from my last article. As a reminder, it contained a few restaurant comments and five relatively unknown attractions in Maryland. So I'm not going to argue with success. I'm going to repeat that format. I shouldn't mention this, but I was going to do the same thing regardless of comments. But let's not tell anyone.
Perhaps many of you are not familiar with an area of Baltimore called Brewer's Hill. It's basically east of Canton and has become the new 'it' neighborhood. 'It' neighborhoods have to contain, in my opinion, plentiful and expanding lodging, many retail choices, good dining, and maybe recreational opportunities.
Regarding dining, I call your attention to DiPasquale's Market Place, 3700 Toone Street, just off Boston. Open Monday thru Saturday you can shop the numerous Italian delicacies for taking home and also dine there. During my two visits, both areas of the marketplace was very busy. And they do cater.
In business since 1914, obviously, not at his location, they are a well-established Baltimore tradition. At this location, Joe Di Pasquale has made this a family gathering spot. His wife is here along with maybe 5 or 6 other family members. It could be more than that but I stopped counting.
The restaurant menu includes pizza, all day breakfast, homemade soups, Italian subs, cheesesteaks, sandwiches, hot subs, salad, pasta, appetizers, and larger entrees. I ate, and thoroughly enjoyed the sautéed calamari. Outside seating is available and plenty of free parking.
This is indeed a very welcome addition to Brewer's Hill….410-276-6787…highlandtown@dipasquales.com
Okay, we're now on our way to Columbia. At this location, we'll be going to drop by two restaurants, owned by the same family. Stop one is Tino's Italian Bistro, 8775 Centre Park Drive, exit 3 off Maryland 100. Yes, indeed Italian is the theme. Opened in January 2015, open six days (closed Monday), seating for about 120 inside and 40 outside, weekly specials, a bar with TV, will cater off and on-premise with a menu that goes from appetizers to lighter fare to hoagies, calzones, and strombolis, soups, salads and more.
It is locally owned by Nicole and Lance. They both put in long hours to assure quality service and food…Reach the restaurant at 410-730-8466 or tinositalianbistro.com.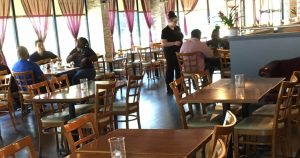 Why did the chicken cross the road, probably to get to The Periodic Table, just across Centre Park Drive from Tino's. This is a totally different concept. Open seven days, seating for 225 inside, 50 outside, bar with TV, opened in August 2020 (that took confidence), music Tuesday and Saturday night, comedy night every other Wednesday, weekly specials* and here's something a bit different a Drag Brunch the last Sunday of the month. And finally, Thursday is paella night and half-price wine bottles. Eddie's note – it's not just bottles, there is wine inside.
Okay, that * means Lance didn't refer to this as weekly specials. He likes the term 'formulas of the week.' Who am I to argue?
I of course asked how they came up with the name (it isn't because Lance or Nicole are chemists), more to do with the pairing or chemistry between the entrée and the various spirits offered. Lance called it 'an international fusion.'
Menu items include starters (like nachos and ribs), pizza, soups, salads, kids menu, sammies and burgers, big plates and bowls, and sides. Reach them at 410-753-0299 or the periodictablecolumbia.com.
By the way, if you can recite the entire periodic table you'll get an extra umbrella in your drink.
Okay sit down we're about to embark on a quick four-stop visit to more attractions that might not be familiar to most.
We'll begin at the Appalachian Trail, where some of it winds its way through Maryland. In total it is 2,185 miles from Georgia to Maine. There are 41 manageable miles in Maryland, from the West Virginia line to the Pennsylvania border.
Along the way, you'll pass through Boonsboro's Washington Monument State Park and discover the first U.S. monument to Washington. Also, Gathland State Park, which contains the National War Memorial Arch. Tip – be sure you'll in shape for the trip.
Next, Rocky Gap State Park, in western Allegany County. Opened in 1974 with 3,000 plus acres it is home to the Rocky Gap Casino. Lake Habeeb is here, some say it has 'the bluest water in the state'. The park has campgrounds playgrounds and boat rentals….888-432-2267
So here we are at Crystal Grottos Caverns, 19821 Shepherdstown Pike Boonsboro. Discovered in 1970 and opened two years later. Open daily 10-5, $20.00 for adults (cash only)….301-432-6336
And our last stop, the Paw Paw Tunnel, Allegany Ct, Old Town Maryland. It's on the C & O Canal Towpath and named after a Maryland fruit. Built to bypass Paw Paw Bends, a six-mile stretch off the Potomac. Contains over 6 million bricks, 3,118 feet, and costs about $600,000. It's been in use since 1850. Said to be haunted.
Okay, I'm done, for now. Let's all take a rest.

Eddie Applefeld is a Baltimore native and a graduate of Towson University. He has been in the broadcasting profession for over 30 years. Currently he is the Promotions Director of WCBM radio. Before that, he was part of the Rouse & Company show on WQSR, host of a cable TV show called Dining Out and adjunct instructor at Towson.
His past accomplishments include being named a finalist in Baltimore Tourism's Employee of the Year Program and winner of Toastmaster's Speaker of the Year contest. He was also twice a heartthrob for the American Heart Association's gala fund raiser.