BALTIMORE — For more than 200 years, the United States Marines have utilized some variation on the slogan, "We're looking for a few good men." Good men and good women are still highly valued throughout the armed forces, but where do veterans turn when they retire, separate from the service, or are permanently disabled?
For many, the next big step starts once they enter the job market in civilian life. Aiding in that mission, the Disabled American Veterans (DAV) and RecruitMilitary regularly co-host veteran centered jobs events, such as the Baltimore Veterans Job Fair which took place last Thursday at M&T Bank Stadium.
The event (as always) was free to veterans, their spouses, active-duty military personnel and members of the National Guard and Reserve.
In addition to employment assistance, veterans who attend can utilize career counseling and resume assistance, network with fellow veterans and military personnel, and get support with their Department of Veterans Affairs (VA) benefits and claims assistance – all at no cost.
"RecruitMilitary is really the first and foremost in staging career events for military veterans," said Jeff Hall, National Employment Director of DAV. "We became a full-time co-host of theirs, so together, we host 145 events every year. It's a great partnership.
"Since 2014, the organization has welcomed nearly 210,000 attendees at 618 events across the nation. In that time, 31,330 exhibitors have tendered job offers to 147,287 veterans and their spouses."
Hall – a combat-injured Army veteran of the Persian Gulf War – said a wide variety of industries are represented at these veteran job fairs.
"Potential employers know that veterans can deliver a great deal of dedication, commitment, leadership coupled with the ability to work globally and under stress in changing conditions. That's the reason so many employers gravitate to veterans when it comes time to hire."
Hall noted that, in many ways, today's soldier or sailor comes out of the service better trained to enter the civilian job market than his predecessors did.
"If you can dream a job, there's probably somebody in the military already doing it."
VETERANS READY TO WORK
Will Huff spent 24 years in the Army (1991 – 2015) – 4 ½ years between Iraq and Afghanistan.
"First, I just want to thank the sponsors of this event. I think it's great for them to reach out and bring in potential hiring corporations and align that with the career goals of veterans. For myself, I've had a job in the last 5 years in the field of athletics. As a former Ranger, I'm looking for opportunities to climb my second mountain; to see what that next career pivot point will be."
Andrew A. Wallace retired from the service in 2014 after spending 15 years in the Air Force.
"I'm getting ready to finish my degree in information technology, with a concentration on cybersecurity. I heard about this event through my school, so I came by to see what was going on. So far, I've met a few solid contacts. I'm feeling good about the event. It wasn't too crowded, and there were a lot of presenters, so everything went pretty smoothly."
We asked Wallace what he would say to servicemen who are about to separate from the service?
"I'd tell them to avail themselves of all the information that they can. Take notes, and utilize the resources before you get out. There is a lot of information available, but I don't think most military members know about these programs."
Does Wallace think the military does an adequate job preparing servicemen and women who are about to separate?
"I think they could do better, but once you're out, the VA here in Baltimore and DC is a great place to get a start and hook you up with the right people."
Looking ahead to civilian life, Tony Carodine told us he will be separating from the Army on April 1.
"I have a logistical background, with a security clearance, so I'd like to stay in that realm. TSA is down here, as are DISA, IRS, Department of Homeland Security. I feel good coming here today. For me it was a learning experience. I've done over 20 years in the United States Army, so this is a refresher for me on getting back out into the job market. And it's a good job market!"
Augustine Addo never expected that her career path would shift because of a life-changing disability. But that change led to full-time employment with the DAV.
"I was in the US Army for over 20 years, and now I'm serving in the DAV. I got this job through VOC rehab, and I've been happy ever since.
"VOC rehab found DAV for me, and it's a perfect fit. I'm glad to be part of an organization that helps veterans help other veterans."
VETERANS MAKE GREAT EMPLOYEES
"We are very pleased with how many vets were able to make it out today," said Chris Stevens – Senior Vice President of RecruitMilitary.
"We have a wide variety of businesses here, and the majority of them are repeat customers. If they weren't able to see what they are looking for in military vets, they wouldn't keep coming back. Clients tell us they are happy with the diversity – with a wide range of skills in the various candidates.
"What we hear from the veterans who attend this fair is they didn't know there was this much of a variety. There are so many different types of markets being represented – that's the thing we hear the most. What we are trying to teach them is: Never think of yourself below or above a job."
Veterans with driving skills (or those who are willing to learn) may find instant employment with Woodlawn Motor Coach.
"We're here looking to fill some immediate school bus driver positions," said event recruiter Sam Bayer. "We have a fleet of almost 200 school buses, and we service Baltimore and Howard County public schools. Potential drivers don't have to have any experience. We do in-house training at our Catonsville location. School bus drivers are definitely in demand right now. Our company offers competitive pay to keep our drivers happy and retain them."
Bayer told us Woodlawn Motor Coach has a handful of veterans in its workforce right now.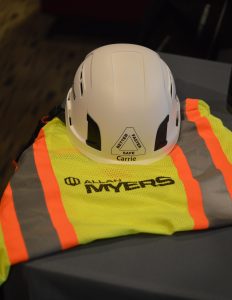 "They're great people and well-driven. They definitely want to get out there and work, particularly if they are just coming out of the service and want to get into the civilian job field. We've had a booth at this event before, and we feel like, if we can hire one driver to fill one school route, then we're happy."
Carrie Westgate and John Frey were working the fair for construction contractor Allan Myers.
"Allan Myers is a Heavy Civil Contractor," said Westgate. "We hire both skilled and unskilled labor. We do highway construction – dirt work, paving, pipework and so forth – so we're looking for anybody who is willing to get into the construction industry."
"This is our first time as exhibitors at this particular event," added Frey, "but we've hired veterans who simply walked through the door. We've had great success training them in this field and getting them into the workforce. Most of all, we appreciate the fact that they served our country."
READY TO ANSWER ANOTHER CALL
It should come as no surprise that governmental entities covet American veterans. A professional presence – and a desire to help others – are also appealing to potential government employers.
"We are here to recruit for our upcoming EMT Firefighter positions," said Capt. M. Hogan – Baltimore City Fire Dept. "We'll be accepting official applications in March for that recruitment class.
"Getting out here to this veterans event is important to us, because Vets already meet our minimum requirements. Most veterans are also able to navigate our agility test, so that helps them transition from the military into a firefighting career. We also like veterans, because the fire department is a para-military organization. Understanding the structure of rank is helpful as well."
Is there a place in the Baltimore City Fire Department for a job-seeking disabled veteran?
"We encourage veterans to apply, but we're open to all kinds of people. Disabled veterans should contact our human resources department for specific answers to any questions they may have about employment opportunities. They may not be able to climb a ladder, but communications and radio dispatch may be an avenue where a disabled individual could look for employment. We're not actively recruiting those positions right now, but there will always be a need for people to fill those important roles as well."
Alan Bisenieks is one veteran who made the transition into the civilian job force by completely stepping out of his comfort zone.
"I've been with First Command Financial Services for about 5 years now. When I retired from the Army, after 30 years in the military, this was a 180 from what I did in the service.
"A lot of veterans are comfortable with the jobs they do in the service, so when they come out, they exchange their uniform for a suit or other appropriate job-related apparel. When I came out, I wanted to do something totally different, and I am really glad (I made that decision.)"
Bisenieks told us his company is looking to hire individuals who'd like to become financial advisors.
"Veterans do not need to have experience in that area – we will train them. People undervalue themselves, but the reality is 80% of our advisors are either separated, retired, or military spouses. We started in 1958, and now 60 years later, we are still going strong, with the help of former military people."
REAL-WORLD EXPERIENCE
"There used to be a stigma about education in the military," observed DAV director Jeff Hall, "but that has changed, and you're seeing more educated recruits coming in for various personal reasons. Yes, there's continuing education, but the bottom line for potential employers is that veterans have real-world experience operating highly technical equipment in war-time settings, or going in as unskilled individuals and coming out as mechanics, engineers, plumbers, electricians, and carpenters.
"That is the future – that's where the money belongs, because as a society, we can't operate without them. So, it's a huge value having that military experience on your resume."
Two hours worth of conversations at last Thursday's DAV/RecriutMilitary Job Fair left this reporter with a most favorable impression – and a whole lot of smiles from the earnest Vets who are seeking employment. Still, I asked Chris Stevens of RecruitMilitary what he would say to any veteran who is contemplating his future but not knowing which way to turn?
"I'd say come here right now, but if you can't, then go to our website. There are currently 240,000 jobs posted on there. Companies pay to have their jobs posted on our website, so it's not just a generic jobs board.
"We have a great search engine that was designed in partnership with Google, and we're using their algorithms. You can type in your military code – say it's 'Army 13 Bravo' – and you're looking for opportunities around Baltimore. The algorithms search for employers in the Baltimore area who are looking for that background. It's wonderful."
Added Hall, "RecruitMilitary wanted us to be involved because they were getting these questions from potential employers. Part of those questions were from disabled veterans curious about their benefits. But there were also questions about tax incentives for employers and what exactly constitutes a disabled veteran. Is the disabled veteran an amputee, who a company would have to make all sorts of accommodations for? Or is it someone with ringing in his ears because he worked on a flight deck? So we came out with our veteran hiring guide, which is free, as a download on our DAV website.
"It's not a be-all-end-all, but it presents a checklist for employers to think about. They may be veteran-friendly, but are they veteran ready?"
The DAV sponsors more than 100 traditional and virtual career fairs each year. Last year, to support employers, dispel myths and demonstrate the business case for employing America's nearly 4 million veterans with a service-connected disability, DAV developed The Veteran Advantage: DAV Guide to Hiring and Retaining Veterans with Disabilities. This guide offers best practices and helpful tools for employers and strives to inspire more organizations to consider the veteran talent pool.
The next Baltimore area DAV/RecruitMilitary Veterans Job Fair will take place on May 7, 2020 from 11:00 AM – 3:00 PM at:
M&T Bank Stadium
1101 Russell Street
Baltimore, Maryland 21230
DC area veterans may get a jump on the next Baltimore event by attending the upcoming Greater Washington, DC DAV/RecruitMilitary Veterans Job Fair. That event will take place on March 12, 2020 from 11:00 AM – 3:00 PM at:
FedEx Field
1600 FedEx Way
Landover, Maryland 20785

The following organizations were represented at last Thursday's DAV/RecruitMilitary Veterans Job Fair at M&T Bank Stadium. Veterans seeking employment may learn more about these entities and others by following the hyperlinks at RecruitMilitary and DAV.
ADT
Airstreams Renewables, Inc.
Allan Myers MD, Inc.
Anne Arundel County Police Department
Baltimore City Fire Department
Bath Fitter
Centene Corporation
Centers for Medicare & Medicaid Services
Colonial Life
DAV
Department of Veterans Affairs
DISA
Electric Motor Repair
Estes Express Lines
First Command Financial Services, Inc.
Hearst Television, Inc.
Heavy Equipment Colleges of America
Howard County Government Fire and Rescue
Intel Corporation
Interfinish
Internal Revenue Service (IRS)
JP Morgan Chase
Keller Foundations, LLC
Lewis Tree Service, Inc.
Lockheed Martin Corporation
Metropolitan Washington Airports Authority
Martin Marietta Materials, Inc.
Maryland Judiciary
Merck & Company
Midwest ATC
Military Sealift Command
Montgomery County Police Department
Oracle Corporation
Plastipak Packaging
Premier Choice Exteriors
Prince George's County Fire/EMS Department
SECU
Smithfield Foods, Inc.
Sprouts Farmers Market
Sunrise Safety Services, Inc.
Transportation Security Administration (TSA)
TravelCenters of America/ Petro Stopping
U.S. Department of Homeland Security
U.S. Immagration and Customs Enforcement
United States Postal Service
Walden Security
Walker & Dunlop
Waste Managemen
Woodlawn Motor Coach