Dan Rather packs the house at Central Pratt
BALTIMORE — The former CBS-TV national news anchor and icon, Dan Rather, was in Baltimore last night (10.03.19). He made an appearance at the Enoch Pratt Free Central Library before a capacity audience and then some. In fact, the Rather's fan club was so large, that besides utilizing the huge space on the first floor, they had to use an auditorium on the third floor to pack in the rest of Rather's devotees.
A native of Texas, Rather, now a spry 86-years, has spent almost sixty years of his life in the news business. He also has a best-selling book of his essays out that he brought along with him. It's available locally from the Ivy Bookshop and its title is: "What Unites Us: Reflections on Patriotism."
Rather has his own news company, too – a multi-media production outfit. It's called, "News and Guts" and he serves as its CEO.
At one time, Rather was the reigning news kingpin at CBS. When he resigned in 2006, he was one of the "Big Three" of the nightly news, alongside ABC's Peter Jennings and NBC's Tom Brokaw.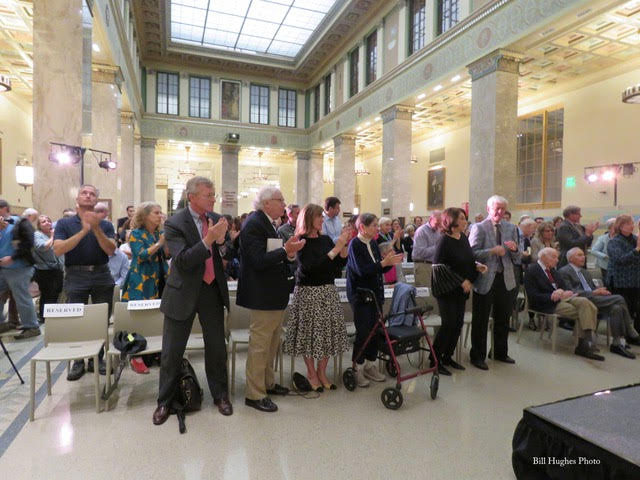 For the most part, Rather spoke about life lessons such as gratitude, humility, and modesty that he'd learned as a reporter and news anchor. Then, he also spoke generally about the importance to our nation of education, books, and learning. He praised Pratt for being a "monument to knowledge." He underscored also the importance of book learning in our society going back to the days of our Founding Fathers.
Rather then took a dig at how some of our so-called "political leaders" of today, who are "scornful of knowledge," and regularly resort to "reckless sloganeering" and "alt-facts." (Gee, I wonder who he was talking about?) He added ominously: "This is a perilous time for our county."
There was a Q&A period after Rather's 45 minutes of prepared remarks. Since he admitted he lost about 40 percent of his hearing while reporting from Vietnam, the questions were submitted earlier in writing by audience members.
After answering a few of those queries, it was time for a wrap for "The Dan Rather News Show" in Baltimore.

Bill Hughes is an attorney, author, actor and photographer. His latest book is "Byline Baltimore." It can be found at: https://www.amazon.com/William-Hughes/e/B00N7MGPXO/ref=dp_byline_cont_book_1