Cumberland has it all: Bike, hike, murder mystery and more
(Cumberland during the day: Courtesy of www.merlavageimages.com)
If you're looking for winter type activities then I might offer the suggestion of a visit to Allegany County out western Maryland way.   Situated in that county is the thriving town of Cumberland.
Cumberland's importance began in the 19thcentury as a transportation center.  It was actually the site of this country's first National Road.  From Baltimore city, on a day free of weather problems and traffic tie-ups you can be there in about two and a half hours.  The town is listed on the National Register of Historic Places.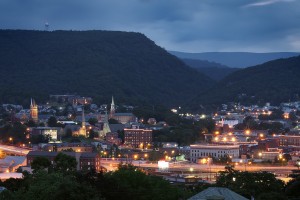 As you would expect out here in the mountains, there's lots to do outdoors.  One popular activity, which I haven't as yet tried, is exploring the C&O Towpath.  This is a hiking experience the follows the Chesapeake & Ohio Canal and Potomac River.  It runs for 184 miles.  Along the way you'll be treated to various forms of wildlife and great scenery.  Eighteen miles from Cumberland along the Towpath is the small town of Oldtown.  It might be fun to check out the old schoolhouse turned café and to simply take in the area.
The C&O Canal itself was built between 1828 and 1850.  Once completed it allowed for grain and agricultural products to float down to the market.  In its early years it was plagued with floods.  In 1971 the Canal became a National Historic Park.  I've read where today much of the canal has been drained of water but this allows it to be a favorite haunt of  joggers, hikers and those on bikes.
Another popular activity, which I have tried, is a ride on one of the Scenic Train Rides as part of the Western Maryland Railroad.  These are available May through December.  You can hop aboard either a steam or diesel locomotive.   You can even try a Murder Mystery, which I have done, and is loads of fun.   Steam and diesel trips run from $18.00 to $55.00, tickets for the Murder Mystery are $85.00.  One trip I want to take goes from Cumberland to Frostburg, a 32 mile round trip. (301-759-4400)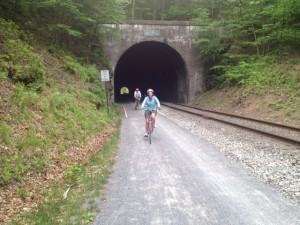 If museums are your thing, Allegany County has much to offer.  Each one comes with their own history.  Since I do not have the space to elaborate on each, following is a partial listing.   The Allegany Museum (3 Pershing St), this showcases the history of the county from the first native American residents; the Williams Community Museum (136 Main Street) highlighting the heritage of Westernport and the Tri-Towns; the Allegany Arts Council's Saville Gallery (9 N. Street), a professional arts space dedicated to the exhibition of local, regional and national artists; Gordon-Roberts House (218 Washington Street), depicting life of an upper middle class family of the late 1880's; F. Brooke Whiting House of Art (632 Washington Street), a rich collection of resources to the historical society; and finally, C&O Canal National Historical Park Museum (13 Canal Street), various displays of interactive exhibits.
Other activities in the Cumberland area include Kid's Kingdom, Riverside BMX, Tri-State Zoological Park, Allegany County Speedway, The Big Kahuna Car race (stock cars), a visit to George Washington's Headquarters, Gulf War Memorial, Gilchrist Gallery, Cumberland Theatre, Queen City Performing Arts Development and Front & Centre Stage.   About 10 minutes away is the Rocky Gap Campgrounds and State Park.  Here you can enjoy 3,000 acres with campsites, bathhouses, boat rentals, beach and nature center.  When tired of the outside take a very short hike and enter the Rocky Gap Casino.
For lodging, I'll suggest The Cumberland Ramada, 100 South George Street.  It has 130 rooms, an outdoor pool, exercise room, business office, lounge and restaurant.  It's located downtown, very close to many attractions.  I found the rooms comfortable, clean an even had the pleasure to meet Tony Orlando in the lobby when he was performing in town.  This was formerly the Holiday Inn. (301-724-8800)
In short, Allegany County offers the traveler many choices.  Instead of an overnight in Ocean City, head west.  If for some strange and bizarre reason you've never been to western Maryland, you've just got to go.  It is of course totally different from the flat terrain of the eastern shore.  For more information, since I have only touched on what's available, visit the website.  or call 800-425-2067.

Eddie Applefeld is a Baltimore native and a graduate of Towson University. He has been in the broadcasting profession for over 30 years. Currently he is the Promotions Director of WCBM radio. Before that, he was part of the Rouse & Company show on WQSR, host of a cable TV show called Dining Out and adjunct instructor at Towson.
His past accomplishments include being named a finalist in Baltimore Tourism's Employee of the Year Program and winner of Toastmaster's Speaker of the Year contest. He was also twice a heartthrob for the American Heart Association's gala fund raiser.