Crab Cakes, Maryland Style: What's in your recipe?
It was on a rainy afternoon in the Carpenter Street and Saloon in St. Michaels when I had my first Maryland crab cake.
I naively asked the waitress for the recipe. "No one shares crab cake recipe," she tersely informed me. "Each person has his or her own recipe, the ratio of crab to filler, it's the balance. It's an individual thing."
So when I met Ruth, and learned that she is a born and raised Baltimore transplant now living in The Woodlands, Texas, I cautiously asked if she had a favorite crab cake recipe. To my surprise she voluntarily shared her recipe with me. Her recipe is actually similar to the Crab Cake Balls recipe below, so I've included her recipe for Crab Cake Meltaway instead.
Hints from those who know: Ritz crackers add a buttery taste to the crab balls and/or cakes. Old Bay seasoning is a must ingredient.
Crab Cake Balls, Maryland, Duvall family recipe
1 lb. lump crabmeat
1 egg, beaten
2 tablespoons mayonnaise
2 tablespoons deli mustard
1 tablespoon Worcestershire sauce, optional
10-15 Ritz crackers, crushed
Old Bay, to taste (approximately 2-3 teaspoons)
Mix all the ingredients. The mixture should be moist, not dry. Adjust, adding mayonnaise and crackers as needed. Form into balls and place on a buttered cookie sheet. Drizzle with melted butter. Bake 15 minutes at 350 degrees, until heated through or fry with a little olive oil. To make cakes, form crab mixture into desired circles.
Tartar Sauce
1 cup mayonnaise
1 tablespoon pickle relish
2 tablespoons lemon juice
Salt and pepper to taste.
Mix all ingredients and store in refrigerator until ready to use.
Kitchen Hint, 1960s:
When frying fish, salt bottom of skillet, then the fish will not stick.
To keep sandwiches from drying out, seal the edges of the wax paper with a hot iron.
To keep parsley fresh, place it in a closed fruit jar in the refrigerator.
Loads of crab chunks, a minimal amount of filler-make this recipe a crab lovers' dream.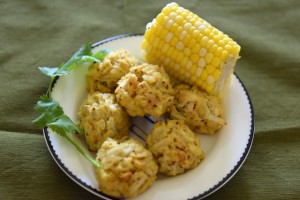 Crab Bomb: Original to Jerry's Seafood Restaurant in Maryland
2 lbs. jumbo lump crab meat
10-15 Ritz crackers, crushed
2 sticks unsalted butter
1/2 cup mayonnaise
2 teaspoons white vinegar
2-3 teaspoons old bay seasoning
Salt and pepper to taste
Several hours before serving, mix crab with old bay seasoning. Refrigerate.
Mix crab meat with mayonnaise, cracker crumbs and season with salt and pepper.
Add vinegar to melted butter. Set aside.
Gently form 4 (1/2 lb. each) tennis sized balls of crab mixture. Place in heat proof baking receptacle.
Pour the melted butter/vinegar mixture over the crab meat.
Bake in a 350 degree oven for 15 minutes.
Sides: serve with corn, mashed potatoes, green beans, macaroni salad and, my favorite, coleslaw. Add tartar sauce on the side for dipping.
Thoughts from the 60s: The man wears the pants in the family, but the woman provides the suspenders.
A community is not made of the number of square miles it contains, but by the number of square people it contains.
The head begins to swell when the mind stops growing.
The following heading appeared on the top of Ruth's recipe:
J.L. BRANDT & Son, Inc.
6675 Amberton Drive
Elkridge, MD 212227
Broiled Crabmeat Meltaway, Ruth from Baltimore
1 package English muffins
½ lb. crab meat
1 stick margarine
1 (6 oz.) jar cheddar cheese
2 tablespoons mayonnaise
½ teaspoon seasoned salt
½ teaspoon garlic salt
Remove cartilage from crabmeat.
Slice muffins in half. In small bowl, mix remaining ingredients. Spread mixture on muffin halves and place on a cookie sheet. Freeze until firm-at least thirty minutes.
To store: place frozen pieces in freezer bags. Store until ready to use.
For same day use: freeze for 30 minutes, then place on broiler tray and broil until light golden brown and bubbly.
Enjoy!

Ann Marie Bezayiff received her BA and MEd from the University of Washington in Seattle. She is an author, blogger, columnist and speaker. Her columns, "From the Olive Orchard" and "Recycled Recipes from Vintage Boxes", appear in newspapers, newsletters and on Internet sites. Ann Marie has also demonstrated her recipes on local television. Currently she divides her time between Western Maryland and Texas.