COVID-19 killing Maryland's businesses as many struggle to survive
Taharka Brothers quickly launched a home delivery service for its ice cream after the governor ordered Maryland restaurants to close on March 16, except for deliveries or carry-out orders. The Baltimore-based small business still makes deliveries to grocery stores. (Courtesy: Taharka Brothers)
By Meg Tully
With most of their workforce laid off and stores closed for longer than they have ever been, business owners across Maryland are grappling with the monumental impact of COVID-19.
Some businesses are being disproportionately hit by the shutdown and their woes have undoubtedly worsened when Gov. Larry Hogan went from restricting big gatherings a few weeks ago to issuing a stay-at-home order for all Maryland residents this week.
Event Tech, a 35-year-old event-production business based in Baltimore's Curtis Bay neighborhood, provides services such as sound, lighting, video, tenting, fabrication, scaffolding and more for events — often for thousands of people.
The business has set up giant display screens on the National Mall, created custom stages and lighting for medical conferences, and provided services for commencements at George Washington University and Morgan State University.
President Eric Maynard said he started getting cancellations on Monday, March 9 — long before local businesses were even contemplating closing their doors. It all happened at a dizzying pace, Maynard said. He was focused on getting ready for the spring and finishing a fabrication project. He was working in the warehouse when an employee came up to him and asked if he would be laid off.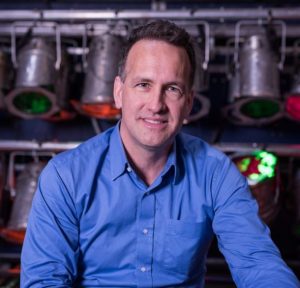 "I looked at him like he had three heads," Maynard said. "He said, 'Because of this whole coronavirus thing.' I stood there for a second and I thought, 'You have a good point.' 
"This was Tuesday; by Thursday evening I laid off half of the warehouse because everything was disappearing so fast," referring to the company's bookings. By the end of that week, most of his big events had canceled.
It was bad timing, as much of Event Tech's revenue comes in the spring — with 50% earned around April and May.
'In a submerged car'
Maynard is scrambling to pivot, offering help to grocery stores struggling to manage crowds and hospitals establishing temporary triage facilities.
"The pivot is putting your hand on the wound and hoping to stop the bleeding," he said. "It's not fixed — it's not anything like that. This is just to offset some of the cost so I can minimize the impact on the employees that I have left and that I want to bring back, and hope that I can make that happen."
Only a handful of his employees have ever filed for unemployment benefits, and he hasn't treated part-time employees as independent contractors, which means he paid more into the unemployment system. He is holding out hope that the federal government will do something for employers who have contributed for so long.
Meanwhile, he's trying to make arrangements with his bank for the business mortgage, and estimates that if everything goes well it will be four years before he is back to zero. He wants to cover health insurance for employees. At some point, he may have to decide if he should take on debt for the rest of his life.
"I'm in that submerged car looking for that pocket of air and that's what I'm hoping for what's coming out of the federal government," he said last week.
Government leaders are scrambling to provide some relief, but it's unclear if it will be enough.  The state is offering $175 million in loans and grants to help small businesses. Gov. Larry Hogan said this week that he has authorized an additional $2 million to the state's COVID-19 Layoff Aversion Fund, which will bring the total to $9 million. Already, Maryland has provided $8.8 million to more than 400 small businesses to help 8,000 employees keep their jobs, the governor's office stated. The federal government is helping small businesses through the Small Business Administration. President Donald Trump signed a $2 trillion stimulus package on Friday that will include the Paycheck Protection Plan, a forgivable loan program for small businesses to help them retain employees, as well as pay mortgage or rent, utilities and health insurance.
On Thursday, the National Federation of Independent Business's Research Center released a survey that showed 92% of small businesses are negatively impacted by the coronavirus outbreak, compared to 76% 10 days earlier and just under 25% reporting a negative impact 20 days prior. Only 5% are not impacted, and of those, 44% expected to be impacted if the outbreak spreads or spreads more broadly in their communities, the survey found.
Mike O'Halloran, state director of NFIB in Maryland, said their members are trying to keep people working.
"There are so many unknowns right now but that's where I think the entrepreneurial spirit of our small-business owners will prove incredibly important," O'Halloran said.
Maryland businesses say they just hope whatever aid they eventually get will be enough as they face unexpected closures. The payroll protection funds are much needed, O'Halloran said, but for some it will be a day late and a dollar short.
Ice cream on wheels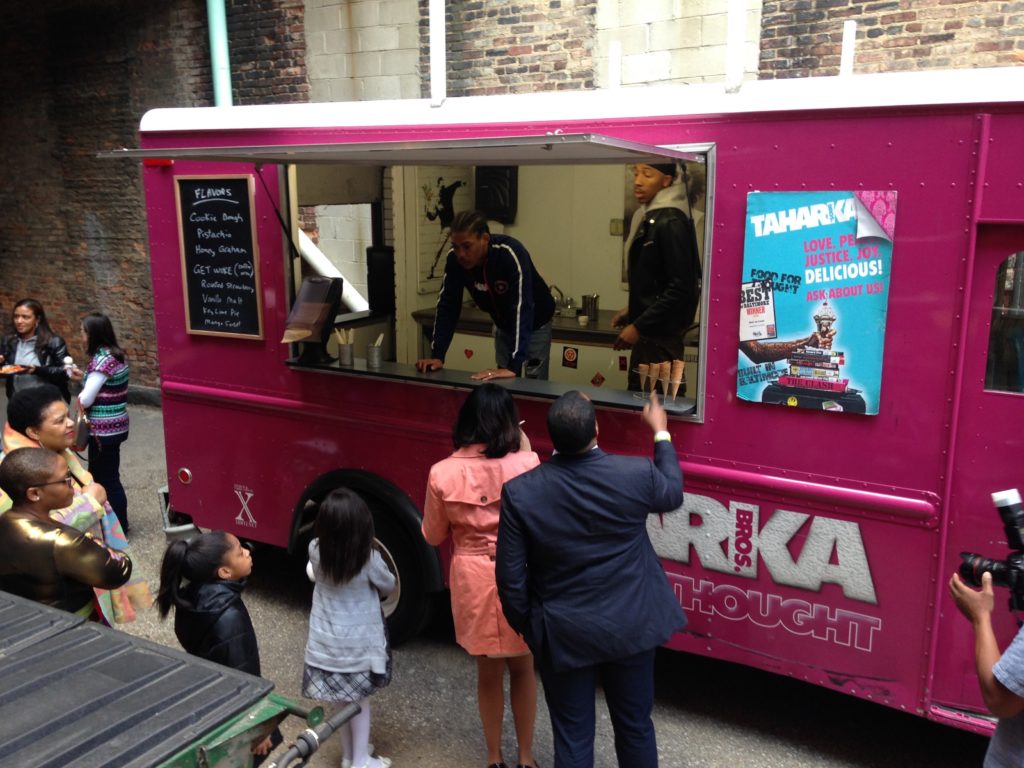 Taharka Brothers CEO Steve Butz had to make a lightning-quick decision when he realized local restaurants were going to be closing and would no longer be ordering the company's homemade ice cream.
He called up a contact and asked him to create a home-delivery form for the ice cream company's website — in just 48 hours. They opened for home delivery on March 16 and have made more than 600 home deliveries in its truck of pints like Taharka's signature flavor, honey graham, he said in late March.
"There's a lot of uncertainty but one of the ways to combat uncertainty is to just put one foot in front of another," Butz said. "That's the approach we're taking.
"Put that truck out there and serve some ice cream."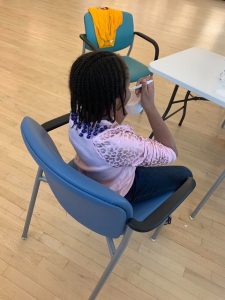 Taharka decided to close its retail "scoop shops" in Baltimore — at Broadway Market in Fells Point and a stall at R. House in Remington that had just opened last December — and reduced the staff that had manned them. But many of those workers were high school students, Butz said. He hopes to rehire them when businesses reopen. Their ice cream also is sold at Jupiter's Ice Cream in Mount Washington.
"The sales have remained pretty steady since we started" the home deliveries, company founder Sean Smeeton said Thursday. They deliver seven days a week to Baltimore City and several areas of Baltimore County, he said.
"Something new that we just started today are flash sales for specific ZIP codes that are out of our delivery zone," Smeeton said Thursday. "For example, today is for a couple of ZIP codes in Harford County." The ZIP codes for flash sales will be listed on the company's social media, he said. 
Meanwhile, Taharka has increased pint sales to local grocers who need help keeping products on the shelves.
Still, all of their efforts are just enough to keep going. Butz said he is considering applying for a government grant to pay for costs associated with switching business to a more virtual platform.
"We are working two to three times as hard for the same amount of revenue," Butz said.
The company also decided to add a way to give back when fulfilling home-delivery orders. When ordering online, customers have the option to donate $8 for 8 mini-pints that will be given to Baltimore City school kids. So far, customers have raised enough for nearly 800 mini-pints. 
Ellicott City store survived two floods
Many other businesses are finding ways to help, even as they fight for their own survival.
The owner of Su Casa is planning to host Red Cross blood drives in his now-empty home furnishing and accessory stores. When they shut down, owner Nick Johnson said he did the hardest thing he has ever done in 28 years of being a business owner: he looked into the eyes of more than 20 employees and told them they were all laid off.
He had to lock all four of his stores — in Baltimore's Fells Point neighborhood, Ellicott City and two locations in Delaware — due to the virus' threat, but when someone asked where they could find space for the blood drive, he immediately offered his unused stores.
Su Casa is still selling through its website and Johnson makes deliveries himself as two employees remain on staff. Interior-design services also are still available.
He is worried about his 21-year-old company, of course, but much of his concern is about the business community as a whole.
"Everybody I know still has product to sell; it's just there's no one to sell it to," Johnson said. "[It's hard) not be able to do what you're excited about."
The crisis is hitting particularly hard for his Ellicott City location, where historic Main Street business owners have already come back twice after devastating floods in the past four years.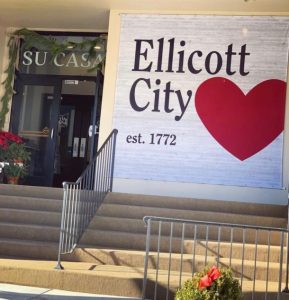 At one point, Su Casa lost $15,000-$20,000 worth of inventory and $200,000 in revenue due to being shut down for months of renovations, Johnson said.
"I just don't know how many businesses can come back from something this devastating three times in a row," he said.
Still, he hopes the crisis will resolve quickly enough that he and other business owners will be able to reopen — and notes that at least this time they don't have to physically rebuild.
He just hopes that the community will rally once again around small businesses when their doors reopen.
"If we don't earnestly get back to supporting our community businesses, then it's going to be an even greater tragedy," he said.
Protecting customers and workers is vital
But although they miss business as usual, many business owners also acknowledge that as leaders in the community the most helpful thing they can do is just stay home.
Ron Furman, the owner of Max's Taphouse with his wife, Gail Furman,  is the type of person who runs toward trouble — even though,  at 62, he has a heart condition. He drives his tractor to clear Fells Point streets during blizzards and delivers sandbags when a hurricane is about to hit. 
But facing the invisible threat of the pandemic, the Furmans announced on March 15 that they and eight other local businesses would close their doors voluntarily as state officials warned the coronavirus threat was serious.
"The biggest reason was we realized what was going on and we could not see putting our employees and our customers in harm's way," he said by phone last week.
For other businesses, the impact of the coronavirus has not been too great, although social distancing modifications will ultimately hit the bottom line.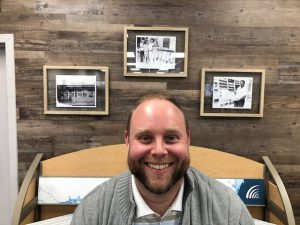 In Crofton, Quality Carpet One Floor & Home has closed its showroom for the first non-Sunday since 9/11, and is open only virtually or by appointment.
Last week Vice President Shawn Orme said they were still able to continue with installations. He said he expects they will start to feel the impact in late April.
"We're certainly worried, but when you're small you're always knowing there can be a rainy day ahead so that's why we plan for things like this; we just hope it won't be too long," Orme said.
For businesses with furloughed employees, the concern becomes how to keep them afloat so they'll be there when it comes time to reopen. Back in Fells Point, the Furmans have instructed their laid-off workers to file for unemployment benefits. Every day, the bar's manager features a different employee on the Facebook page so customers can give virtual tips.
Ron Furman has launched a Facebook page "Hospitality Help Line for Owners & Managers" that has slowly been growing. The Furmans also applied for a $10,000 small-business grant that they hope will provide some relief.
Despite the grief, and the uncertainty, the couple remains optimistic.
"We are really blessed to have the customers that we have and the employees that we have," Ron Furman said. "We will all make it through this and come out the other side."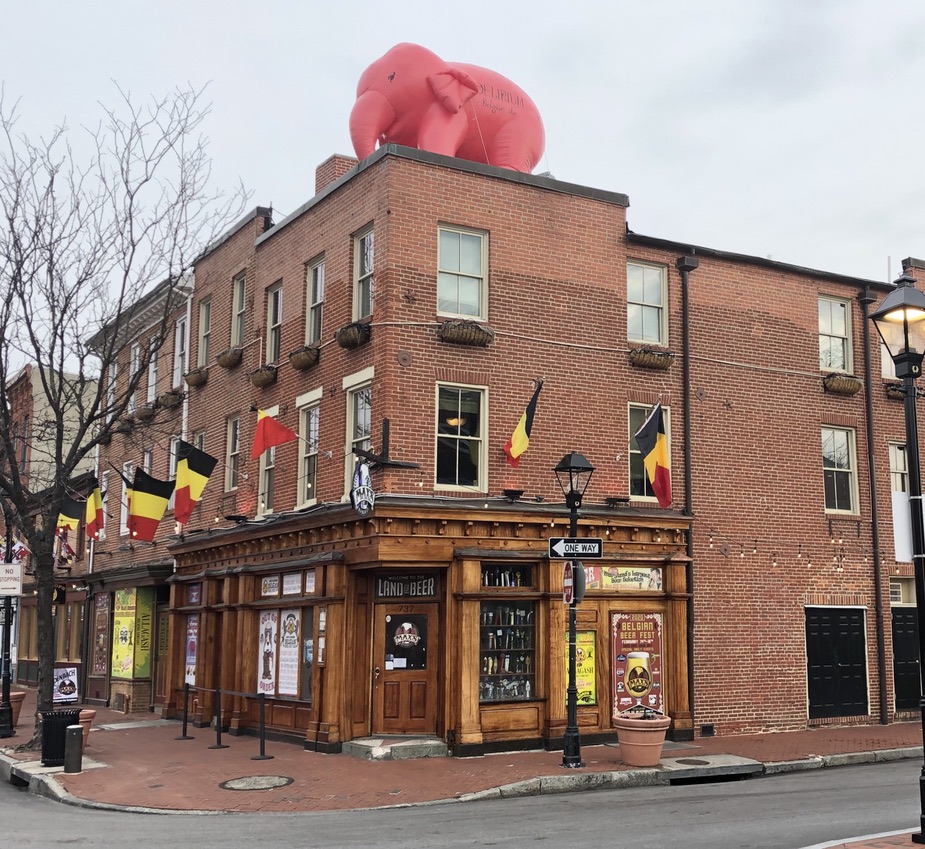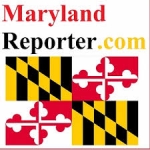 MarylandReporter.com is a daily news website produced by journalists committed to making state government as open, transparent, accountable and responsive as possible – in deed, not just in promise. We believe the people who pay for this government are entitled to have their money spent in an efficient and effective way, and that they are entitled to keep as much of their hard-earned dollars as they possibly can.