Some of the household products which may be useful in coronavirus cleaning.
Here is a situation posed to me by one of my clients. A person in their household tested positive for COVID-19. The husband and wife had to go into quarantine for 15 days. Thankfully they have finished their time of isolation and have been determined "All Clear" by the Health Department. Now their names go on the "recovered" list.
This is awesome!
My client's question: Is that car sitting in their driveway — which they were using before they found out they had coronavirus — safe to use?
We have been told that the Coronavirus can remain on metallic surfaces for up to nine days. Presently, there is no evidence that heat or cold affect the virus' viability. What are the things one needs to take into consideration when faced with a situation like this?
Certainly, all of us would want peace of mind, knowing that everything was cleaned and disinfected properly, so no one else would be exposed to the virus. With care, I believe most drivers can do this job using products they already have on hand. These would include:
1) Household detergent (Dawn – diluted in water)
2) Disinfecting wipes
3) An aerosol spray disinfectant
4) A clean bucket with hot water
5) Freshly laundered washcloths
6) A new cabin air filter (for most late model cars)
These products are very mild, but with any cleaning project, it's always best to wear rubber gloves, a long-sleeved shirt, and long pants. Eye protection and a mask (if you have them on hand) are also a good idea.
Special attention needs to be placed on three areas:
1) Surfaces
2) Touch-points
3) Heating and Air conditioning system (HVAC)
The CDC guidelines state that surfaces (porous and non-porous) that are found in vehicles should be first cleaned and then disinfected. See: https://www.cdc.gov/coronavirus/2019-ncov/community/organizations/cleaning-disinfection.html
Surface cleaning with water and detergent
Dampen you washcloth, wring it out and thoroughly wash vinyl seats, dashboard, armrests, center console, door panels, glove box door, and center armrest / storage compartment lid. Be sure to rinse with clean, warm water to remove any soapy residue when you're done. Cloth and leather components should be cleaned as directed with products specifically made for those materials.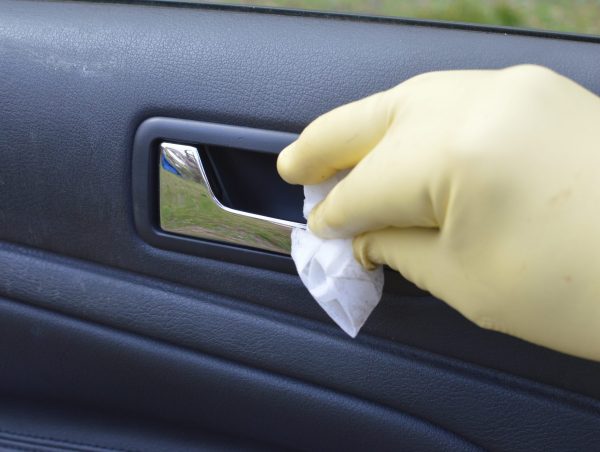 Touch-point cleaning with disinfectant wipes
Clean the steering wheel, inside and outside door release handles, door panel grab handles, shifter levers, wiper and turn signal levers. Pay close attention to any nooks and crannies.
Heating and Air Conditioning system (HVAC)
Disinfect the heating and air conditioning system along with the interior of your vehicle using these steps below:
1) After cleaning surfaces and all touch-points, start the car and turn the HVAC system on high fan speed.
2) Set the HVAC system to bring in outside air. The recirculation control should be turned off. Most recirculation controls are marked with a sideways "U" with an arrow-like in the illustration below. On some vehicles, if recirculation is on, a light is lit on the control panel.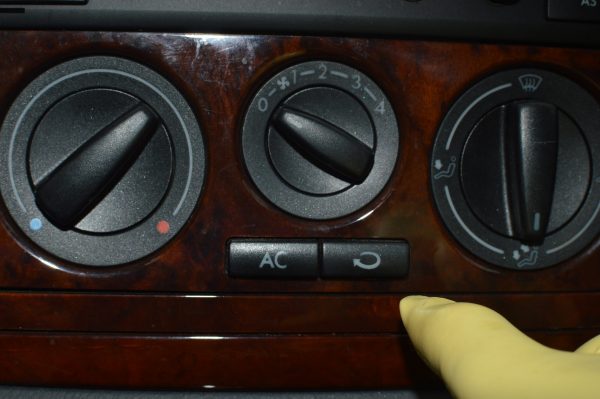 3) Spray some disinfectant in the car and close all the windows and doors.
4) Spray disinfectant in the cowl vent near the wiper blades. Make sure this area is not packed with leaves or debris. Spray it in the gap between the windshield and the back of the hood. With some models, you may find it necessary to open the hood to access these vents. With the fan running on high, you will hear air being pulled in through the vents. Spray a liberal amount of disinfectant, no more than 3 or 4 ounces is required.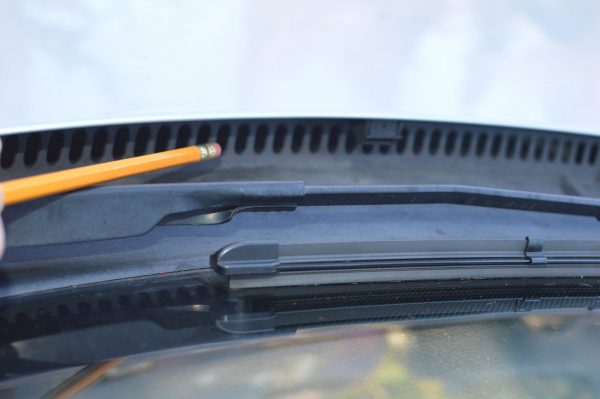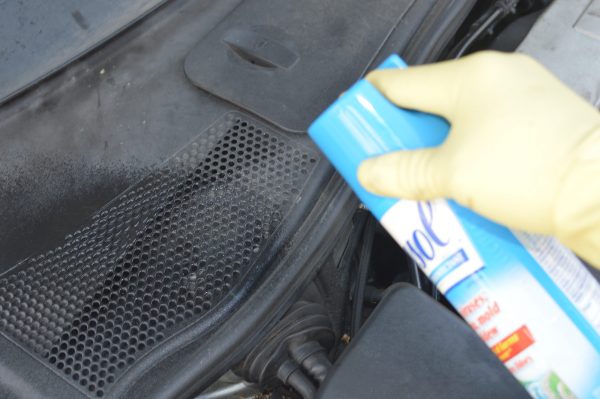 5) Open the door, roll down all the windows and turn off the car.
6) Lastly, replace the vehicle's cabin air filter or contact your favorite automotive repair shop to do it for you. Instructions on how to do this yourself may often be found online. Occasionally, a how-to video for your particular model may be found on Youtube.
Just like your furnace in your home, your car may have a particulate filter that filters out the dust and germs. Most cars built since the early 2000s have them. All of the air you breathe from your vehicles HVAC system circulates through the cabin filter, so it's important to change it periodically anyway — especially if your vehicle has transported anyone with a cold or the virus. Prices for these filters vary (I always recommend that you buy quality air filters) and they may be found at your local auto parts store or online.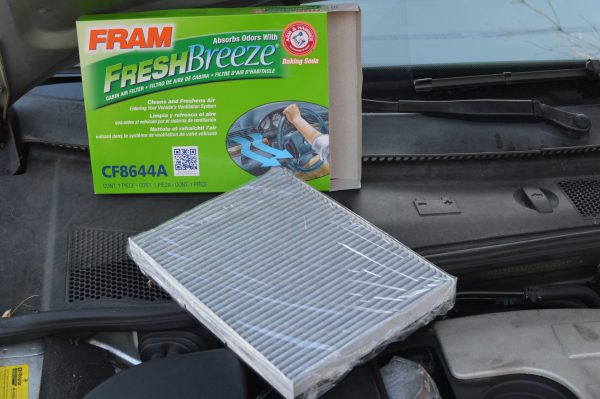 I hope this is helpful. If you have any questions, feel free to phone me at my shop. As part of the transportation sector, we are considered to be an essential business and will remain open to meet our community's needs.
New Life Automotive is located at 4301 Washington St., Halethorpe, Md. Hours are Monday – Friday 8am – 5:30pm. The shop number is 410-242-6232. For towing, phone 410-747-8697.