Cling Peach Torte-Pie: So sweet, so good
Nothing compares to summer's sweet, juicy peaches right off the tree, except for a canned jar of the yellow-orange fruit during fall or winter. Though great right out of a jar, canned peaches can be baked into cobblers or crisps for breakfast or dessert. Here is a recipe clipped from a 1950s newspaper, another way to serve canned fruit. Apparently it won a prize for The Best Most Distinctively Different Dessert. I have to agree.
Here are two versions, one from the newspaper clipping and the second, my up-dated version.
Cling Peach Torte-Pie, 1950s
1 No. 2 ½ can cling peach slices
1 cup flour
1 cup sugar
1 teaspoon soda
1 teaspoon salt
1 egg, slightly beaten
4 tablespoons brown sugar
½ cup nuts
Drain peaches well. Dice. Mix with spoon flour, soda, sugar, salt, egg. Fold in peaches. Spoon into greased 9-inch glass pie plate Sprinkle with brown sugar and nuts. Bake at 325 degrees for 45 minutes.
Cling Peach Torte-Pie, 2015
1 32 oz. jar of peaches, halved or slices
1 cup flour
3/4 to 1 cup sugar
1 teaspoon soda
1/2 teaspoon salt
1 egg, slightly beaten
4 tablespoons light brown sugar
¼ teaspoon cinnamon
½ cup chopped pecan or walnuts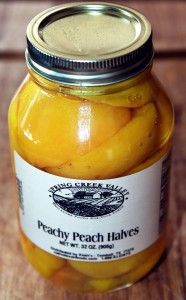 Drain peaches ahead of time. Dice.
In a separate bowl, mix flour, soda, sugar, and salt.
Add slightly beaten egg to dry ingredients and mix well.
Fold in peaches. The batter will be sticky.
Spoon into non-stick 9-inch square baking dish or greased 9-inch glass pie plate.
Combine brown sugar with cinnamon and nuts, sprinkle over batter.
Bake at 325 degrees for 40-45 minutes.
Where to find Canned Peaches? During our travels this summer, we came across displays of canned fruits and vegetables in off-the-road, fruit stands, family owned restaurants and specialty stores. I couldn't resist and brought several jars home. The peaches I used in this recipe were Peachy Peach Halves from Tomball, Texas. In Maryland I use canned peaches from Scenic View Orchards in Sabillasville. You can find them on the shelf next to the quarts of apple butter.
Of course there's no substitute for home-canned peaches. Even now my mouth waters thinking of my grandmother's canned cling peaches. During peach season, my grandfather rose early, picked several lugs of ripe peaches from his garden and then set them on the long wooden, kitchen table. The women washed, cut, pitted and pealed the fruit. Others carefully immersed the glass canning jars and rings in pots of boiling water. Once the prepared peaches were added to the jars, the rings and tops were screwed tightly over the tops and the jars set upside down to cool. Then everyone waited for the tapping sound as the seals popped into place. The few jars that didn't seal were set out in bowls for good eating. They disappeared quickly. Needless to say, it turned out to be an all-day project and not without a few burned fingers but well worth the effort. Enjoy!
Hints from Kitchen's Past: To keep your griddle from smoking: rub it frequently with half a rutabaga. To keep celery crisp, stand it up in a pitcher of cold water & refrigerate. Feasting with Saint Francis, 1985.
Keep oil or shortening clean of cooked particles when used in a deep fryer by straining through a piece of old nylon stocking. Raw potato cooked in it will freshen the taste. To keep out weevils: store flour, meal, cereals and dried foods in glass jars with a tight fitting lid. Cut out labels and place in jar. Washing vegetables: to rid of insects, wash in water to which has been added a pinch of borax and a little vinegar. Cooking at the Y, Laurel, Mississippi, 1973-1974

Ann Marie Bezayiff received her BA and MEd from the University of Washington in Seattle. She is an author, blogger, columnist and speaker. Her columns, "From the Olive Orchard" and "Recycled Recipes from Vintage Boxes", appear in newspapers, newsletters and on Internet sites. Ann Marie has also demonstrated her recipes on local television. Currently she divides her time between Western Maryland and Texas.