Classic drama snowbound at Bus Stop
Almost nothing in life is settled in the span of four short hours.  But for the characters in the Eisenhower era romantic classic, Bus Stop, a diner-full of snowbound strangers try to do just that as they spend a stormy Kansas night chasing their dreams while searching for someone to share them with.
Written by William Inge, the show originally premiered on March 2, 1955 and was nominated for four Tony awards, including Best Play.  It closed the following year after 478 performances.  A 1956 film staring Marilyn Monroe and introducing Don Murray is actually based somewhat loosely on two plays by Inge, People in the Wind and Bus Stop.
The play is set in a roadside diner just west of Kansas City, Missouri.  An unexpected snowstorm has forced a bus with four passengers (two cowboys returning to their ranch in Montana, an aspiring night club singer and a philosophy professor on the lamb) to seek refuge.
At the diner, the driver and four passengers are met by the owner, her high school aged waitress and a stern yet practical local sheriff.  From the start the play is about relationships: committed and contrived  romance juxtapose seamlessly beside platonic and professional pairings. Grace, the diner owner is strictly casual with bus driver Carl.  The professor, Dr. Lyman, has designs on high-schooler Elma and songstress Cherie and cowboy Bo take turns at running both hot and cold.  Cowpoke Virgil and Sheriff Will alternately offer goodly guidance while keeping a steady hand on the reigns.
The relationships in Bus Stop are mixed.  Unfortunately, the performances in the current production at Centerstage in Baltimore are also a jumble.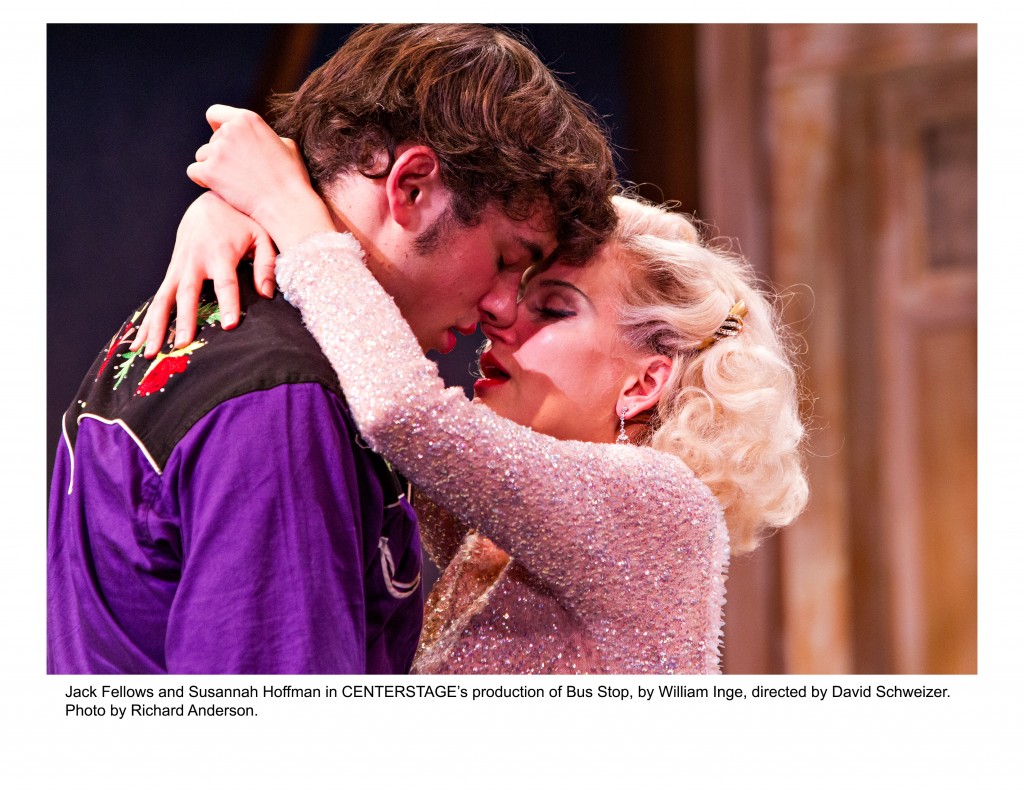 Pilar Witherspoon as Grace Hoylard, is as delicious as hot apple pie à la mode.  Coupled with Malachy Cleary as Carl, their scenes are saucy without being smarmy.  As an aside, Cleary reminded this reviewer an awful lot in looks and manner of Cliff Clavin from Cheers.
Kayla Ferguson's Elma Duckworth curiously came off not so much as an ingenue as a young Mickey Rooney in drag.  Ferguson's "Let's put on a show" exuberance was too reminiscent of an Andy Hardy movie; worse, she delivered most of her lines on the balls of her feet, poised as if preparing to spring from a supporting role in Bus Stop to the lead in Peter Pan.
Patrick Husted as Dr. Gerald Lyman started off as an eloquent rake, but there was a rattle in his delivery which wore thin rather quickly.  This quirk may be something in the actor's actual voice, so I won't belabor the point, but if it isn't, perhaps really filling his prop flask with rye whiskey would have helped Husted out.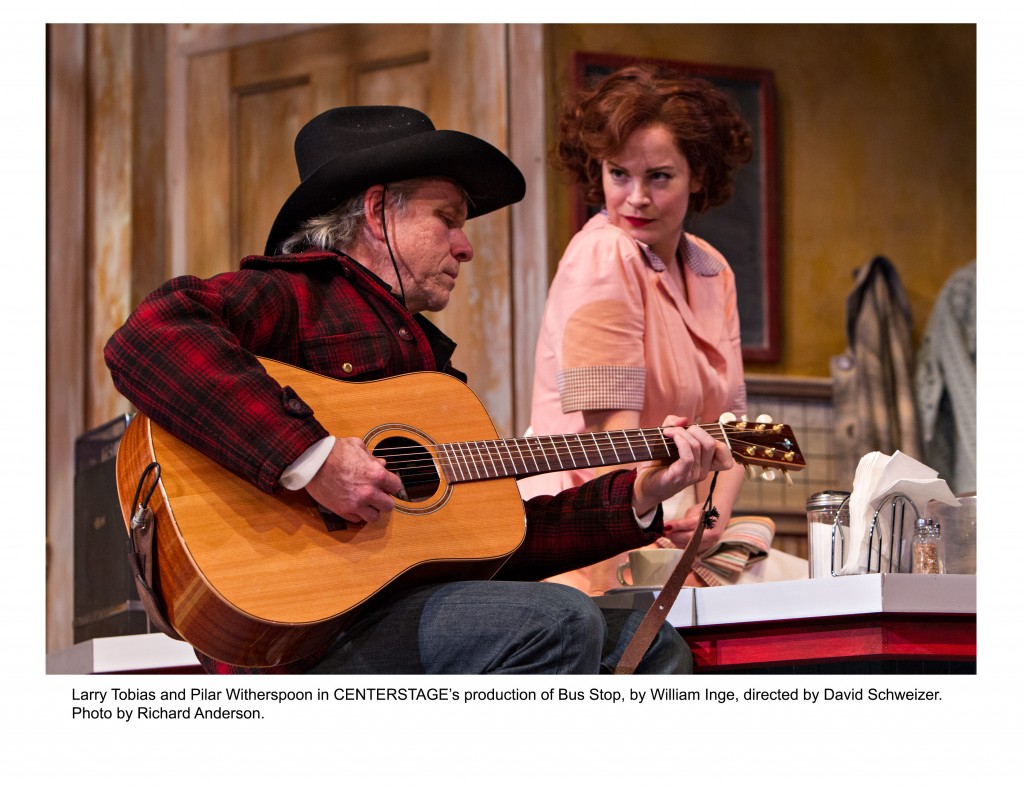 Jack Fellows' twenty-something cowboy, Bo Decker, is braggadocios and boorish.  He blows through the door like the winter storm which has stranded the group at the diner.  Also, Fellows plays his character with a distinctive Texas accent.  This would work fine for his cowboy role were it not for the fact that the script repeatedly makes reference to his ranch in Montana.  I know that may sound a bit nit-picky, but if a company is paying for a voice and dialect director, the least she can do is get the accents right.
There is precious little to recommend the character of Bo, and his second act thrashing at the hands of the sheriff could not come a moment too soon.  Fellows, like several others in the cast, substitutes swagger for style.  There is nothing subtle about his performance; perhaps that is how it was meant to be.  But this lack of anything endearing ultimately leaves the audience apathetic.  By the time the play ends, the beckoning toot of the bus horn is a note of sweet relief.
As mentioned earlier, the stage play of Bus Stop bears just a general connection to the famous film.  Still, for most people, the association with Marilyn Monroe is overwhelming.  Any actress who takes on the part of Cherie would do well to distance herself from Monroe and try to make the part her own.  "Playing" a sensational1950's icon is a recipe for disaster.
Just ask Lindsay Lohan.
Sadly, Susannah Hoffman as the second rate night club singer Cherie delivers a cartoonish Monroe, complete with a teased blond wig and a silver satin gown.  Hoffman does not have the finesse nor the figure to fill Monroe's stilettos and she comes off terribly out of her element.  Blame director David Schweizer for sending Ms. Hoffman down this dead-end road.  Divorced of Monroe, it would have been nice to see what Hoffman could have done with the part.   But Hoffman's Cherie has too much Monroe mixed in with Thelma Lou from  Mayberry.
Larry Tobias as Bo Decker's mentor and ranch hand Virgil delivers the best performance of this production as he paints a poignant picture of companionship and commiseration.  When he and Bo part company for the last time, one gets the sense that Inge nailed the character square on the head.  Male friendship is perhaps the hardest of all relationships to honestly convey and the only truly touching scenes in Bus Stop happen between Virgil and Bo.
Michael D. Nichols' Will Masters was at times too stentorian, but given he was up against the two most over the top players in Hoffman and Fellows, one could see where he had to keep pace.  His backwoods beard was also distracting, though he was at one point compared to Moses.
Set Designer James Noone and Lighting Designer James F. Ingalls created the look and the mood of the snowy wayside diner.  Costume Designer Clint Ramos' wardrobe mostly works, though I found the anachronistic polished leather hat on Will somewhat out of place.  Sound Designer Lindsay Jones hammered the audience with cowpoke yodels.  A little Kitty Wells or Webb Pierce would have been a welcome sight.
Bus Stop was written as a drama, with elements of comedy and romance; however, this production weighs heavily on the silly side with the drama just an afterthought.  Inge's crisp dialogue is elastic enough to actually make this transition work and for those willing to look past the limits of the leads, the show can make for an entertaining evening.
Centerstage's production of Bus Stop runs from now through Dec 23.  Tickets may be obtained by contacting the box office here.
Or oder tickets by calling 443-992-7733.

Anthony C. Hayes is an actor, author, raconteur, rapscallion and bon vivant. A one-time newsboy for the Evening Sun and professional presence at the Washington Herald, Tony's poetry, photography, humor, and prose have also been featured in Smile, Hon, You're in Baltimore!, Destination Maryland, Magic Octopus Magazine, Los Angeles Post-Examiner, Voice of Baltimore, SmartCEO, Alvarez Fiction, and Tales of Blood and Roses. If you notice that his work has been purloined, please let him know. As the Good Book says, "Thou shalt not steal."