Citron a welcome addition to the Quarry
For far too many years, actually decades, I enjoyed going to restaurants. At one time I had a TV show called Dining Out, so I went to two or three a week.
If it was Italian, all the better. I still talk about them on WCBM.
I especially liked going if it was new, and by new, I mean new to me. It could have been in business for years, but if it was my first time, it was as delight.
Such was the case recently as I attended a press dinner at Citron, the sleek, elegant, huge restaurant opened by long time successful caterer Charles Levine. It opened Nov. 7.
The restaurant is in the Quarry, which is off the beltway at Greenspring Avenue. Head toward the city.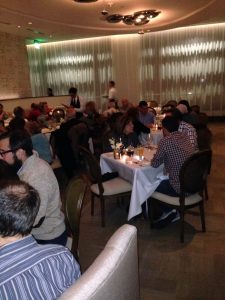 How big is it you might be asking? I'm going to tell you whether you asked or not. How about over 10,000 square feet with seating for over 200. Levine or a staff member will be happy to give you a tour.
The opening was highly anticipated as the construction continued in the spring, summer and into the fall. It appears as if the time taken was worth the wait. That is obvious by the attention to detail.
Those details not only include the physical structure but to the training of the staff and the many decisions when preparing a menu.
There are three dining rooms, one I'll call the main room.  Any of them can be used for private dining areas. Also a bar, actually two (one very small), gas fireplaces, beautiful art on the walls and an outside deck. In the warmer months it will be popular because it overlooks the Quarry, that's water by the way.
Citron is open seven days, currently for dinner only, but that will be changing come Dec. 7 when a lunch menu will be added. Also coming soon, a bar menu with smaller entrees at lower prices.
Weekdays from 4 to 6 there's a Happy Hour and if it is cold, rainy or snowy valet parking is available for eight dollars. Of course it is available anytime. However there is ample free parking available very close in the Quarry's main parking lot.
I had the Chilean Sea Bass, which was outstanding. Believe me when I say it was a  departure for me since I usually get salmon when ordering fish. My companion ordered the duck, also a good choice.
An example of some of the entree prices – $52.00 for a New York Strip (28 day aged), $37.00 for the Angus Filet of Beef,  $38.00 for the Swordfish and $21 for the hamburger.
It seems as if Levine has orchestrated a very fine upscale dining establishment.  We all know how tough it is opening a new restaurant.  I wish him well.
Reach Citron at 410-363-0900 or go to citronbaltimore.com.  Exact address 2605 Quarry Lake Drive.

Eddie Applefeld is a Baltimore native and a graduate of Towson University. He has been in the broadcasting profession for over 30 years. Currently he is the Promotions Director of WCBM radio. Before that, he was part of the Rouse & Company show on WQSR, host of a cable TV show called Dining Out and adjunct instructor at Towson.
His past accomplishments include being named a finalist in Baltimore Tourism's Employee of the Year Program and winner of Toastmaster's Speaker of the Year contest. He was also twice a heartthrob for the American Heart Association's gala fund raiser.