Cirque du Soleil's 'Ovo' transforms Royal Farms Arena into a garden
Cirque du Soleil's "Ovo" will turn Royal Farms Arena into a garden this weekend, with a phenomenal show featuring human ants, fleas, spiders, crickets, worms, fireflies, and a lady bug.
In "Ovo," the performers – dressed in exquisite costumes – work, play and fight in an ever-changing environment that creates quite a spectacle for the audience.
Like all Cirque du Soleil shows, "Ovo" mixes exotic dancing, with feats you'd most likely see in a circus, as bugs juggle, fly through the air from a trapeze, perform acts of strength and soar to amazing heights on trampolines.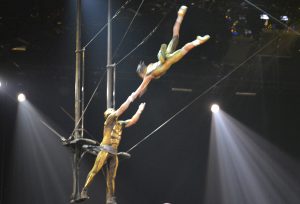 And not a word is spoken throughout the two-act, two-hour performance. The characters communicate much like bugs, through a series of high-pitched chirps that while incomprehensible on their own, are easy to follow based on other characters' reactions.
"Ovo" is among Cirque du Soleil's 21 shows that collectively feature 1,300 performers who take stages throughout the world, though the company has a permanent residency in Las Vegas.
The plot of "Ovo" is rather simple, as a mysterious egg threatens the bugs' ecosystem but the insects ultimately prevail through a series of impressive showing of human flyers, gymnastics, jugglers, contortionists and dance.
Designer Liz Vandal deserves credit for creating costumes that make each insect easily identifiable, but don't restrict the insects' movement.
The show is set to  smoke and a constantly changing lighting scheme and a massive backdrop displaying the environment that complements composer and music director Berna Ceppas' musical score perfectly.
Director and choreographer Deborah Coker moves the story along swiftly, focusing on the performers' talent instead of bogging the show down with extended group dances and incomprehensible dialogue.
IF YOU GO
Cirque du Soleil's "Ovo"
Where: Royal Farms Arena
Shows: Friday:  7:30 p.m.; Saturday: 4 p.m., 7:30 p.m.; Sunday: 1:30 p.m., 5 p.m.
Tickets: $38-$153 and can be purchased here.

Jon Gallo is an award-winning journalist and editor with 19 years of experience, including stints as a staff writer at The Washington Post and sports editor at The Baltimore Examiner. He also believes the government should declare federal holidays in honor of the following: the Round of 64 of the NCAA men's basketball tournament; the Friday of the Sweet 16; the Monday after the Super Bowl; and of course, the day after the release of the latest Madden NFL video game.