LAS VEGAS — Retired Las Vegas Metropolitan Police Department SWAT Officer Chuck Collingwood was a remarkable man.
Sadly, Chuck passed away last week of natural causes. He was only 68 years old and just four years into his second retirement.
If you would look up the word warrior in the dictionary you should see a picture of Chuck.  He was by all accounts a lifelong warrior.  He served this country for twenty years wearing the uniform of the United States Army.  Then after a distinguished military career, Chuck decided to wear the uniform of the Las Vegas Metropolitan Police Department for another 20 years.
By all accounts, Chuck should have lived another 30 years, but that was not to be.
Chuck left this earth way too soon and is now wherever old soldiers and warriors go.  Definitely in good company with other courageous warriors who will live on in eternity.
One friend of Chuck's commented, "You are now guarding heaven's gate."  Another said, "Service before self."
Let's take a look at the life of Chuck Collingwood. It is by all accounts like I said, remarkable.
Master Sgt. Chuck Collingwood, United States Army 1967-1987
In 1968 Chuck attended the US Army Airborne jump school.
Then one tour in Vietnam, Airborne Infantry.
Jumpmaster.  US Army Golden Knights Sky Diving Team.  Chuck had 5,200 competitive jumps with the famed US Army parachuting team.
In 1973 he was awarded the prestigious 'US Army Golden Knight of the Year.'
10 years 'Green Beret' Special Forces warrior.
During the last 8 years of his military service, Chuck was a member of the best of the best, the United States Army Delta Force. He served with B Squadron Delta Force until his retirement after 20 years of service to his country.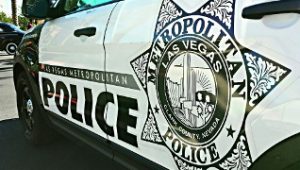 Las Vegas Metropolitan Police Department 1993-2014
Chuck was a member of the LVMPD SWAT Team for 17 years.  He was a sniper, armorer, and firearms trainer.
After Chuck retired, he worked part-time with the SWAT Team as a trainer.
Chuck remained active in the skydiving world as a coach and trainer.  He was to attend the Freefall Accuracy Trials to be held in Budapest, Hungary in a few weeks with the U.S. Parachute Team.
Chuck was a true warrior in every sense of the word. Loving husband and father. You will be missed, but never forgotten by your family, your colleagues and your friends.
Thank you, Master Sgt. Chuck Collingwood for all you did during your forty years of service to your country and the Clark County, Nevada community.