Check out Baltimore Gems: Charles Theatre, Anthony's Anchors Aweigh, and Phillips Seafood
One of my favorite movie houses in town is the Charles Theatre. It's locally owned, by the same folks who operate the Senator, and there you will find films you won't see playing any other place.
That doesn't mean the films are all artsy, it usually means the films are of better quality. Of course, taste varies with individuals but if you speak to people who go there, they'll tell you the movies generally aren't superheroes, horror or giant ants invading New York.
There are five separate theatres and generally a Sunday film series. There's also three dollar parking directly across the street. However what the Charles doesn't have, especially obvious this time of year, is heat.
In my last two visits, I had to wear my coat while watching the movie. Not just me, everyone in the theatre. I can tell you that makes the movie-going experience uncomfortable.
I mention this as a warning. If you're going to the Charles during the winter be prepared for possibly cold theatres. Of course since my last visit that could have been corrected. Perhaps you can call ahead. But the movies they book are all usually worth seeing.
I also wanted to mention that Anthony's Anchors Aweigh, 3648 Washington Blvd, now has a brick oven pizza. Who cares you might say. I said the same thing until I was told there are indeed several advantages over pizzas not cooked in a brick oven.
One is that the cooking process is about three minutes. Another is that the taste is different, that translates to better. The reason, the bricks. It gives the pizza a charred effect. They have 13 varieties. In case you're interested, the oven is heated to about 700 degrees.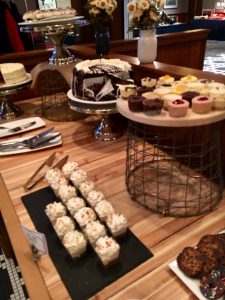 Lastly, I want to mention the Sunday Brunch at Phillips Seafood at the harbor. It has been a fixture on the waterfront since 1980, the day Harborplace opened.
The hours are 10 a.m. to 2 p.m. and you're offered a wide variety of choices. My favorites were the french toast and waffles. Boring I know. But you can select seafood, poultry, meat, an assortment of fruits and veggies, dessert and more. Including bloody marys and mimosas.
Phillips is currently being run by Steve, the son of the original founders Brice and Shirley. There is also a restaurant in Ocean City and in Live.
It was in 1914 that Augustus Phillips opened a crab processing plant in Hooper's Island.
In 1956 Brice and Shirley opened the first crab shack in Ocean City. Today that location serves about 1,400 people and the company employees about 2,000 worldwide.
Back to the Brunch, you can enjoy live music, reservations a good idea, parking on the street or in a close by a parking lot. They moved to their current location near the aquarium in 2011. Adults $35.99, children 4 to 10 $14.99, under three free.
And as a final note, they are the leading importer of crab meat in the U.S.
Reach them at 410-685-6600 or go to phillipsseafood.com.

Eddie Applefeld is a Baltimore native and a graduate of Towson University. He has been in the broadcasting profession for over 30 years. Currently he is the Promotions Director of WCBM radio. Before that, he was part of the Rouse & Company show on WQSR, host of a cable TV show called Dining Out and adjunct instructor at Towson.
His past accomplishments include being named a finalist in Baltimore Tourism's Employee of the Year Program and winner of Toastmaster's Speaker of the Year contest. He was also twice a heartthrob for the American Heart Association's gala fund raiser.