Charm City Tails: Maryland Mermaids rock Coney Island
The Chesapeake Bay is known for its Chincoteague oysters; rockfish and bountiful blue crabs. But take a stroll through Baltimore on a warm summer night and you might catch a fleeting glimpse of effervescent mermaid fins.
Don't believe in mermaids? Then obviously, you've never heard of the Charm City Tails.
The Charm City Tails – Mob Town's artsy answer to every mariner's dream – may not appear in ads for Old Bay seasoning, but each summer they joyfully represent Baltimore to thousands of people who have never tasted a Berger Cookie or a Natty Boh.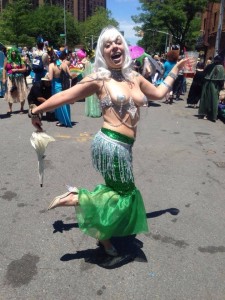 This Saturday night, the troop will be hosting a fund raising event at Mums in Locust Point for their upcoming trip to participate in the 33rd Annual Coney Island Mermaid Parade. 2015 marks the Tail's eighth trip to Coney Island. It will be the third parade for hometown heart-throb – and burlesque star – Valeria Voxx.
"We bring Baltimore's art scene to Coney Island," said Voxx. "We're one of the very few groups from this area who make the trip."
"It takes a lot of hard work to prepare for the Coney Island walk. We choose our theme before the end of the year we just marched in, then start working right away on our costumes. Between supplies, travel, and other costs, each mermaid spends upwards of $600. But it is TOTALLY worth it!"
Voxx described the group's preparation gatherings as something akin to a glittery stitch & bitch.
"There are about thirty members in total. Last year, twenty-six made the trip up. It's not every mermaid for herself. We're a group – we swim in a school. Each has a skill, so we help each other with our costumes.
"Rae Beth is one of our mermaids. Her business is making headdresses and accessories. You'll find pics of her all over the internet. She makes these huge, elaborate headdresses. I don't sew very well; I love glue and safety pins. I'm great at making things sparkly. Because we all have different talents, when we get together to craft, we all come away with a great product."
Crunching the numbers like so many clams, Voxx reckoned that the $600 figure was actually on the low end.
"The tail is about an $80 investment, because the fabric isn't cheap. We all have matching tails – that's what unifies us as a group. Then every year, you build from there and may spend upwards of $300- 400 to complete the look. A lot of our expenses are on travel and hotel in Lower Manhattan. It's easier if we all stay together, because we can practice, and its easy to get to Coney Island from there.
"And of course, you're in New York, so you're gonna shop. You can spend a lot – and we don't get paid for this. But we enjoy doing it."
The Charm City Tails may invest a lot in limited-wear apparel, but for performers like Voxx, the costumes' costs are something of a wash.
"In a way, with the costuming, art begets art begets art. My first year, I made this really awesome rhinestoned bra with articulated skeleton hands. I thought, 'Oh gosh – I can't wear this just once'; so because I'm in burlesque, it became its own burlesque act. Being in the Mermaid Parade can inspire other looks as well. Of course, not everyone in the troop is into burlesque. Some are dancers; others are artists. It's an interesting mix of people I might have otherwise never met. And it takes all body sizes; all ages. The youngest members are twins who were born last year. We're hoping to get them some sort of clamshell to ride in this year."
What does the Mermaid Parade entail?
"We don't usually do this individually. It's a group performance piece. Every troop will have a different theme (if they have one at all). Last year, it was jewels, because we played a lot of Jewel songs. The year before that, it was Calendar Girl – complete with the Neil Sedaka song!"
(Voxx paused briefly to sing a few bars of Calendar Girl.)
"Generally, we walk in two lines and then break off and back so that everyone can be seen. We also have the handlers. People who carry the music or grab a shoe when we lose one. That's actually an issue. They repave the road we walk on each spring, and there are sticky asphalt spots. We try to wear comfortable sandalettes or Mary Janes, because we walk for about a mile. And we always try to do something choreographed. It changes a little every year. This year, it will be a little looser because we have some pretty big props.
"We do stuff around here too. You'll find us walking around at Artscape in our costumes. Some of us have more trouble than others with the degree of skin that we show (you can go topless legally in NY). But Artscape is like Coney Island, in that both are family friendly events. They have a children's area with floats. Everyone goes. It's just a blast."
Voxx added that this Saturday's event at Mums should also be a blast.
"We have two Glam rock bands – Creem Circus and Mr. Seaweed. A 50/50 drawing and scantily clad mermaids! The money we raise goes to pay for the cost of the trip and the registration. It's great exposure for the local bands and gives the crowd a chance to have a fun time with mermaids.
"Who doesn't love mermaids?"
* * * * *
Join the Charm City Tails on Saturday, March 21st at Mums at 8pm as they raise money to swim north to the Coney Island Mermaid Parade! Mums is located at 1132 South Hanover Street, Baltimore, MD 21230. For more information about this worthy fundraiser and about the troop, check out the Charm City Tails on Facebook.
Valeria Voxx will also appear in April at Ottobar in Don't Knock the Block – a fundraiser for the Burlesque Hall of Fame Living Legends. Can't wait til then? Voxx will be on hand to talk about the mermaids this Thursday night at 6pm at Windup Space at Cheryl Fair's Tarot Card project release event: Magical Realism Variety Show.  Fellow mermaid Rae Beth's art will also be on display that night, so be sure to drop by the show.  More information about these upcoming shows may be found here and here of Facebook.

Anthony C. Hayes is an actor, author, raconteur, rapscallion and bon vivant. A one-time newsboy for the Evening Sun and professional presence at the Washington Herald, Tony's poetry, photography, humor, and prose have also been featured in Smile, Hon, You're in Baltimore!, Destination Maryland, Magic Octopus Magazine, Los Angeles Post-Examiner, Voice of Baltimore, SmartCEO, Alvarez Fiction, and Tales of Blood and Roses. If you notice that his work has been purloined, please let him know. As the Good Book says, "Thou shalt not steal."