Charm City Bluegrass Festival shines at Druid Hill Park
There's a lot I could gush about from this past weekend's Charm City Bluegrass Festival, but I think it may have been summarized best in the motto on the little stickers being handed out on Saturday: "Fun Sure is Fun."
A simple and obvious statement perhaps, but after a long winter cooped up, being set loose on the grass, with the weather mostly cooperating, feeling spring in all its glory, it was a time to rediscover what the outdoor concert experience can do for one's happiness.
Watching some of the best in the bluegrass and Americana world pour out music with energy and passion, coupled with a big dose of extremely talented local artists, it's impossible to pin down a favorite moment, but why bother limiting it to one?
The organizers went above and beyond to create an event with no weak link. With styles that covered all shades of the genre, there was something for all fans.
So let's take a peek at some of the action that went down at this two-day welcome to spring party.
This is a festival that loves to celebrate place almost as much as music.
The pride shown in Baltimore is reflected in everything: from the local craft vendors, hometown food and drink options – and all the way down to the Maryland flag socks worn by festival emcee John Way.
Friday night featured the apex Baltimore-centric moment with the Baltimore Traditions Set, a 30-minute jam session with a who's who of musicians from the 60s and 70s era of the Baltimore bluegrass scene hosted by Ronnie and Rob McCoury.
A bit of the collective magic was captured here as the band covers the Flatt & Scruggs song "Have You Come to Say Goodbye."
Ronnie and Rob followed the Traditions Set with their own band, The Travelin' McCourys, to close out the first night. The sons of bluegrass legend Del McCoury, along with bandmates Jason Carter, Alan Bartram and Cody Kilby, take those strong roots and blend in a healthy dose of modern jam-grass elements. With a truckload of recognition awards among them, these guys are really a band at the top of their game in talent and inspired, cooperative musicianship.  Set highlights included Travelin, Baltimore Johnny, and Cumberland Blues.
Formed in 2009, the band last performed at the festival in 2016 where they teamed up with Keller Williams and had a special drop in from papa Del during the set. Their new self-titled album is set for release on May 25.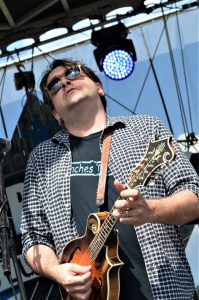 Jeff Austin is a wonderfully psychotic presence with a mandolin in his hands. Putting out one of the highest energy sets on Saturday, he revealed this energy derives from an equally amped up audience.
"I want you to make me as weird as possible!," he said. "By the time i get to the airport I want to be Example C in the TSA training manual!"
With Austin headbanging and furiously picking, the crowd was more than happy to oblige, filling the pit area to overflow with bobbing heads, dancing without letup in the afternoon sun.
Austin spent a lot of time between songs doing his own gushing about the festival.
"I'm so overjoyed to play this festival," he added. "This is like the elusive, delicious peach at the top of the tree you can't ever quite get. I've seen it for so long and it's like 'aww, all my favorite people in the world. And the minute we rolled in and I was walking and I just saw like 40 friends instantaneously, so that vibe, you can just taste it in the air.'"
Not to be outdone, one of the scene's fast rising stars, Billy Strings wowed the already amped up crowd with volcanic set of his own.  The 23-year-old Nashville guitarist featured several songs from his new album Turmoil and Tinfoil. Even while addressing some serious themes in his music, doing hard time for drugs on "Dust in a Bag," and a calloused view of violence on "Dealing Despair," Strings' music is uplifting and melodic.
Overall it was about bringing joy to his audience.
"Are you all having a good time at this festival?," Strings said. "I think that's the point. Come here and have the weekend of your life, why not? Why not this weekend, right now! Let's try together."

Chris Swanson is a live music and sports fanatic and a long-time Maryland resident. He holds tightly to what some consider an unreasonable affection for the Baltimore Orioles and older music venues. Chris has a Communications Degree from the Franciscan University of Steubenville.