Charm City Bluegrass Festival: Day in pictures
The crowd of about 4,000 who dropped by Druid Hill Park on Saturday for the fifth edition of the award-winning Charm City Bluegrass Festival were treated to a great day of beautiful weather, fine food and drink, and of course, some fantastic music.  
This is in stark contrast to the week's disastrous Fyre Festival, where a measly $12,000 got attendees a Caribbean getaway that featured "luxury" emergency shelter tents, poor sanitary conditions, a cheese sandwich, and no music because the bands never got paid. With Charm City's $60 gate price, enough port-a-pottys to prevent lines, and a great selection of local food and beverage, it just goes to show that sometimes it really is better to just party local.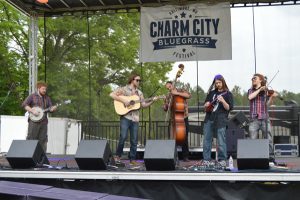 Baltimore band The Dirty Grass Players opened the show with a 45-minute set that featured several songs from their new self-titled album, including high energy songs Your Train, One Eyed Dawg and Mohegan Sun.  
One of the games I play at bluegrass festivals is who does the best cover song, especially one that reworks a standard rock classic, Dirty Grass rolled out a grassed up version Pink Floyd's Time > Breathe Reprise that set the bar high for the rest of the day's covers. (More on that to follow)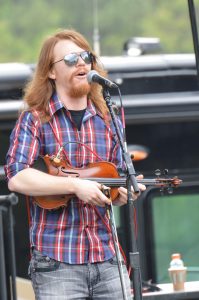 The Dirty Grass Players earned the festival's opening spot by winning a battle of the bands competition. "We didn't really have any expectations, we just went into it thinking 'whatever happens, happens' we're just gonna put in our best effort, and here we are, playing the festival. It feels great to be a part of the jams and be a part of the fun," Alex Tocco, the band's violinist explained. "It was really a big group effort with a lot of friends who have been seeing us throughout Baltimore, we've be doing a lot of shows in Baltimore, building up a repertoire. A lot of our sound is building off the flow of what works with the audience, seeing where that goes, and using our own abilities. We put our all into it, making sure our solos were down, really making sure everything was key on, practicing a bunch. It was a lot of effort, and the other bands did a really good job, there was a lot competition. Steel Hand String Band are our good buds, they showed some really good sets, and The High And Wides, everyone did really, really good. It was awesome how it all turned out."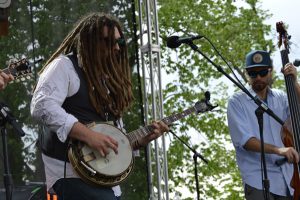 Torrin Daniels of the Bozeman, Montana-based "galaxygrass" band Kitchen Dwellers tears it up on the Union Craft Stage. Notable cover: Tennessee Jed, The Grateful Dead.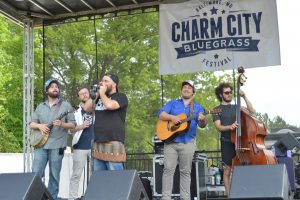 David Lynch, who has more harmonicas than you and plays the accordion, jams with his mates, collectively known as Horseshoes & Hand Grenades.  The jamgrass fast risers covered Todd Rundgren – Bang on the Drum All Day, and Fleetwood Mac's Rhiannon.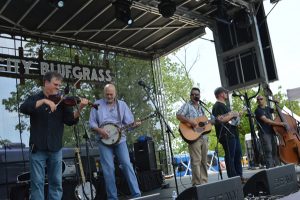 Lonesome River Band brought a traditional bluegrass sounds and southern tinged harmonies to an early afternoon set.
While not really a bluegrass band, the Santa Monica based Dustbowl Revival was a crowd favorite, with a mix of jazz, blues, dixieland, rock and roots americana music. The eight-piece band featured several audience participation songs, and covered Supertramp's Breakfast in America and The Band's Cripple Creek, (my runner up for best cover of the day).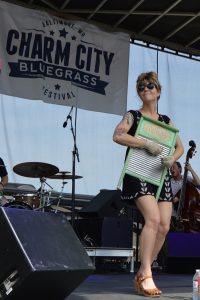 Liz Beebe and The Dustbowl Revival brought the lawn dancing to a frenzy with a washboard and horn-fueled set. Beebe's smoking vocals on the band's recent single Busted highlighted the set.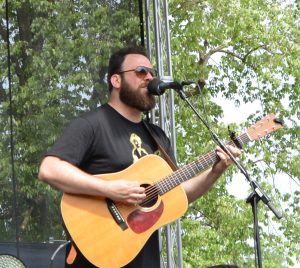 Baltimore's own Cris Jacobs, founder of The Bridge, put on a blues rock clinic and showed why his latest album Dust to Gold deservedly had an ice cream flavor named in its honor by the Charmery.
Country Current, the U.S. Navy Bluegrass Band, performed a traditional Bluegrass set in the Rawlings Conservatory Tent.
Maryland Bluegrass veterans Seldom Scene opened their set with a fantastic cover of City of New Orleans, and kept up the nods to other artists with traditional bluegrass versions of The Monkees What am I Doing Hangin' Round, James Taylor's Sweet Baby James, and John Fogerty's Big Train From Memphis.
Billy Strings, who hosted the festival after party at the 8×10 Club, dropped in with Seldom Scene for a raucous version of I Know You Rider.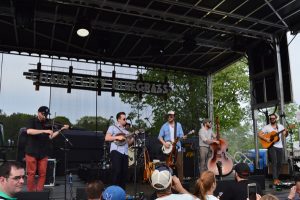 Pennsylvania's Cabinet, a crowd favorite and festival regular, is not yer pappy's bluegrass band, (and not just because they have a drummer.) With long spacey interludes and a mostly electric set, they skew more to the jam side of the jamgrass spectrum.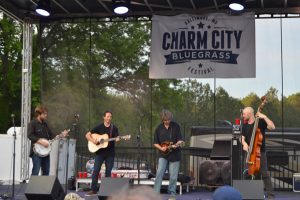 Charm City hosted the debut of bluegrass super group Aijala, Emmitt, Kauffmann & Thorn, a mash up of members from Leftover Salmon and Yonder Mountain String Band.  Dubbed "The Better Halves" by the show MC, the guys put on nice set of songs written by the various members, as well as the cover of the day award for the Guns N' Roses classic Sweet Child O' Mine.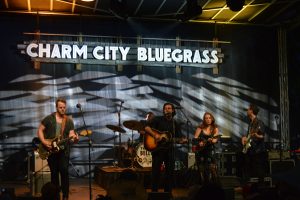 The night wrapped up with the Brooklyn based Americana/folk/rock group The Lone Bellow.

Chris Swanson is a live music and sports fanatic and a long-time Maryland resident. He holds tightly to what some consider an unreasonable affection for the Baltimore Orioles and older music venues. Chris has a Communications Degree from the Franciscan University of Steubenville.