Carnivalesque Roadshow opens tour at Creative Alliance
The cast for the Carnivalesque Roadshow  (Sean Rayford)
For more than a century, nothing said summer for many rural Americans like the sights, sounds and smells of the traveling road show. Dancing girls, snake handlers and magicians mixed with bearded ladies and barkers; circus acts; contortionists; quirks of creation and wonders of science; and a midway with a dozen different games of skill and chance.
Over time, air conditioned theaters, television and changing tastes pretty much spelled the end for these curious cavalcades. Today, with the exception of a handful of circus companies and resort hold-outs like Coney Island, most sideshow performers are relegated to guest appearances on late night TV or in neo-burlesque reviews.
This Friday night, May 2 at 8:30pm, Baltimoreans may get a taste of the oddball past when The Carnivalesque Roadshow returns to the Creative Alliance.
An entrancing endeavor by Baltimore's Gilded Lily Burlesque and Seattle's Carny Preacher Productions, The Carnivalesque Roadshow features international cabaret legends together with some of Baltimore's brightest Burlesque stars.
A pre-show midway in the spacious lobby of the converted Patterson theater will boast buxom beauties and handsome hunks plying their trade at the Carnivalesque Cooch Tent, along with an ever popular selection of games of skill from the fabled midway.
Local lovelies who will grace the stage at the Creative Alliance include Baltimore's Sicilian Queen, Maria Bella; reigning Queen of Crabs – Sunny Sighed; the Over the Top antics of Kay Sera; Gilded Lily's songstress Sophia Sunday and stage kitten extraordinaire Lauren Marleaux. Baltimoreans can also expect to see those bodacious beauties from Black Tassel Boolesque – Mourna Handful and Valeria Voxx.
Traveling to Charm City to kick off the tour are The Carny Preacher Armitage Shank; Burlesque Hall of Fame's 2012 King of Boylesque Russell Bruner; Sideshow phenom Swami Yomahmi; vaudeville contortionist, juggler & magician Jonathan Burns; aerial artist from Atlanta, Georgia Sadie Hawkins; and the Matron of The Atlanta Burlesque and Cabaret Society Talloolah Love.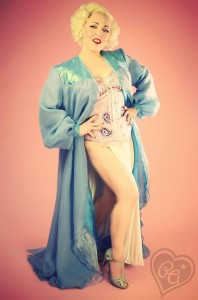 Mab's Mobile Midway will give local-yokels a chance to try their hand at the games of skill. And patrons will be Shocked and Amazed by oddities inside the "Ten-In-One", with sideshow poster art by James Taylor.
For those who cannot make Friday night's show here in Baltimore, a real road-show experience may be had by following Carnivalesque as it crisscrosses the Mid-Atlantic region. Stops for the touring troop include Opera House Live in Shepherdstown, WV on Saturday May 3; the State Theatre in Falls Church, Va on Sunday May 4; Southland Ballroom in Raleigh, NC on Saturday May 10; and the Rex Theater in Pittsburgh, Pa on Sunday May 11.
The changing cast of performers in these upcoming road shows will include many of the aforementioned artists along with GiGi Holliday; Cherie Sweetbottom; baggy pants musical-comedy duo Hot and Bothered; banjo player and songwriter, Curtis Eller; Porcelain, Pearl Van Dammit, Virginia Scare, Cherry Bomb, and Kitschy De Coeur.
If you have ever pined for a look into the world of acrobats, freaks, roustabouts, barkers, dandies and women of questionable virtue (and let's face it – who hasn't?) The Carnivalesque Roadshow may offer your last, best chance.
As Armitage Shanks would say: "Step Right Up! All who enter will be transformed!"
Gilded Lily Burlesque & Carny Preacher Productions present The Carnivalesque Roadshow, Friday May 2 at 8:30pm at the Creative Alliance 3134 Eastern Avenue in Baltimore, Maryland. Tickets and other information about the show may be found by visiting the Creative Alliance online or at the Carnivalesque Facebook page.

Anthony C. Hayes is an actor, author, raconteur, rapscallion and bon vivant. A one-time newsboy for the Evening Sun and professional presence at the Washington Herald, Tony's poetry, photography, humor, and prose have also been featured in Smile, Hon, You're in Baltimore!, Destination Maryland, Magic Octopus Magazine, Los Angeles Post-Examiner, Voice of Baltimore, SmartCEO, Alvarez Fiction, and Tales of Blood and Roses. If you notice that his work has been purloined, please let him know. As the Good Book says, "Thou shalt not steal."