CaliBurger: Classic California-styled burger joint comes to Columbia, Maryland
Columbia, Maryland Marks Third Location in North America for Global Franchise
What could a teen-aged California girl, circa 1964, expect to find if she got her daddy's car and cruised to the hamburger stand? Teen-aged boys, of course – comparing the chrome on their souped up Chevrolets. A steady stream of Top 40 radio hits would also fill the air. The stand itself might have glowing neon lights or a colorful canvas awning. One thing is for sure: the food would be fast and fresh in a way that only Californians can do.
Capturing a slice of that idyllic past is the idea behind CaliBurger.
The internationally acclaimed restaurant chain will open its third North American store in Columbia, this coming Monday, May 16. Diners may find CaliBurger at The Metropolitan, situated at 10000 Town Center Avenue, just across the street from the Columbia Mall.
CaliBurger was founded in Santa Monica, California, with American expatriates in mind. The idea was to bring California-style burgers and an interactive burger experience to the world. Currently, CaliBurger has restaurants open in twelve countries. In December 2015, CaliBurger was designated by Thrillist as the "Best New Burger of the Year."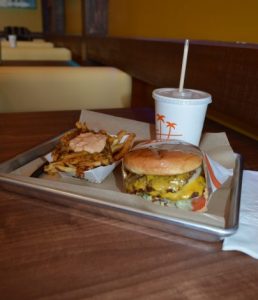 With a streamlined menu of burgers, chicken sandwiches, fries, and hand-mixed milkshakes, CaliBurger is indeed a revival of the classic California burger joint. But the franchise garnishes its brand with 21st century gadgetry – providing patrons a tech-forward dining experience.
Guests can pre-order with their smartphones through the CaliBurger App. CaliBurger Columbia will also feature the FunWall™ portfolio, an interactive video wall that offers a selection of multiplayer video games, where visitors can participate in exciting, socially interactive mobile gaming tournaments. Additionally, CaliBurger plans to feature all Baltimore Ravens and Baltimore Orioles games during special game-day promotions.
"As CaliBurger continues to expand its presence throughout the U.S., we plan on opening five locations in Maryland this year," said Sumeet Goel, the CEO of Goel Management who will own the Maryland restaurants. Goel told us he is looking at Charles Village (near Johns Hopkins University) and Canton as possible future Baltimore locations.
Goel – a graduate of the University of Baltimore Merrick School of Business – sees the Columbia location (less than forty miles from Washington, D.C., and 22 miles from Baltimore) as being ideal for getting a foothold in the competitive market. And a great way to stimulate the local economy (the Columbia location alone will provide jobs to more than 20 people). "We're confident this one-of-a-kind experience will be a success in Columbia."
The gadgetry notwithstanding, CaliBurger delivers delicious food, prepared by a friendly staff in a clean and comfortable setting.
We sampled an assortment of offerings at a pre-opening press event last Tuesday night. Our reaction, though mixed, was generally favorable.
The first thing we noticed about the menu was its modest size. In the best old school tradition, CaliBurger offers five different burgers, three milkshake flavors, two kinds of fries and a chicken sandwich. There are various sodas, iced tea and bottled water, and each sandwich may be tweaked to the individual's choice. But unlike other chains, a diner will not be overwhelmed by a twelve panel meal option menu replete with eggs, hash browns and blazing hot apple turnovers.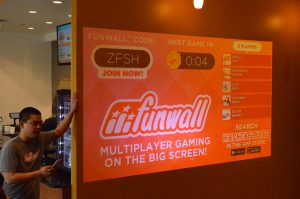 The CaliFries were a total indulgence. Seasoned fries smothered in melted real American cheese, grilled sweet onions and the chain's Signature Sauce, one could almost see this heart-stopping side as an adolescent's piquant main course.
Another pure indulgence were the luscious handspun milkshakes – carefully prepared by the team of Shadiyah and Ebrezzia. The shakes are made with rich creamy ice cream and farm fresh milk. We enjoyed chocolate shakes; strawberry and vanilla are also available.
Diet-conscious eaters might want to skip the bun-less chicken sandwich. While the lemon and herb marinated chicken breast, ripe tomatoes, and house made avocado mayonnaise in a romaine lettuce wrap sounded quite appealing, the final result was something of a let down.
Conversely, the burgers we sampled (the Cali Cheeseburger and the Cali Double) were simply outstanding.
All of CaliBurger's meats are U.S. sourced and the patties are never frozen. Combined with American made cheeses, fresh baked buns and vegetables from California, the taste truly captures another era.
It also captures another famous burger.
Savoring the burgers, we were immediately reminded of a familiar flavor from the past. It may be a coincidence, but a CaliBurger tastes an awful lot like the late, lamented Gino Giant.
For those who did not grow up in Baltimore, or are too young to recall the Greatest Game Ever Played, Gino's was the burger franchise founded by Baltimore Colts lineman Gino Marchetti, running back Alan Ameche, and their friend Louis Fischer. The popular chain's signature burger was known for its fresh ground beef and unique special sauce. The advertising jingle (Everybody Goes to Gino's) is a part of Charm City's collective conscience. Gino's thrived through the 60s and 70s before being overtaken by McDonalds. The brand was bought out by Marriott and discontinued in 1982.
There are a few of the re-booted Gino's in the Baltimore market, so it would be interesting to compare the burgers side-by-side.
The Grand Opening of CaliBurger's Columbia location is Monday May 16, 2016. Store hours will be Sunday through Thursday, 10:30 a.m. to 9:30 p.m. Friday and Saturday hours will be 10:30 a.m. to 10 p.m. Drop by with a date or the entire family. Enjoy a burger and play a game. We think you'll have fun, even after your daddy takes the T-Bird away.

Anthony C. Hayes is an actor, author, raconteur, rapscallion and bon vivant. A one-time newsboy for the Evening Sun and professional presence at the Washington Herald, Tony's poetry, photography, humor, and prose have also been featured in Smile, Hon, You're in Baltimore!, Destination Maryland, Magic Octopus Magazine, Los Angeles Post-Examiner, Voice of Baltimore, SmartCEO, Alvarez Fiction, and Tales of Blood and Roses. If you notice that his work has been purloined, please let him know. As the Good Book says, "Thou shalt not steal."