Bruce Springsteen captures Baltimore
Bruce Springsteen and The E Street Band did not have the "Big Man" to lean on Wednesday night but "The Boss" had Baltimore to carry him through a three-and-half hour memory-lane set of classic songs that brought him back to his roots.
Springsteen's River Tour's stop at the sold-out Royal Farms Arena highlighted 20 songs from the 1980's platinum album "The River." The River Tour is on the heels of last year's release of "The Ties That Bind: The River Collection. This boxed set contains the The River album, unreleased songs and a two-hour 1980 concert film.
His long-time sidekick – 6-foot 5-inches, Clarence Clemons – who passed away in 2011 after suffering a stroke, was a big part of that album. His presence is still very much part of the band and the band quietly honored the legendary saxophone player with videos of the past at the closing of the concert.
The Big Man's nephew, Jake Clemons, has stepped in those big shoes and is still finding his own sound while playing some of his uncle's riffs that became a trademark in so many of Springsteen's tunes. But give him a break – he is a magical and an engaging performer who plays off of Little Steven Van Zandt's guitar leads.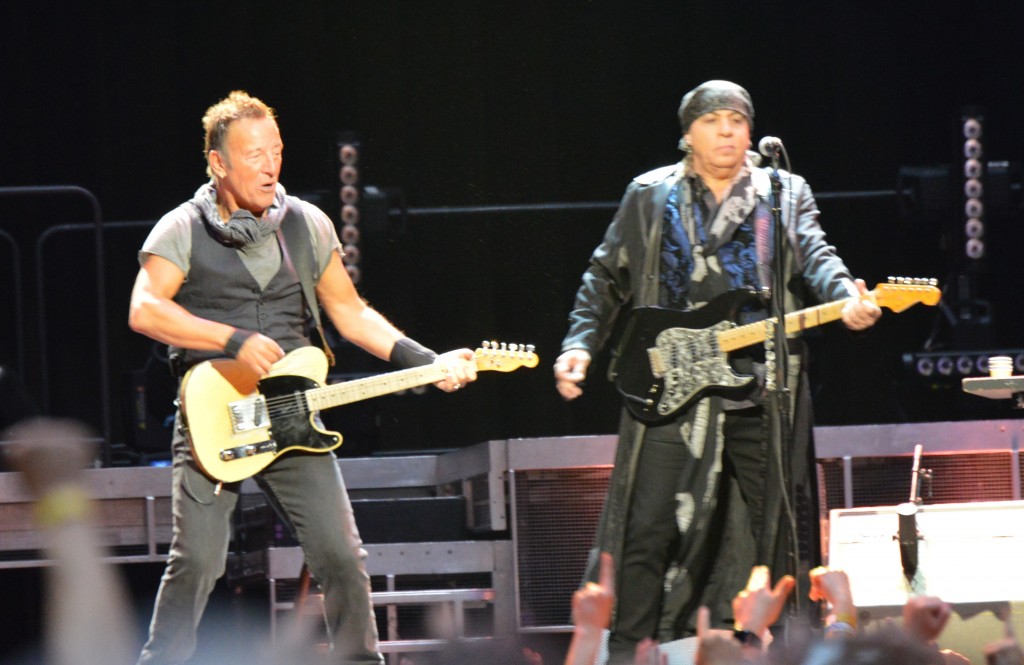 While Clemons was clearly the soul of the band, Springsteen remains the heart. His loyal base of fans, who have seen dozens of shows, came from places like New Jersey, Boston and Washington DC. Those fans now include fathers who bring their young daughters and give them a lifetime memory. The crowd is Springsteen's veteran choir. They belted out the lyrics as loud as they screamed his name BRUUUCE when he stepped on the stage.
Springsteen came to Charm City after recently canceling a concert in North Carolina, which passed a discriminatory law targeting the LBGT community. Fans showed their support by carrying signs thanking him.
In 2014, the Rock and Roll Hall of Fame inducted his band for his body of work featured in 18 studio albums and 24 live recordings. His lyrics make him a legend. His song writing abilities on display in Baltimore Wednesday rise to the stature of Lennon and McCartney and Bob Dylan.
The fit 66-year-old Long Branch, New Jersey boy displayed his powerful blue-collar raspy vocal delivery. Belting out the lyrics with his eyes shut, his soul opened as he sang with his heart. Sweat dripped from his face like a factory worker who pulled a double shift in the unbearable heat. He pulled Baltimore with him down a road he has traveled with his 1950s scratched up Fender Esquire classic guitar.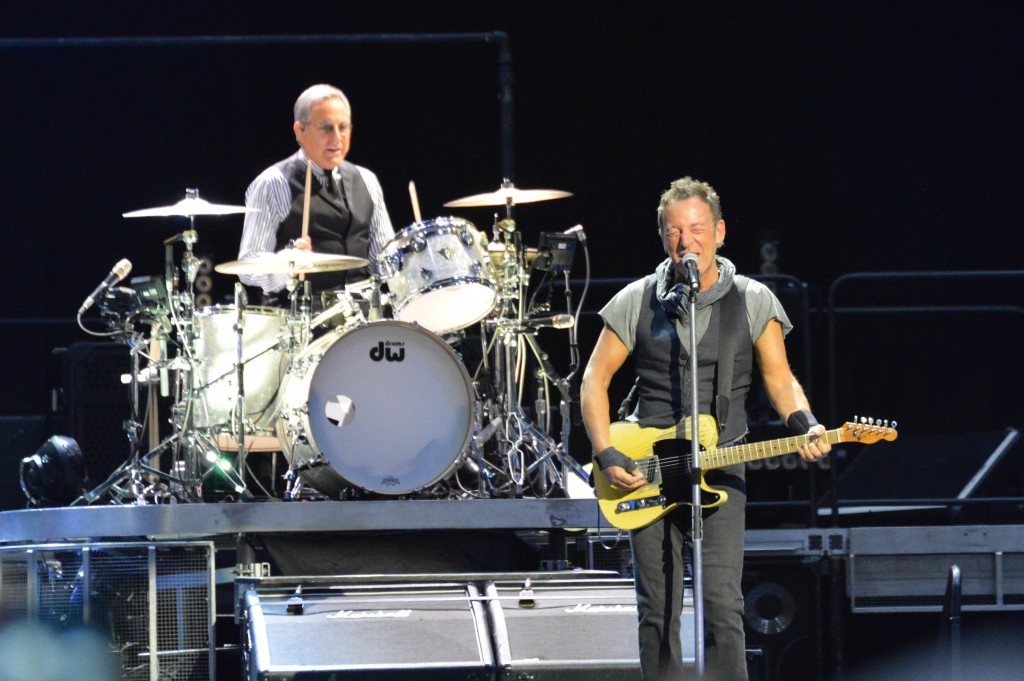 His songs reflected a road of pain, a road that fights for civil rights, and a road of hope. It is a journey that has become a soundtrack of thousands of people's lives. He had an uncanny relationship with Baltimore fans – performing a Rock 'n' Roll wedding during his marriage song, and dancing with young girls who he invited on stage during Dancing in the Dark.
Not every song was delivered equally to all. The acoustics in the Arena, especially for those without floor seats, made it difficult to hear the underappreciated harmony for the first few high-volume riviting songs as the bass and drums created such vibrations that the water bottles held by fans shook. It did not matter because thousands sang along to every song.
Springsteen eventually found his groove when he dropped the volume and played Independence Day as fans settled into their seats for a brief break from his hard-driving rock.
To really experience, Springsteen, floor seats are the only way to go for an inside venue. While at the Arena, the floor seats are without seats. That does not matter because who really wants to sit watching Springsteen perform.
His high-energy was so contagious that the thousands who packed the arena sang with him, pumped their fists and even carried him as he crowd-surfed while singing what John Lennon once called his favorite Springsteen song – Hungry Heart.
Prior to tearing into the song, he asked the crowd, "Do you know want town we are in?" and then his band kicked into the opening. Fans broke into the song. The Boss just turned the microphone into the audience who sang, "Got a wife and kid in Baltimore, Jack…"
Springsteen circled around the audience; high-fiving and crowd-surfed back to the stage while singing on his back. He never faltered. Baltimore had his back.
If he is not the hardest working musician, it would be hard pressed to find another. He rarely took a sip of water between songs and when Royal Farms turned the lights on to signal his time was up – Springsteen refused to stop – rapidly blasting out of five more encore tunes and closing with a cover of Shout. He did not play Born in the USA – which is maybe a good thing to give that song a rest – similar to when the Rolling Stones stopped playing Satisfaction until Mick Jaggar  realized years later it had to be included because it was part of their identity.
At the end of the concert Springsteen reminded those to give to the Maryland Food Bank, who sponsored the concert. That is typical of Springsteen – always trying to raise awareness, such as holding a benefit concert after 9-11, and doing so much for veterans.
It was nice that he plugged Maryland Food Bank, but it would have been nicer if he had reached out to the city that is still dealing with the aftermath of Freddie Gray, who died a year ago while in the hands of police custody. In fact, most of the audience certainly didn't reflect the city with only a few African-Americans represented in the crowd of thousands. West Baltimore certainly wasn't represented – maybe because floor tickets ran for $150. The city, which is marching Sunday to remember Freddie Gray, is still reeling with unemployment, crime and poor educational services. It needs healing.
The late Prince came to the rescue last year. He held his "Rally 4 Peace"  – giving selected tickets and the gate away to help those in need.
Granted, Springsteen is no Prince, but he could have been a King last year.
Song Set for the River Tour
Meet Me in the City
The River
The Ties That Bind
Sherry Darling
Jackson Cage
Two Hearts
Independence Day
Hungry Heart
Out in the Street
Crush on You
You Can Look (But You Better Not Touch)
I Wanna Marry You
The River
Point Blank
Cadillac Ranch
I'm a Rocker
Fade Away
Stolen Car
Ramrod
The Price You Pay
Drive All Night
Wreck on the Highway
Prove It All Night
My Love Will Not Let You Down
Badlands
Backstreets
Because the Night
The Rising
Thunder Road
Born to Run
Dancing in the Dark
Rosalita (Come Out Tonight)
Tenth Avenue Freeze-Out
Shout

Timothy W. Maier is the founder of Baltimore Post-Examiner LLC, which runs the Baltimore and Los Angles Post-Examiner websites. He started out writing music, fiction and poetry and then turned to news writing where he spent the past three decades at news organizations in Wisconsin, Maryland and Washington, D.C. More recently he was the managing editor at the Baltimore Examiner. He now spends time with his family, dogs, and his guitar.