Prince's Rally 4 Peace rocks Baltimore's Royal Farms Arena
Shortly before 10 p.m. Sunday Night, Prince had just two words for the thousands who had packed Royal Farms Arena for his Rally 4 Peace concert.
"No curfew."
The crowd roared, just as it did when he took the stage a little more than an hour earlier and proclaiming "I am your servant tonight, Baltimore."
And then he went to work in the benefit for Baltimore – cranking about Let's Go Crazy, Take Me With U and Raspberry Beret like it was the 1980s, when he nobody wore a purple leather jacket and tight black pants better than Prince Roger Nelson from Minneapolis.
"There's no curfew, so there's no telling how long this is gonna go," he told the crowd, which hit a crescendo.
At 56, Prince has changed with the times, having traded his long flowing locks for an afro and his outlandish wardrobe for a free flowing grey suit. The man known by just one name – or symbol – requested fans to wear gray in honor of Freddie Gray, whose death sparked a public storm of outrage that engulfed stores, pharmacies and the city's streets, forcing Mayor Stephanie Rawlings-Blake to invoke a 10 p.m. curfew for Baltimore City that was revoked last week.
"After everything Baltimore's been through as a city, we needed this," said Matt Hartsell, a 27-year-old Fells Point resident. "No one is saying that we're going to forget what's happened here – there's just no way to do that. But at some point, you have to move on and have something where everyone can come together and that's what's Prince is trying to do."
Prince's past met the present in his fourth song, Baltimore, which is his plea to end police brutality. At the song's outset, he was joined on stage by  Maryland State's Attorney Marilyn Mosby who waved to, but did not address, the crowd before returning to her seats. A spokesman for Mosby's office said she received the tickets as a Mother's Day gift from her husband, Baltimore City Councilman Nick Mosby, who also attended the show.
Mosby's on-stage appearance during a song that paid tribute to Gray was a little awkward, considering just nine days earlier she charged six Baltimore police officers with second-degree murder and involuntary manslaughter in connection with his death.
"Nobody got in nobody's way, so I guess you could say it was a good day, at least a little better than the day in Baltimore," Prince sings in his latest song. "Does anybody hear us pray, for Michael Brown or Freddie Gray? Peace is more than the absence of a war."
"The more attention something gets, the more it gets noticed and when Prince writes a song about our city, that won't be ignored," said Beth Johnston, a 32-year-old Hampden resident. "Prince has always spoken up for social causes so I'm not surprised."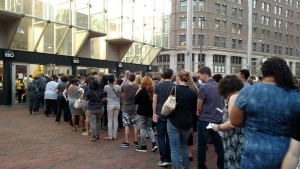 Prince, playing his first show in Baltimore in 14 years, said a portion of sales from tickets, which ranged from $22 to $497, will go to unnamed local youth charities. Still, what played out throughout Prince's 2 1/2- hour performance wasn't about Gray's death or the hardships and racial and social inequalities that have plagued inner-city Baltimore for decades.
It was about writing the next chapter after a nation read about how Gray's  death a week after suffering a severe spinal chord injury while in police custody led to the hurling of rocks at police officers, the looting and burning of stores and so much unrest an Orioles' game was played inside an empty Camden Yards.
During the days leading to the show, Rawlings-Blake's 10 p.m. curfew turned a normally busy and boisterous downtown area into a ghost town, siphoning dollars from restaurants and bars and the employees who rely on them for a living.
But everything seemed to return to normal at Royal Farms Arena on Sunday night, where just two police officers and a paramedic were on hand to watch the main gate by Will Call, as ticket holders were scanned by a metal detector.
"After what's happened here for the past two weeks, it was only natural to be a little worried to come down here in the city," said Seth Fink, a 28-year-old Baltimore resident. "But you can't live in fear and stay locked in your house all the time. It was time to move on and it's great to see everyone getting along. Everyone just wants to have a good time."
It was symbolic Prince started the financial healing process at the one venue that could be linked to another ugly chapter in Baltimore's unrest: Royal Farms Arena. Decades ago, the relic at the corner of Baltimore Street and Hopkins Place was known as the Baltimore Civic Center served as a makeshift jail during the 1968 riots.
Prince – supported by the the all-female trio 3rdEyeGirl and an array of backup singers and a brass section – took the audience through a journey that included U Got The Look, 1999, Little Red Corvette, Sign O' The Times, Hot Thing, and of course, When Doves Cry.
"I'm so funky, I can't even sleep with myself," Prince told the crowd.
Prince had his share of surprises, including having rapper Doug E. Fresh to take the lead for Kiss, and also sharing the spotlight with Judith Hill, Estelle and Miguel.
But it's Prince, so no matter who shows up, it always comes back to one song: Purple Rain.
He delivered by mixing the timeless chorus with his what he wants to see the next time he swings by Charm City.
"The system is broken and we've got to fix it," he said. "The next time I come to Baltimore, I want to stay in a hotel owned by you."

Jon Gallo is an award-winning journalist and editor with 19 years of experience, including stints as a staff writer at The Washington Post and sports editor at The Baltimore Examiner. He also believes the government should declare federal holidays in honor of the following: the Round of 64 of the NCAA men's basketball tournament; the Friday of the Sweet 16; the Monday after the Super Bowl; and of course, the day after the release of the latest Madden NFL video game.