It's a Broadway party: Mt. Vernon is alive with the sounds of music
Sotto Sopra Restaurant at 405 N. Charles Street is turning Mt. Vernon into their own Great White Way with their Broadway Night on Sunday, June 4th starting at 6 p.m. Featured performers from the Baltimore Men's Chorus (BMC); Cole Reilly, Nathan "Brad" Bradley, and Stephen McMahon will breathe life into popular Broadway Musical songbooks
Sotto Sopra is encouraging attendees to come dressed as anyone of their favorite Broadway show characters, so put on your lederhosen if Sound of Music is your favorite or rollers in your hair if you are a beauty school dropout from Grease. There will be prizes awarded for their favorite costumes.  The performers will be encouraging singing along should the guests wish to participate in select favorites.
On this special Broadway night, performances will be from four popular and diverse Broadway show songbooks:
Sound of Music
Evita
Grease
Les Miserables
 Sotto Sopra Restaurant will be donating a portion of the evening's proceeds to the Baltimore Men's Chorus to support their continuing education and performance programs. One can enjoy this Broadway Night song-filled evening for a $10 cover charge plus dinner selections from Sotto Sopra's award winning ala carte Italian menu – reservations required (410)625-0534.
 Sotto Sopra Restaurant is an award-winning Northern Italian Restaurant that has enjoyed success for over 21 years located on Baltimore's historical byway Charles Street at the archway to the city's cultural Mt. Vernon district.  It's 19th century building's dining room boasts tall ceilings, tile floors, gilded mirrors and a contemporary mural that depicts restaurant life.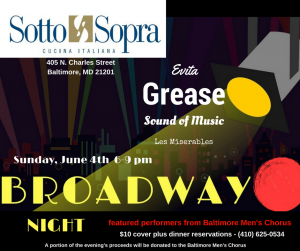 The Baltimore Men's Chorus (BMC) – Since 1984, the mission has been to provide local men the opportunity to enjoy learning and singing choral music. They have performed in many locations, including New York City, Seattle, Philadelphia, Annapolis, and of course, Baltimore. The Baltimore Men's Chorus welcomes all male singers – regardless of gender identity or sexual orientation.
Broadway Night at Sotto Sopra performers:
Brad Bradley
Nathan "Brad" Bradley has been a shower singer since birth, but he brought his singing talents to the stage in the late '80s when he first joined the Baltimore Men's Chorus. Since then he has sung with Voices Of Kentuckiana and the Indianapolis Men's Chorus (when he lived in those areas) before returning to the BMC in 2002. A former BMC president, he is currently on its board as treasurer and sings bass (but has also sung tenor at times).
Stephen McMahon
Steve started playing "air piano" at the early age of four and his parents soon had him taking lessons, tickling the ivories on a real piano. With time, he furthered his studies with teachers at Peabody.  Steve's lifelong love of music includes singing too; he has sung chorally with the Baltimore Symphony Chorus, the Gay Men's Chorus of Washington, DC, and Potomac Fever before joining the BMC as a baritone/low tenor.  Friends and family often gather around the piano at Steve's home for fun evenings of 'live' Broadway karaoke.
Cole Reilly, Ph.D.
Cole's big family couldn't be more unlike the Von Trapp Family singers; to this day, his un-musical siblings and Irish (not Austrian) kin insist he leads every family rendition of "Happy Birthday" … even on his own birthday. He minored in music and was in 50 plays and musicals since 10th grade.  After not performing for about 7 years (instead focusing on his doctoral work and getting tenure at TU), Dr. Reilly began singing tenor (and sometimes bass) for the BMC in 2011 and is the group's current president.
Sotto Sopra Restaurant – 405 N. Charles Street – Baltimore MD 21201 (410) 625 0634
www.sottosoprainc.com Facebook/Instagram @sottosoprarestaurant