Braised Boneless Short Ribs Pot Roast: Yum
Outside the temperatures are falling. It's time for hearty foods, and there's nothing like the aroma of boneless short ribs bubbling in a delicious sauce to stir up the appetite. A comfort food that satisfies. The flavors from the following recipe elevate the short rib to a higher level in the culinary world of comfort foods. A delicious variation of a classic recipe. You won't be able to put your fork down.
Here is the recipe for Braised Boneless Short Ribs Pot Roast inspired by a recipe from Chef John Walsh of The Classic Catering People.
By Chef John Walsh of The Classic Catering People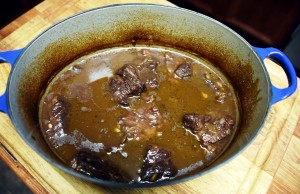 Ingredients:
4 pounds boneless short ribs
Salt and freshly ground black pepper to taste
3 tablespoons grapeseed oil
6 cloves garlic, finely chopped
1 medium-size Vidalia onion, finely chopped
1 medium-size new crop carrot, finely chopped
2 tablespoons rice flour
1 cup water
1 cup rich veal stock
1 cup dry red wine (see note on stocks below)
Leaves from four sprigs fresh thyme
2 California bay leaves
Vegetable Side:
½ pound unsalted butter
4 carrots, peeled and cut into 2-inch sticks 1/2-inch thick
1 celery root, peeled and cut into 2-inch sticks 1/2-inch thick
4 ribs celery cut into 2-inch sticks 1/2-inch thick
3 tablespoons chopped fresh parsley
16 Chinese celery sticks
Directions:
Preheat oven to 350 degrees. Season the meat with salt and pepper. Place a deep, heavy roasting pan or casserole on top of stove. Add oil and when it is hot, add meat, fat side down; sear it. Then turn meat and brown on all sides. Remove meat from pan and set aside.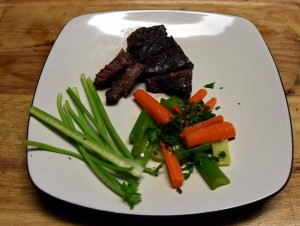 Add the garlic, chopped onion and carrot to the pan and cook for 1 minute. Sprinkle with flour, cook for 1 minute longer, stirring constantly. Gradually add the water, veal stock and the wine, allowing the sauce to thicken. Bring to a boil and add the thyme and bay leaves. Return the meat to the pan, season lightly with salt and pepper and place in the oven, covered.
Braised covered for two hours, turning the meat every 30 minutes. The sauce should bubble gently. Lower the heat if it cooks too fast. If the sauce becomes too thick add water.
Remove meat from the sauce and slice it into 1/2-inch thick slices. Skim sauce of any excess fat, season with salt and pepper. Remove bay leaves.
Vegetables:
Poach the carrots, celery root and ribs of celery in butter (I add a little water so it does not separate) for a few minutes until tender. Remove and keep in a warm place.
Presentation (on a plate):
On the left side of the plate: demi tasse cup with Chinese celery stick garnish
In the middle: vegetable batons topped with chopped parsley. On the right side of the plate: short ribs
For the home cook, the general rule is one pound boneless spare ribs for each person served.
Veal stock is difficult to find for the average home cook. Even if you can find veal bones to make your own stock, the process is time-consuming. My first thought was to substitute with beef stock but after researching, I realized that the flavors of beef stock might be too strong for the recipe. I decided to go with two parts beef stock and one part vegetable stock. You'll have to experiment to find the flavor that fits your taste. Other variations:
2 parts beef stock to 1 part chicken stock
1 part beef stock to 1 part roasted chicken stock
1 part beef stock to 1 part chicken stock for pork stock
Beef; not just for dinner. Some edible by-products include margarine, gelatin and marshmallows. Non-edible by-products include leather, soap, cosmetics, crayons and buttons.
By-Products from Bone, Horn, Hooves, and Gelatin: combs, gelatin candy (Gummy Bears), photographic film, steel ball bearings, fine bone china, pet food, and vitamin capsules/gel coatings.
 By-Products from Hide and Hair: insulation, paintbrushes, glue for bookmaking and band-aides, clothes, shoes, luggage, saddles, furniture, automobiles, volleyballs, basketballs, and baseball gloves.
 By-Products from Fats and Fatty Acids: shampoo, shaving creams, deodorants, candles, crayons, floor wax, detergents, hydraulic brake fluid, plastics, insecticides, paints, perfumes, and synthetic rubber. From: Beef2Live, Oregon State University
Be not simply good, but good for something, Henry David Thoreau

Ann Marie Bezayiff received her BA and MEd from the University of Washington in Seattle. She is an author, blogger, columnist and speaker. Her columns, "From the Olive Orchard" and "Recycled Recipes from Vintage Boxes", appear in newspapers, newsletters and on Internet sites. Ann Marie has also demonstrated her recipes on local television. Currently she divides her time between Western Maryland and Texas.