Black Keys perform in Baltimore before Southern blitz
The Black Keys opened to a packed Royal Farms Arena stadium in Baltimore as the duo's singer Dan Auerbach launched into the lyrics of  Run Right Back.
The song is a 2011 hit released just a year after the band's 2010 breakthrough. It was followed by the song Howlin' For You, which the group recorded in 2011 and reached No. 5 in U.S. Rock Songs Billboard the same year.
These "oldies but goldies" were heavily represented in the concert's first half hour – but fans who had turned out specifically for the new album weren't disappointed as the band later performed the 2014 song that may have garnered the most buzz yet for the group.
Fever is the lead single for the band's eight album, Turn Blue. It's taken the charts by storm since its release in the spring of 2014, topping three music charts in the U.S.  and, almost comically, enjoying some rather isolated commercial success in Belgium.
It's a song that's a little different from the earlier love songs the group had released, having been colored reportedly by Auerbach's 2013 divorce. But the entire album is actually different in style; it reflects the influence of  Brian Burton, better known by his stage name Danger Mouse, who co-produced the album.
Fever has been nominated for Best Rock Song and Best Rock Performance for the 57th Grammy Awards.
"Fever 'cause I'm breakin'," Auerbach sang. "Fever 'cause I'm achin'… Fever, why won't you explain? Break it down again."
The source of his anguish was up for interpretation, and he encouraged the audience to join in. "Help us out with this one," he called out to attendees, "if you know the words." And the crowd hummed, sang, and chanted along.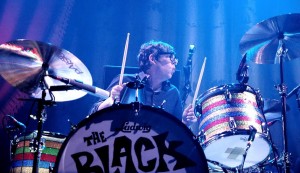 Auerbach's vocals were backed as always by drummer Patrick Carney, who makes up the second half of the famous duo.
The performance at Baltimore comes in the middle of a whirlwind of activity for the group, as the band heads to performances in Virginia, North Carolina, South Carolina, Georgia, Florida, and Texas before concluding 2014 touring in St. Louis on December 21.

William Dahl is a recent graduate of The College of William and Mary, where he majored in Government and studied abroad in La Plata, Argentina. He has worked for community foundations in Argentina and Miami dedicated to community engagement and prosecution for human rights abuses. A native Virginian, he moved to Baltimore in 2013 to join a financial research firm, where he enjoys being able to write on the side.