Birroteca's pizza keeps the customers coming back
I always enjoying trying a new restaurant.
I also like it when one opens in our area. It usually means a good business climate. Recently I had the chance to try a new one in Harford County (actually 1226 Belair Rd. in Bel Air). This was the site of the old Bateman's. It is also the second location for Birroteca Craft Beer, Wine & Artisan Pizza, the other being in Hampden on Clipper Mill Road.
It opened in late September and already it is doing a brisk business. And I'm sure that is good news for the three local owners. This is a dinner only restaurant during the week, but lunch is served on weekends.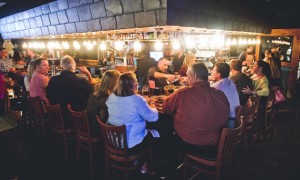 There are two dining rooms, plenty of free parking, a bar with three TVs, it's definitely casual and reservations are suggested everyday. Birroteca is serious about their beer. At least two of the walls are filled with the brews being served that day. One list is called Craft Draft Beer. Under that was listed about 20 different beers. Admittedly, many of them I was not familiar with. But I am not a serious beer drinker. Give me one and I think I'm Brad Pitt.
What the servers like to do is pair the beers with the food entrees. They do that with the wine also. Apparently you can pair a beer with almost anything.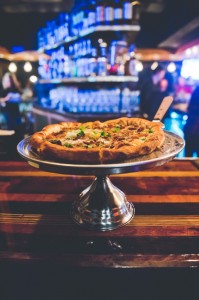 Speaking of food, the menu is constantly changing. I'm not talking about just seasonally, it could be daily. If the chef feels like a fish dish one day, there it is, another day it could be a seafood special or meat or whatever.
When I asked one of the owners, Robbin Haas, what a house specialty might be he replied the calamari and 'of course our great pizzas.' All are made in house and they go beyond your basic tomato, cheese and pepperoni. By the way, most desserts are also made on premise.
I suggest you give it a try. On your first visit you might want to try one of the pizzas. Many of the patrons are return customers. That is the best kind of advertising a restaurant can have.
You can reach them at 443-981-3141.
Or check out their website at BirrotecaBelair.

Eddie Applefeld is a Baltimore native and a graduate of Towson University. He has been in the broadcasting profession for over 30 years. Currently he is the Promotions Director of WCBM radio. Before that, he was part of the Rouse & Company show on WQSR, host of a cable TV show called Dining Out and adjunct instructor at Towson.
His past accomplishments include being named a finalist in Baltimore Tourism's Employee of the Year Program and winner of Toastmaster's Speaker of the Year contest. He was also twice a heartthrob for the American Heart Association's gala fund raiser.