Bette Smith brings rock and soul to Rams Head Live! with Drive-By Truckers
Photo by Chris Swanson
Read BPE's exclusive pre-show interview with Bette Smith here.
Brooklyn native Bette Smith brought her thundering brand of "rock & soul" to Baltimore's Inner Harbor on Friday evening. Despite constantly changing federal and local regulations related to the pandemic, hundreds of masked fans deciphered the latest public health guidelines and filed into Rams Head Live! hoping for some auditory escapism. Smith understands that every night she plays, she could be providing somebody's first return to live music in over a year and a half. About halfway through her Summer 2021 'Bustin' Out of Brooklyn' tour, she notes that she has "had a lot more appreciation for my audience" and is "looking at [them] in a different way".
Dancing onto a stage a few minutes after the 8 p.m. billed start time, Smith launched into the swaggering "Shackle & Chain" from her 2017 debut album 'Jetlagger', punctuated by overdriven guitar licks and bluesy trumpet lines. The crowd swayed to the funky, up-tempo breakbeat of "Fistful of Dollars" before the band slowed down to swing through a soulful rendition of "Dirty Hustlin'". Smith picked up a tambourine to accentuate the crunchy, Motown-inspired riffs of "Manchild" and would continue playing it for most of the remainder of the set.
Anyone who has witnessed Smith's gregarious and playful on-stage persona during one of her charismatic performances might be surprised to learn that she has had to overcome trauma and reconcile with uncertainty from an early age in life. After a closer listen, however, her husky mezzo-soprano voice reveals a ragged, world-weary edge, and it's not an act. Around age four, she woke up one morning to find that her mother had left without saying goodbye. Smith wondered whether or not she had died prior to her unannounced return months later. In many of her songs, Smith sings to her now-deceased mother. "Every time I sing, I get a little deeper into what the lyrics mean for me…it's very cathartic."
Taking a seat on a stool, Smith crooned seductively through her interpretation of "Do Your Thing", originally written and recorded by Isaac Hayes in 1972, highlighted by a psychedelic delay-laden trumpet solo. Smith shared the evening's bill with Drive-By Truckers and gave multiple nods to the alt-country rockers throughout the set, highlighting her connection with DBT vocalist/guitarist Patterson Hood. Hood appeared on her 2020 album, 'The Good, The Bad and the Bette', also co-produced by DBT bassist, Matt Patton. Smith's NYC roots revealed themselves again throughout garage rocker "I Felt It Too", with fuzzy power chords lifted straight from CBGB. She quipped, "that one was for the one who got away…me!" before an unexpected Chicago blues interpretation of Cream's 1967 psychedelic smash hit, "Sunshine of Your Love", something like what one might expect to hear late night at Kingston Mines.
Smith dedicated the acoustic ballad, "Don't Skip out on Me", to Hood, and she paid further tribute to her tour mates with a cover of DBT's "Everybody Needs Love". She closed the set raucously with "I'm a Sinner", the leading single from 'The Good, The Bad and the Bette'.
According to Smith, she has embarked "on a mission to dominate the world and make them happy". She recognizes the mental health component of the ongoing public health crisis and has taken to heart the fact that over 90,000 people have committed suicide since the pandemic started, caused in part by restricted access to lifelines like addiction recovery meetings and group therapy sessions. She knows that not everyone can afford "fancy stuff" like private therapy, and many of her fans have had their support systems "completely shut down". Smith aspires to make sure concertgoers leave her shows feeling "happy and recharged", and after observing the crowd buzz following her set, she succeeded on Friday night.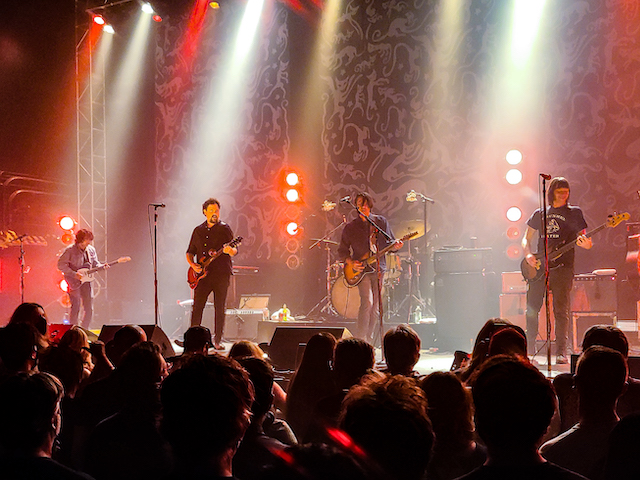 With the groove already firmly established at Rams Head Live!, the Athens, Georgia-based Drive-By Truckers took the stage to a recording of "Can't You Hear Me Knocking", paying tribute to the recently deceased drummer and legendary founding member of the Rolling Stones, Charlie Watts. The masked crowd cheered in agreement as Hood proclaimed, "we're so f—ing glad to be here!", opening the set with Southern rocker "Filthy and Fried" from their 2016 album, 'American Band'. DBT treated their Baltimore fanbase to a tour of their considerable discography throughout an unrelenting 27-song set and did not skimp on material from their earlier albums.
DBT has assumed several iterations throughout their decade-spanning career, and the current quintet lineup remains anchored by co-founders Hood and fellow guitarist/vocalist Mike Cooley, who Hood noted has been his "partner in crime for 36 years". Hood and Cooley traded lead vocal duties throughout the evening, with Cooley occasionally using a glass slide to impart a slick country flair to their more country-leaning songs.
DBT played only the title track from their most recent studio album, "The New OK", surprise-released in 2020, providing cynical commentary on political and racial unrest that have contributed to feelings of despair ubiquitous throughout the pandemic era United States.
Other highlights included an energetic rendition of singalong fan favorite "Let There Be Rock" from their 2001 album, "Southern Rock Opera", and a rambunctious cover of the Ramones 1981 B-side, "The KKK Took My Baby Away", featuring lead vocals from Patton, looking and sounding much like a Ramone himself. Longtime drummer Brad "EZB" Morgan tirelessly laid an unwavering rhythmic backbone throughout the two-plus hour set, and multi-instrumentalist switched between keyboard and guitar duties from song to song. With impressive endurance, DBT delivered a tight, energetic performance full of AC/DC-inspired rockers, tearful country ballads, and everything in between.
Upcoming acts at Rams Head Live! include P.O.D., Kix, and Leon Bridges.
Bette Smith Set List
Shackle & Chain
Fistful of Dollars
Dirty Hustlin'
Manchild
Do Your Thing (Isaac Hayes cover)
I Felt It Too
Sunshine of Your Love (Cream cover)
Don't Skip out on Me
Everybody Needs Love (Drive-By Truckers cover)
I'm a Sinner
Drive-By Truckers Set List
Filthy and Fried
The Righteous Path
Women Without Whiskey
Used to Be a Cop
Slow Ride Argument
Sink Hole
Uncle Frank
The Living Bubba
3 Dimes Down
Play It All Night Long (Warren Zevon cover)
Surrender Under Protest
The New OK
Shit Shots Count
Plastic Flowers on the Highway
When the Pin Hits the Shell
Do It Yourself
Made Up English Oceans
Rosemary With a Bible and a Gun
Ramon Casiano
Ronnie and Neil
Love Like This
The Company I Keep
Zip City
Let There Be Rock
Marry Me
The KKK Took My Baby Away (Ramones cover)
Grand Canyon

Alex May has been attending concerts in the DMV for his entire life. He was born and raised in Maryland, attended college and graduate school in Virginia, and lives in DC with his girlfriend and dog. He believes all music sounds best live, and he never misses a Sunday show.