Best Places to Visit with Rental Car in Baltimore
Have you ever thought of how to rent a Mercedes in Baltimore? Many car rental agencies in Baltimore cater to all your travel issues. Whether you are having a road trip or exploring the city on weekends, a rental car will be a perfect fit for you. There are many rental car locations in Baltimore, which is very convenient. You can pick up your Mercedes or any other desired vehicle not only at the airport but also in various downtown locations.
Now, there are innumerable places you ought to visit with your rental car in Baltimore. Relish in exploring the Baltimore museum and view the art history, have a stunning ride at Oriole Park and moderate within the calm Patterson Park. Let us review other top-notch places to visit in Baltimore with your rental car.
Fort McHenry National Monument and Historic Shrine
This is a popular historical site in America perched 3 miles away from the city core. It enjoins the port entrance and considered as a site that stimulates the national anthem. Amazingly, this site resisted a bombardment during the Baltimore battle, which happened in 1814. In the visitors' center, you can view the Fort's history as well as casements.
The Walters Art Museum
This museum is outstanding. It features the art history worldwide during the third millennium BC to the 20th century. Delight in viewing countless treasures including ivory, bronzes, jewelries and various manuscripts. The museum holds extensive art collection of Asia including Greek, Egyptian, Ethiopian, and Roman. What is more, admission is free.
National Aquarium
The National Aquariumis a popular place visited by innumerable people from every corner of the world. The aquarium faces a great port. Enjoy visiting the coral reefs of the Pacific and Atlantic oceans and breathe the fresh air of the open environments. In addition, you can explore the environment of the Amazon River forest and enjoy that life of the seashore.
American Visionary Art Museum
In the American Visionary Art Museum, you can observe unique arts of self-educated artists from different parts of the world. These are authentic, live and dynamic drawings from various creative individuals. Some of the displays are remains formed from toothpicks, some fabrics or outfits done for particular events. All displays are contagious and are somehow provoking.
Baltimore Museum of Art
While it incorporates various styles and periods, this museum is the largest in the entire Maryland with historical arts. The works of Matisse is the permanent collection you can find in this museum. For modern arts, various respected artists who have evolved include Picasso, Andy Warhol, and many others. African, as well as American collections, are preserved right here in Baltimore museum.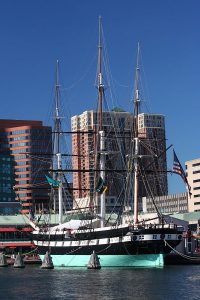 Inner Harbor and Historic Ships
With so many attractions in the entire Baltimore, right here in Inner Harbor is a place where more tourists spend much of their time. Fascinating enough are the anchored ships and other vessels ready for a tour. If you want to want to see the impressive collection of military vessels of Baltimore from inside and have a look at the exhibits of more than 50,000 artifacts, you can buy a ticket online. With this ticket, you will be able to walk the decks of the last sloop-of-war designed and built by the United States Navy, USS Constellation. The submarine USS TORSK, Lightship 116 "Chesapeake", and coast guard cutter USCGC TANEY follows it.
Still, this place is convenient for shopping centers, markets as well as restaurant.
Now you have a good option to select your best place to explore with your rental car in Baltimore. Although this list is endless, selecting one of these places will leave a memorable experience.