Bel Air resident's pit bull becomes service dog and man's best friend
Jericho, a Florida-bred rescue dog, is just one of the many pit bulls chosen as a service dog by the Animal Farms Foundation. He was assigned to Bel Air resident Matthew Smith, who had lost the use of his legs in an accident. Jericho and Smith have been inseparable ever since. 
In 1994, Matthew Smith, 42, was injured in a motorcycle accident, after which made him dependent upon crutches to walk.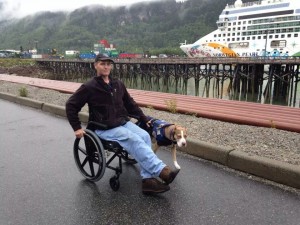 "In the accident I had severe nerve damage to my legs," Smith said, "which left me able to walk short distances and in a wheelchair for the rest of the time."
The accident took a negative toll on Smith's shoulders as he tried to use crutches more often.
"It [was] hurting to walk and wheel around," he said, "so I decided to look into getting a service dog."
Soon afterwards, he began to seek assistance.
Through the Animal Farm Foundation's (AFF) Assistance Dog Training Program, he was assigned Jericho as a service dog. Jericho was a rescue, found in a shelter in Florida and taken to the agency's New York location by AFF trainer, Apryl Lea.
"He was found as a stray," the New York-bred Lea said. "He met all the criteria…laid-back, good work ethic, sound structure."
AFF's Assistance Dog Program aims to train dogs like Jericho as service dogs in order to show their capability and rehabilitate their image in the public eye.
"Dogs labeled 'pit bulls' are discriminated against," the AFF Mission states, "by municipal legislation that bans or restricts ownership and by animal shelters with discriminatory adoption policies."
When Jericho and Smith first met, it was love at first sight. "A year into Jericho's training, we immediately clicked," Smith admits.
AFF's service pit bulls are assigned to applicants who need stronger support for wheelchairs and brace transfer. "Brace transfer is when Jericho helps brace Matthew when he transfer from his wheelchair to another chair or object, or if he was to fall out of his chair," Lea said.
The Animal Farm Foundation, established in 1985 in Dutchess County, NY, is devoted to providing safety, training, and equal opportunities for pit bulls. This nonprofit agency provided Matthew with Jericho free-of-charge, while other adoption agencies Smith approached aske for up to $15K per canine.
When asked how Jericho's impacted Smith's life, Lea said: "I find that dogs change people's lives, and it's even more evident in a service dog team…they count on each other."
"Pit bulls are the most likely to be killed in shelters," Smith said. "But once they bond with their people, that's their people."
However, while dog-lovers such as Smith and Lea have found places in their hearts for pit bulls, others – dog-bite victims in particular – have seen the potential dark sides of owning these dogs. One East Texas woman, Lorrie George, was attacked by a "pit-bull" named Tank on Nov. 12 2012.
George claimed Tank first bit into her left thigh before being caught by two friends: "They finally got him to release me for a second and then he bit me again on the lower part of my leg."
She was then taken to Hermann Memorial Hospital and released at about 8:30 p.m. that night.
"I spent the [following] week confined to bed," George said in her official statement, "only getting up to use the bathroom. Because they could not close these wounds there was a lot of leakage of blood, which ruin my clothes and bedding."
DogsBite.org, a site devoted promoting awareness of "high-risk dogs," said of George's case, "Being 'understanding' with owners of high-risk dogs, as Lorrie's account shows, ended in a severe mauling…" and credits the attack to "reckless ownership of dangerous dog breeds."
Violent "pit bulls" made up 6.69 percent of the breed's population between 1982 and 2014, according to DogsBite.org. In this time, 3,397 caused bodily harms, 2,110 maimings, and 295 deaths, 1,355 involving child victims and 1,312 involving adults.
Whether "pit bulls" are inherently vicious is still up a hot debate. In 2012, the Maryland Court of Appeals deemed "pit bulls" as such, but in their 2014 article "The Problem With Pit Bulls, TIME insisted that they were "bred to be dangerous", shifting the responsibility from the breed to the pet owners.
For Smith, however he doesn't see the breed as the problem. "'Pit bulls' have a very bad reputation, which is not their fault, but the owner's," he said.
Kaila Philo is currently a student of the University of Maryland: Baltimore County. She studies English with concentrations in writing and journalism. She hopes to eventually become a novelist, and poet.
She lives in Baltimore, Maryland, where she spends her days reading books and eating pie, wanting nothing more in life than to leave a lasting positive impact in the world. You can find her on WordPress at http://kailanthropy.wordpress.com. Follow her on Twitter at @kailanthropy