BBQ Season: Grilled Rib-Eye Steak with a special sauce
Finally safe to bring out the grill. And what better meat to grill than a rib-eye steak?  Instead of barbecue sauce or one of my marinades, I used a gochujang butter basting on the steaks during the grilling. Before serving the steaks, an extra dollop of the butter with the addition of lemon juice from grilled lemon halves and the sprinkling of nori created a mouth-watering experience. The mixture of flavors, absolutely delicious.
Grilled Rib-Eye Steak with Gochujang Butter and Nori
Gochujang Korean Chili Sauce, a fermented hot chili paste adds a savory, spicy flavor with a hint of sweetness to this recipe. Now available at Wegmans throughout New York, New Jersey, Massachusetts, Pennsylvania, Maryland, and Virginia. Already available in Texas, and may be ordered online on Amazon.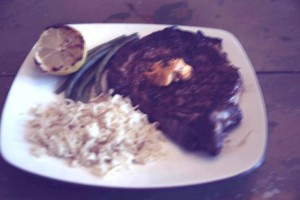 Grilled Rib-Eye Steak with Gochujang Butter and Nori:
Recipe by Chef Edward Lee of Chung Jung One 
8 tablespoons unsalted butter, softened to room temperature
2 tablespoons Chung Jung One Gochujang Korean Chili Sauce
1 clove garlic
2 teaspoons toasted sesame oil
1 teaspoon fresh lemon juice
1 teaspoon organic honey
¼ teaspoon sea salt
Pinch of black pepper
Steak
2 8-ounce rib-eye steaks
Salt and pepper
Oil for grill
1 lemon, cut in half
*Nori Powder
Make the gochujang butter ahead of time. Add butter and rest of the ingredients to a blender or food processor. Pulse until just combined and smooth. Taste and adjust salt and pepper to your liking. Refrigerate until ready to use. (It will keep for up to a month.)
Remove steaks from the refrigerator, season generously with salt and pepper and allow to come to room temperature for 30 minutes. Meanwhile, heat a gas or charcoal grill to high (about 450°F to 550°F). Using tongs, rub the grates with a towel dipped in vegetable oil.
Bring gochujang butter to room temperature and give it a few stirs with a spoon.
Grill steaks on high for about 2 minutes and until you have defined grill marks. Flip steaks and add a dollop of gochujang butter over the top of each one. As the butter melts, baste the tops of the steaks with the melted gochujang butter. Cook steaks to desired doneness, about another 2 minutes for medium rare.
Remove steaks from grill and let rest on a cutting board for 2 minutes before slicing. In the meantime, take your cut lemon halves and grill them with the cut side touching the grill. Grill until blackened and reserve.
Slice rib-eye steaks and transfer to a platter. Top each slice of steak with a spoonful of gochujang butter and a squeeze of the grilled lemon juice. Sprinkle with nori powder and flaky sea salt. Serve immediately.
*Nori powder can be bought at specialty Asian stores. You can also make your own by grinding nori sheets in a blender on high until they become powdery.
What is Gochujang Korean Chili Sauce?
Gochujang Korean Chili Sauce, a new version of the Korean fermented hot chili paste traditionally used in rice dishes, and melted into soups and stews. Other suggestions: the sauce whisked with sesame oil and mayo creates a Korean-style slaw. Add to ground beef for burgers, meatloaf or use as a condiment, replacing ketchup on a hot dog bun.
A bonus for those with wheat allergies; this sauce is made from red peppers, rice flour and is slightly sweetened with rice syrup.
1985 Hints for lemons: Lemons will stay moist and fresh if kept in a tightly closed glass jar in the refrigerator. Lemon or Orange juice: Place lemons or oranges in hot water before squeezing to obtain the most juice,
1948 hints for lemons: Rice grains will stay separate and white if cooked in water to which a teaspoonful of lemon has been added for each quart. Save the water in which you boil rice. It's good in making gravy. It thickens itself. Get more juice out of lemons. Quickly heat them in hot water for several minutes before squeezing. Or roll to soften.
Rice Pilaf is a family favorite side.
Rice Pilaf: Rose Avakian, Dorcas Guild cookbook, 1985
1 cup long grain rice
½ cube butter
1 coil vermicelli-crushed
2 ½ cups chicken broth
1 teaspoon salt
dash of pepper
Melt butter in saucepan, add vermicelli and brown lightly. Add rice and mix. Add broth and bring to a boil, lower heat, cover, simmer 20 minutes until water is absorbed and rice is soft. Turn heat off and let set for a few minutes. Stir once, then serve. Serves four. For variation add blanched almonds sautéed in butter until lightly toasted. Raisins or steamed apricots (1/2 cup), prunes or dates may be added over rice.
My family favorites: add sliced mushrooms and chopped green onions to the rice and vermicelli mixture before adding the chicken broth.
Serve with green beans. I like to parboil fresh green beans ahead of time and then reheat them on the grill. Season with salt and pepper and serve.
Enjoy!

Ann Marie Bezayiff received her BA and MEd from the University of Washington in Seattle. She is an author, blogger, columnist and speaker. Her columns, "From the Olive Orchard" and "Recycled Recipes from Vintage Boxes", appear in newspapers, newsletters and on Internet sites. Ann Marie has also demonstrated her recipes on local television. Currently she divides her time between Western Maryland and Texas.